The south of Spain is a unique region with a vibrant culture that consists of a beautiful mix of Moorish, Christian, and Gypsy elements that results in some of the most unique traditions that you won't find anywhere else in Europe. And if you're planning a Southern Spain itinerary, you're at the right place; this guide will help you plan the perfect trip to the land of Flamenco, passionate dancers, and multicultural heritage!
General Information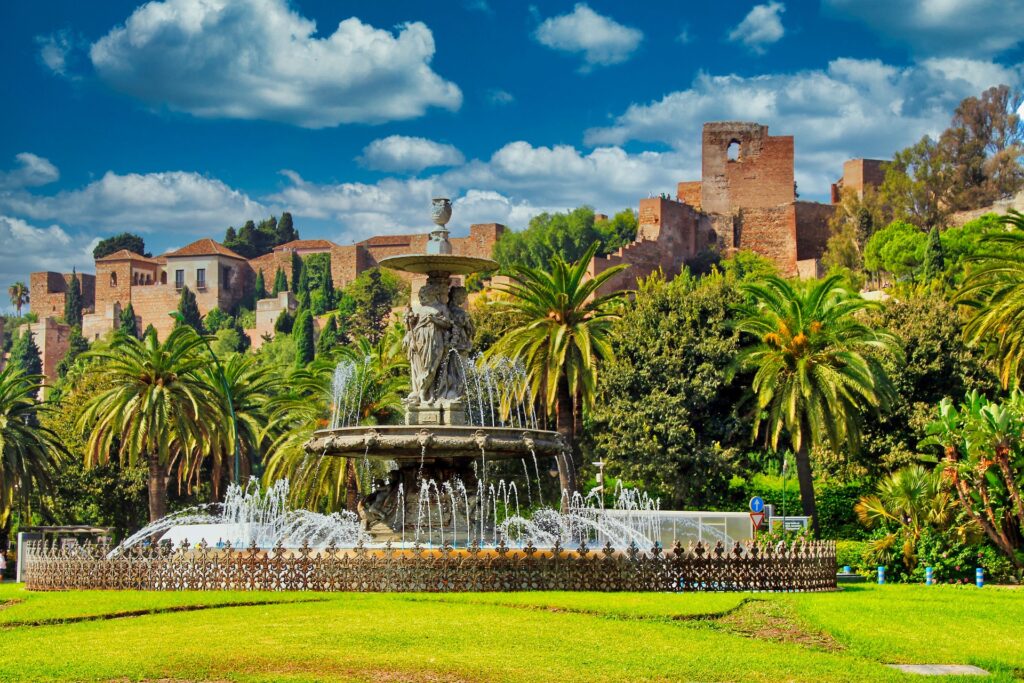 Spain has 17 autonomous communities. We previously covered the best of Northern Spain's provinces and in this post, we'll focus on the south. Southern Spain consists of two autonomous regions- Andalusia and Murcia. I know you might think that Spain (like most other countries in Europe) isn't very big but that's not the case. Planning a trip around Spain or even one of its regions (in this case, a Southern Spain itinerary) requires a lot of planning. Keep in mind that Andalusia is Spain's second-largest autonomous region by area and there are a lot of exciting things to see and do.
You can always take a tour that covers the region's highlights in 5 or 6 days but if you like to take a deep dive in Southern Spain but you still have a very limited time, this Southern Spain itinerary is perfect for you!
Important info before your trip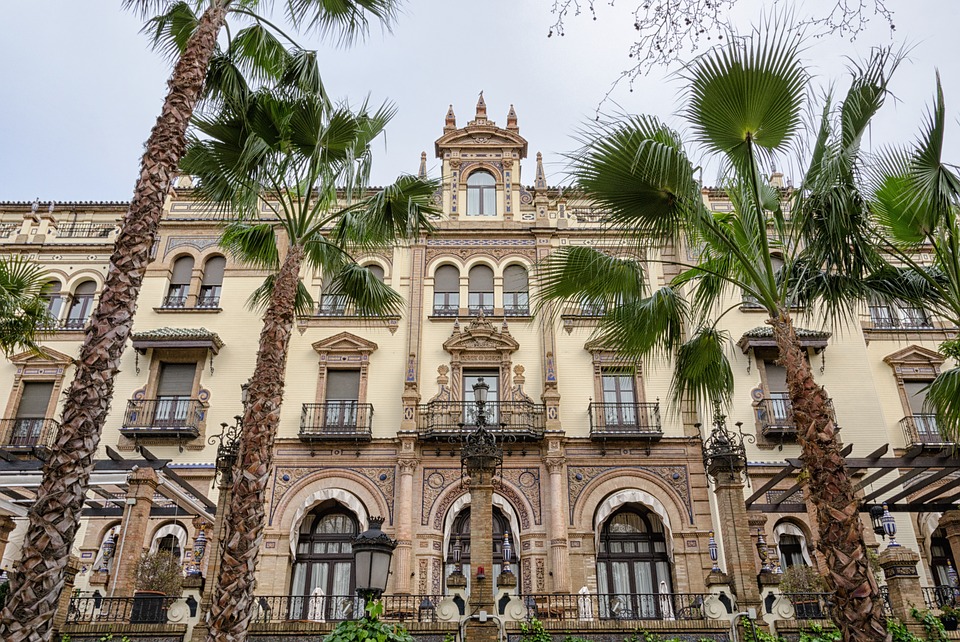 As always, the first thing to do before traveling to any country is checking the travel documents requirements. If you're a resident of a European country, you probably don't require a visa or any additional documents. For all other countries, there are visa and ETIAS requirements. Next, you will need to get there.
If you're traveling via flight, you can get a cheap flight by using this special discount coupon by Qatar Airways and save up to 20% on your flight to Spain. Alternatively, you can also rent a car if you want to drive into Spain. If you're anywhere in Europe, you shouldn't have any problems with this and this is perhaps the easiest, cheapest, and most flexible way to explore Spain. Personally, I always use Auto Europe because it helps me see and compare all car rental options in the area before choosing the best deal.
Finally, you can also use this special offer by Busbud for booking bus tickets for your trip to Spain.
Last but not least, you should know that travel insurance is mandatory in Spain if you're an international tourist (coming from outside of the EU). You can always find cheap travel insurance online but the truth is most of these plans only cover some of the most basic costs you can encounter. If you want a plan that will have you covered in all situations no matter what (especially if you're traveling in Spain alone), I recommend World Nomads.
Best time to visit Southern Spain
Southern Spain is pleasant to visit throughout the year but the summers can be too hot. In addition to this, most people visit Southern Spain in the summer, so if you're like me and would like to avoid the crowds, the best time to visit is probably early spring or early autumn. The temperatures around this time of the year are very pleasant and there shouldn't be a lot of rainfall.
A few things to arrange in advance
If you're planning your Southern Spain itinerary, there are a few things you should book in advance if you want to avoid the crowds. For example, we strongly suggest booking your tickets to the Alhambra in advance when going to Granada. Oftentimes, tickets are sold out but even if they're not, you can get a fast-track entry for only 11 Euros using this special offer.
Another popular tourist destination is el Caminito del Rey, the world's narrowest pathway. The interest in the passage is huge and booking your tour in advance is highly recommended. Some other things you may want to book in advance include a tour to the Alcazar of Seville, as well as skip-the-line tickets for the Mosque of Cordoba and the Cathedral of Seville.
Where to stay?
There's no shortage of good hotels and even hostels in Southern Spain. The places with the most choices are, of course, the large cities like Seville, Malaga, Granada, Almeria, Cadiz, and Ronda. In the smaller cities or villages, accommodation options are more limited but also cheaper. If you're looking to save on accommodation when traveling around Southern Spain, you can use our Booking.com discount code to get up to 15% off on all properties in the region.
If you're planning to stay in hostels, you can also use our discount code for Hostel World.
And last but not least, if Airbnbs are your thing, you can claim a $50 bonus on your first Airbnb booking with this link.
Top experiences in Southern Spain
Explore the streets of Seville;
Visit the Alcazar of Seville;
See the Cathedral of Seville;
Check out the Mosque of Cordoba;
Discover the scenery of Sierra de Grazalema National Park;
Walk el Caminito del Rey, the world's most dangerous hike;
Visit the legendary Alhambra, the most iconic Moorish complex in Spain;
Relax at Puerto Banus, one of the most beautiful beaches in Southern Spain;
Visit Alcazaba, Malaga's famous Medieval Moorish palace;
Check out the Picasso Museum in Malaga;
See the historic bridge of Puente Nuevo;
Discover the medieval Arab baths of Ronda;
Go scuba diving at Cape Palos;
Unwind at La Manga, Murcia's most famous seaside split;
Visit the Cathedral of Murcia;
Check out the Roman Theater of Cartagena;
Enjoy the views at Bateria de Castillitos;
Soak up the magical atmosphere of Los pueblo blancos (white villages) of Cadiz;
Try some tapas, churros, and gazpachos.
Planning a 2-weeks Southern Spain itinerary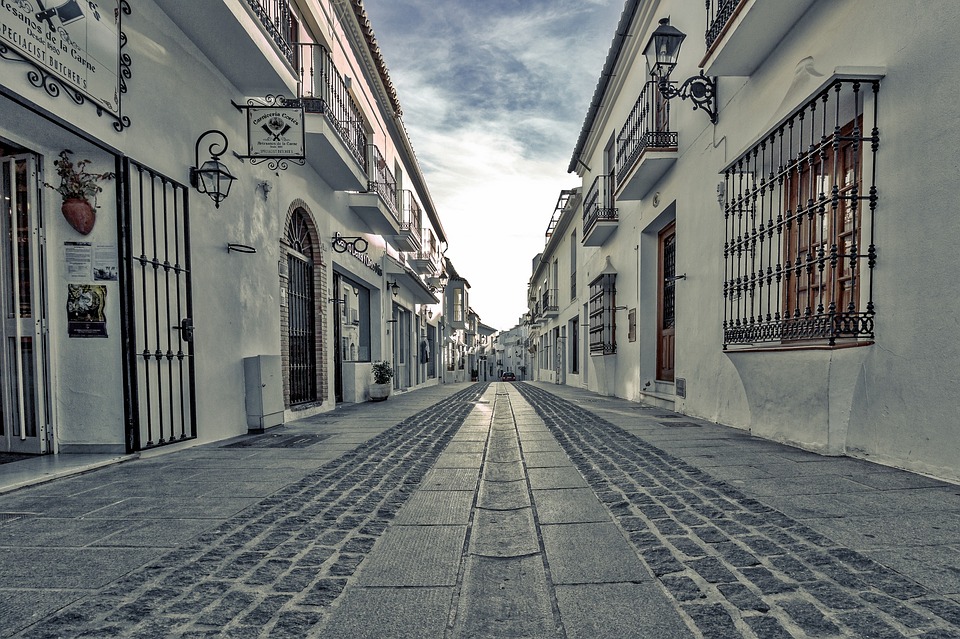 If you're wondering where to start your Southern Spain itinerary, keep reading. In my opinion, there are two convenient ways to start a road trip in Southern Spain. The first option is driving from Madrid to Cordoba and making your way from Andalusia towards Murcia and the Valencia Coast. Alternatively, you can also start from Valencia and make your way towards the western coast of Andalusia ending in Cordoba. For this post, we'll use the first approach but if you want to start from Valencia, that's a great option too. Just reverse the itinerary mentioned here.
Sounds interesting? You may also want to check out our guide to road-tripping Northern Spain.
Days 1-2: Cordoba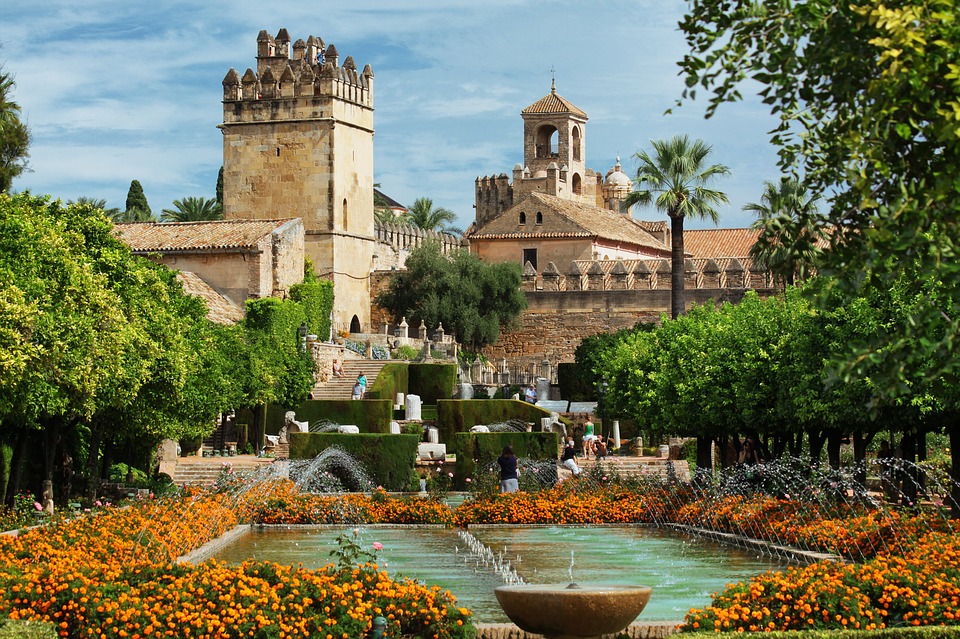 Located roughly 300 km away from Madrid, Cordoba is the capital of the Cordoba Province. You can get here from Madrid in two hours via train or 4-5 hours by driving which makes this beautiful city a great starting point for exploring Southern Spain.
There are a lot of exciting things to do in Cordoba; it's the third-largest city in Andalusia and the 12th largest in Spain. The city was also the capital of the Umayyad Caliphate for over a century. Around this time, according to history books, Cordoba became the second-largest city in Europe. Hence, it's no surprise that today, you can find some of the most fascinating Moorish architecture in Spain.
Fun fact: Cordoba is the city with the most UNESCO World Heritage Sites with 4.
Places to visit
Mosque of Cordoba
A grandiose 8th-century Moorish mosque.
Roman Bridge of Cordoba
A beautiful bridge dating back to the 1st century BCE.
Medina Azahara
Ruins of 10th-century palace buildings.
Alcazar of the Christian Monarchs
Medieval Moorish Palace with lush gardens.
Torre de Calahorra
Gate-tower & town museum built in the 12/13th century.
Plaza de la Corredera
A charming town square dating to the 17th century.
Stay at
€€
A great, affordable four-star hotel with an ideal location for exploring the city.
Eat at
Regadera
€€
One of the best places to taste Spanish cuisine in Cordoba. Located near the Mosque of Cordoba.
Bodegas Mezquita
€€
The best Andalusian restaurant in town!
Days 3-4: Seville
No Southern Spain itinerary can be complete without visiting Seville, the capital and largest city of Andalusia. The city is home to a lot of exciting sights but perhaps the most prominent part of Seville is its old town that encompasses three UNESCO World Heritage Sites (the Alcazar Palace Complex, the General Archive of the Indies, and the Seville Cathedral) in only 4 square kilometers (2 sq mi). Seville is also famous for being the birthplace of Flamenco, bullfighting, amazing food, and incredibly hot summers.
Places To Visit
Catedral de Sevilla
The city's most iconic cathedral.
Plaza de Espana
Picturesque landmark square lined with ceramic tiles.
Royal Alcazar
Ruins of 10th-century palace buildings.
Alcazar of the Christian Monarchs
Medieval Moorish-Renaissance royal palace.
La Giralda
Belltower atop a former minaret.
Setas de Sevilla
Iconic wooden sculpture with viewpoint.
Torre del Oro
13th-century military watchtower
Plaza de toros de la Real Maestranza de Caballería de Sevilla
Colorful Baroque bullring from the 18th century
Stay At
Silken Al-Andalus Palace
€€
A gorgeous hotel equipped with all modern facilities.
€€
A convenient budget-friendly option in the heart of the city.
Eat At
Cocome
€
A wonderful collection of the finest Andalusian dishes.
Espacio Eslava
€
The best tapas in town!
Day 5: Cadiz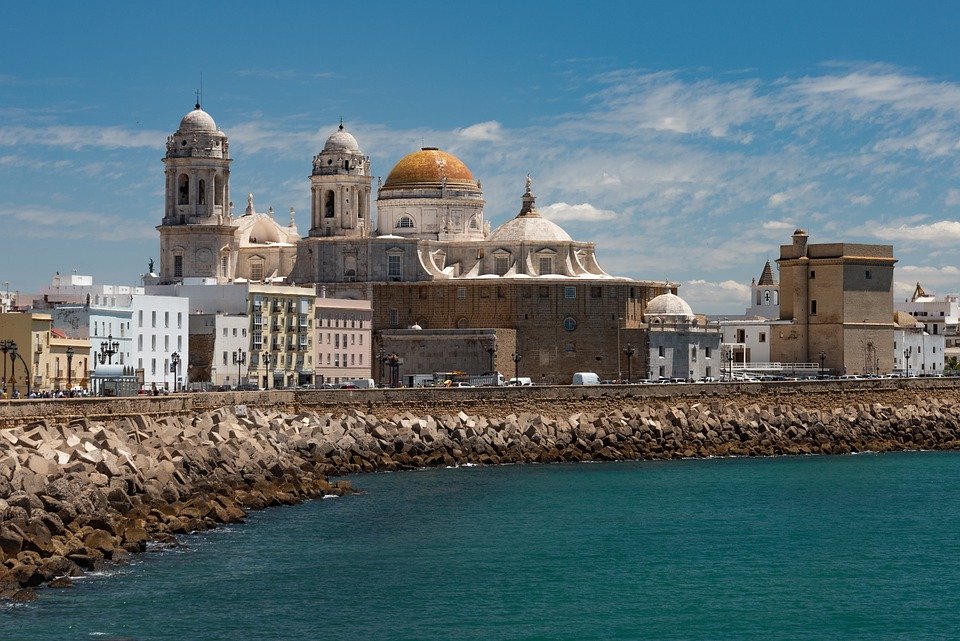 Cadiz is home to the most famous port in southwestern Spain and the capital of the Cadiz Province. The city happens to be one of the oldest continuously inhabited cities in Europe (and the world) with archaeological remains that date back to as early as 3,100 years ago.
Cadiz is also home to a lot of mesmerizing vistas and important historical landmarks but perhaps the most breath-taking sight in Cadiz are the White Villages Route near the city that brings the best of the charm of Western Andalusia. If you have the time, I strongly suggest you visit some of them (more about this below)
Places To Visit
Cadiz Cathedral
A Baroque cathedral with a panoramic tower.
Parque Genoves
Plant-filled urban park with a lake.
Castillo de Santa Catalina
16th-century fort & gallery with stunning sea views.
Torre Tavira
City-wide views from a 1700s lookout tower.
Teatro Romano de Cadiz
A site with ruins of a huge ancient theater.
Playa de Valdelagrana
A spacious beach with a promenade.
Stay At
€
A wonderful, affordable hotel in the heart of old town.
Eat At
La Candela
€€
An exciting collection of the finest seafood of the southwestern coast.
Restaurante Salicornia
€
The best steaks in town!
Day 6: Sierra de Grazalema Natural Park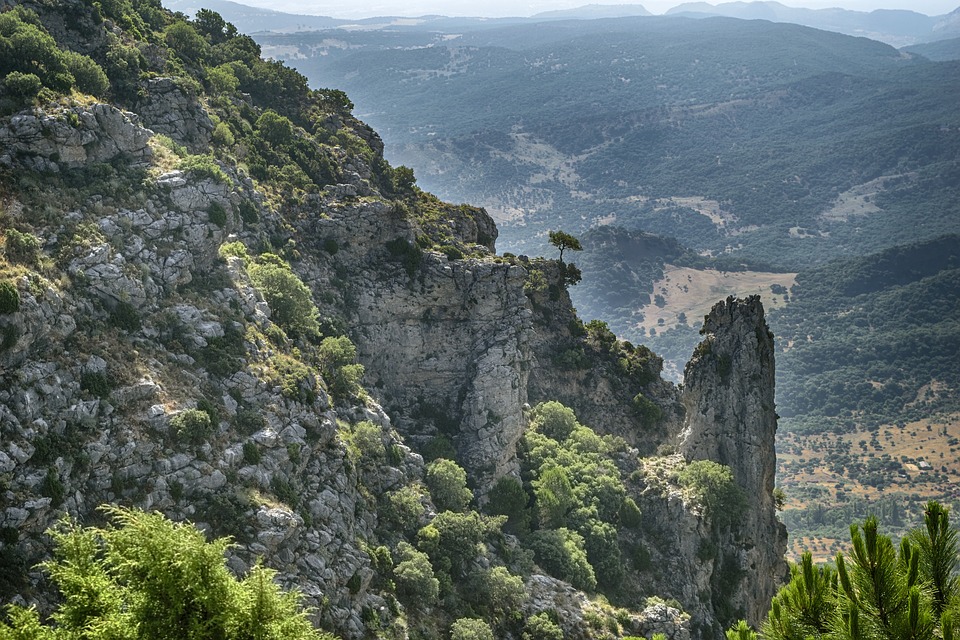 The Sierra de Grazalema Natural Park is a complex of mountain ranges knowns as Siera de Grazalema. The tallest peak in the range is Pinar with 1654 meters but if you're a fan of hiking, you'll find a lot of exciting routes in the area, as the park stretches over 51,695 hectares (127,745 acres).
In addition to trekking routes, the region is also abundant in limestone caverns and rich and diverse wildlife which is the main reason why the park was declared as a national biosphere reserve in the 1970s.
But that's not all. Inside the park, you'll also find a few of Cadiz's white villages including the village of Grazalema which is one of our favorite hidden gems in Spain.
Day 7: Ronda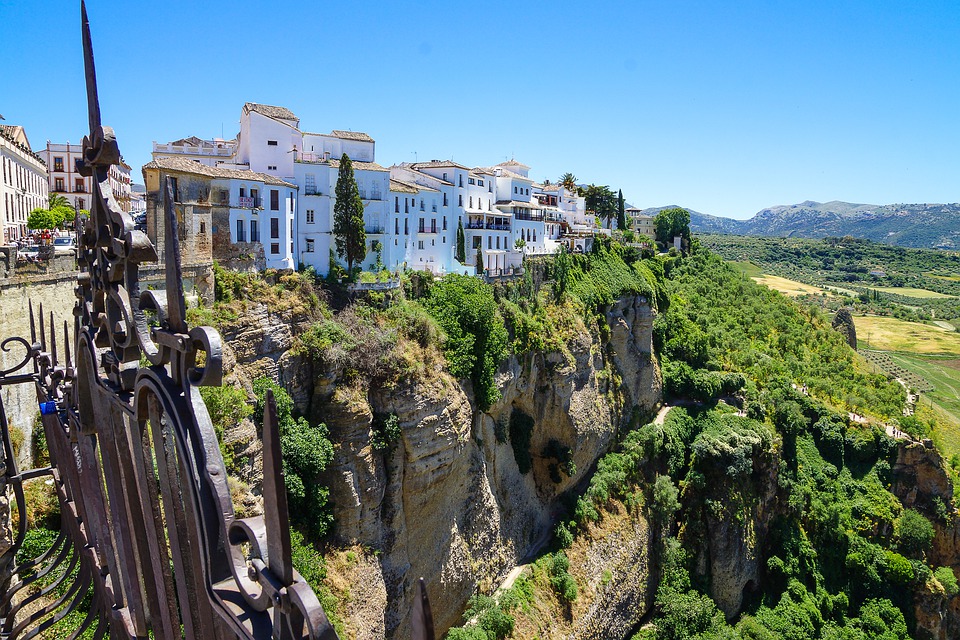 The next stop of our Southern Spain itinerary is Ronda. Located on the foothills of the Sierra de las Nieves Natural Park, roughly 40 kilometers away from the Sierra de Grazalema Natural Park, Ronda is a beautiful hill station that epitomizes the drama of Andalusia.
The town is famous for its miraculous views, interesting historical sites, and cultural influence that inspired some of the greatest artists of all time, including Ernest Hemingway (For Whom the Bell Tolls), Orson Welles (whose ashes were buried here), German poet Rainer Maria Rilke, and many others.
Places To Visit
Arab Baths of Ronda
An authentic 13th century Arab Bath.
The Three Bridges
Puente Romano, Puente Viejo, and Puente Nuevo are some of the city's most impressive features.
Corrida Goyesca
the oldest bullfighting ring in Spain.
Plaza del Socorro
The modern political center of Ronda.
Serranía de Ronda
One of the most spectacular viewpoints in Andalusia.
Stay At
€
A beautiful villa in the heart of the city with spectacular views.
Eat At
Casa Maria
€€
The finest traditional restaurant in Ronda.
De Locos Tapas
€
The best tapas in town!
Day 8: Malaga
Malaga is the second-most populated city in Andalusia and home to the biggest and oldest port in the region. The city was founded by the Phoenicians in 770 BC which means that Malaga is one of the oldest continuously inhabited cities on the Old Continent.
Throughout history, Malaga witnessed the rise and fall of many great empires, and today, the city presents a beautiful confluence of Phoenician, Roman, Arabic, Castillan, and Andalusian elements. Its old town is a marvelous open-air museum that showcases the 3,000-years-old history of the city but there are also a lot of amazing things to see and do in Malaga.
Places To Visit
Malaga Old Town
An open-air museum that stretches over 3,000-square-meters.
Museo Picasso Malaga
Home to the walls of the Phoenician city, the oldest architectural remains in Malaga.
Castle of Gibralfaro
11th-century Moorish castle complex.
Church of Santiago
A beautiful gothic vernacular Mudéjar that encompasses elements of both, Christian and Muslim traditions.
Serranía de Ronda
One of the most spectacular viewpoints in Andalusia.
Stay At
€€
A cozy hotel with all modern amenities in the heart of Malaga.
Eat At
Gastrobar de Malaga La Valiente
€€
The finest Mediterranean food in Malaga.
El Meson de Cervantes
€
Amazing food and top-notch service.
Days 9-10: Granada
Even though this Southern Spain itinerary predicts two days for Granada, this is not enough. The city's unique location at the foothills of the Sierra Nevada and its rich Islamic historical heritage make Granada one of the most visited cities in Spain. The most famous sight in Granada is the legendary La Alhambra; a 14th-century palace/fortress built by Muslim rulers that would remain a symbol of the kingdom of Al Andalus for centuries. However, this is just the beginning and the list of things to do in Granada is practically endless.
Places To Visit
Alhambra
Legendary fortified hilltop Moorish complex.
Generalife
1100s summer palace & elaborate gardens.
Castle of Gibralfaro
11th-century Moorish castle complex.
Royal Chapel
Ornate burial site of Catholic kings.
Granada Cathedral
Ornate Medieval cathedral with an elegant dome.
Carrera del Darro
Iconic riverside walkway with views.
Mirador San Nicolas
The most amazing viewpoint in Granada.
Plaza Isable La Catolica
A charming historic park.
Stay At
€€
A delightful 4-star hotel with all modern amenities located in the heart of Granada.
Eat At
El Trillo Restaurante
€€€
Whether you're looking for a formal lunch or a romantic dinner, El Trillo is a must!
Palacio Andaluz Restaurante Almona
€€
One of the best restaurants in Granada.
Day 11: Sierra Nevada
The Sierra Nevada is one of the most popular options for a day trip from Granada. It's probably the most famous mountain range in Andalusia and there's a good reason for that. Here, you can find the highest point of continental Spain, the mountaintop Mulhacén sitting at 3,479 meters (11,414 ft) above sea level. The area is also home to some of the most amazing ski resorts in Europe and of course, the mesmerizing Sierra Nevada National Park.
Day 12: Almeria
Almeria is a beautiful town on the southeastern Mediterranean coast. Most people connect Almeria with beautiful beaches and it's true, this city has a lot of amazing beaches but in terms of historical sites, I can't help but think Almeria is often overlooked compared to other cities in Andalusia.
Things are slowly changing after the city was featured on Game of Thrones (Torre de Mesa Roldán in Cabo de Gata natural park was used to present Meereen, the city of Pyramids) but the truth is, Almeria has a lot of other amazing landmarks that are worth visiting.
Places to visit
Places To Visit
Alcazaba
Fortress complex from the 10th century.
Museum of Almeria
Modern museum with neolithic-era finds.
Almeria Cathedral
Circa-1500s cathedral & fortress.
Parque Nicolas Salmeron
Leafy city park planted with palms.
Refugios de la Guerra Civil Española de Almería
A network of underground bomb shelters.
Edificio De Las Mariposas
Iconic building by Trinidad Cuartara.
Playa del Zapillo
One of the most beautiful beaches in Almeria.
Playa de San Miguel
A must-visit beach with stunning sunset views
Playa Costa Cabana
Stay At
€€
A gorgeous 4-star hotel near the city center and not far away from the beach.
Eat At
Salmantice
€
Amazing seafood at affordable prices.!
Les 2 Freres
€€
One of the best restaurants in Almeria.
Day 13: Cartagena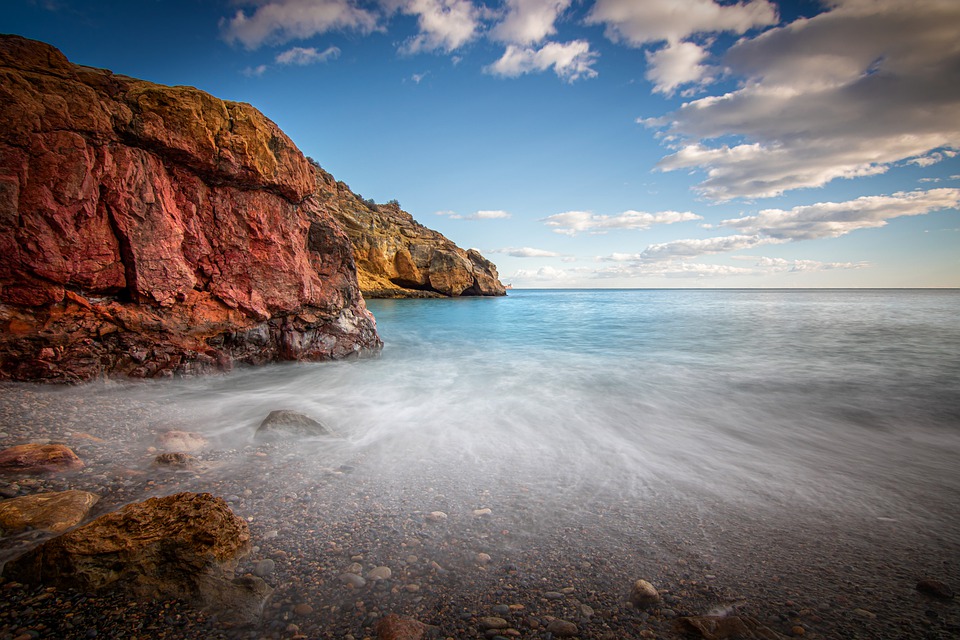 Cartagena is another beautiful coastal town known for its beautiful beaches and lazy Mediterranean atmosphere. Today, it's a small town with roughly 200,000 residents but it's actually one of the oldest cities in Spain. The city experienced its heyday during the Roman Empire when it became one of the main naval ports in the Empire and got its name Carthago Nova (New Carthage, a city that was supposed to replace the hub of the empire that the Romans just destroyed at the time).
Cartagena experienced its fair share of conquerors throughout the years and today, the city presents a beautiful mix of many Phoenician, Roman, Byzantine, and Moorish remains, and a plethora of Art Nouveau buildings.
Places To Visit
Roman Theater
Roman amphitheater & archeology museum.
Cala Cortina
Beautiful beach with amazing sunset views.
La Manga
Mesmerizing seaside split dotted with some of the most beautiful beaches in Southern Spain.
Ayuntamiento Cartagena
One of the most prominent architectural masterpieces in Cartagena.
Interpretation Center of the Punic Wall
Archaeological museum with ancient walls.
National Underwater Museum
Modern underwater-archaeology museum.
Cala Cortina
Personally, one of my top 10 favorite beaches in Spain.
Stay At
€€
A gorgeous 4-star hotel comfortably situated near most of the main tourist attractions.
Eat At
La Marquesita
€€
Mediterranean food at its finest!
Restaurante Magoga
€€
The best of Spanish and Mediterranean cuisines.
Day 14: Murcia
Finally, we round up this Southern Spain itinerary at Murcia. Murcia is the capital of the eponymous province that's often overlooked by tourists visiting Southern Spain. Sure, Andalusia might have a lot more historic landmarks and natural beauty but Murcia is a beautiful region with a lot of hidden gems for people willing to get off the beaten path.
Places To Visit
Catedral de Murcia
Late 14th-century Catholic cathedral.
Real Casino de Murcia
Grand building housing a cultural hub.
Mar Menor
One of Spain's most famous saltwater lagoons.
Santuario de Nuestra Señora de la Fuensanta, Algezares
A medieval monastery with amazing views.
Museo Salzilio
Works by the eponymous 1700s sculptor.
Monasterio de Santa Clara la Real
A convent with art & history exhibits.
Stay At
€€
A gorgeous 4-star hotel with a pool in near proximity to the city center.
Eat At
Salzillo
€€€
One of the finest restaurants in the region.
Restaurante el Girasol
€€
Some of the finest food we have ever eaten.
A few more beautiful towns to visit
If for any reason you don't like our suggestions, or you'd want to take some day trips or add a few more stops to your Southern Spain itinerary (not something we recommend because the itinerary is already crammed), here are a few more suggestions for your trip to Southern Spain.
Carmona, Seville
Carmona is a beautiful small town tucked beneath the Sierra Morena lying around 30 kilometers away from Seville. If you're looking for some beautiful natural landscapes and a laid-back Mediterranean vibe, combined with some of the tastiest wine and olive in Spain, you should definitely consider visiting.
Arcos de la Frontera and Jerez de la Frontera, Cadiz
I could put the entire White Villages Route of Cadiz on this list but that might just confuse you and tempt you to visit more places than humanly possible in a 2-weeks span. That's why I chose my two personal favorites; Arcos and Jerez. Both towns lie halfway between the Atlantic Ocean and the Cadiz Mountain and offer some of the most amazing views in this part of Spain.
Tarifa, Cadiz
Tarifa is another reason why I believe that the province of Cadiz is one of Spain's most underrated in terms of tourism. The city is the southernmost point of continental Spain (and Continental Europe) and geographically, the closest city to this point is the city of Tangier in Morocco (32 kilometers away). Tarifa is home to some of the most pristine beaches in Andalusia and is also famous for being a premier wind sports destination.
Antequera, Malaga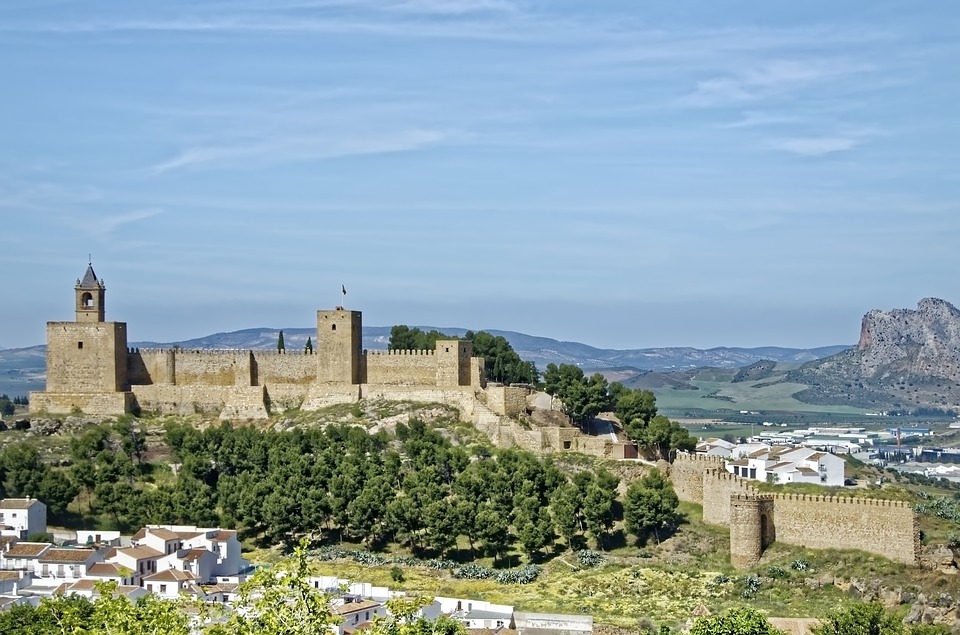 Antequera is one of the most interesting cities in the province of Malaga. The town has been inhabited since the Bronze Age and as the case with most cities as old as it, has some fascinating historical sites. Some of the most interesting landmarks include ancient burial mounds, The Alcazaba of Antequera is (Medieval Moorish fortress), and of course, UNESCO World Heritage Site El Torcal.
Nerja, Málaga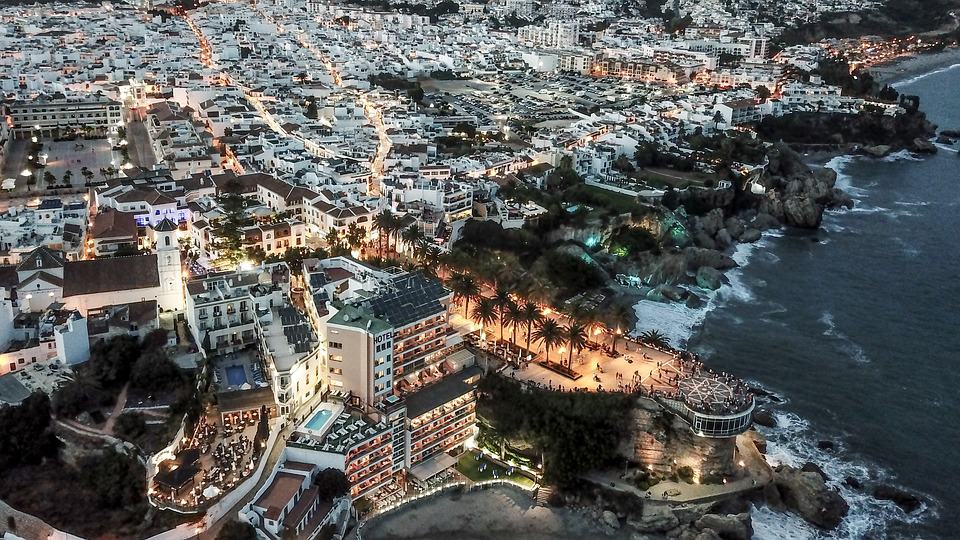 Nerja is one of the most important cities in the eastern part of Costa del Sol. The town is famous for its beautiful beaches and for being one of the best summer vacation spots in Andalusia but the city also has a rich history. Sounds interesting? Then you may want to check out our list of things to do in Nerja or if you're looking for another great vacation spot in the area, you may like Sotogrande, the largest privately-owned residential development in Andalusia.
Marbella, Malaga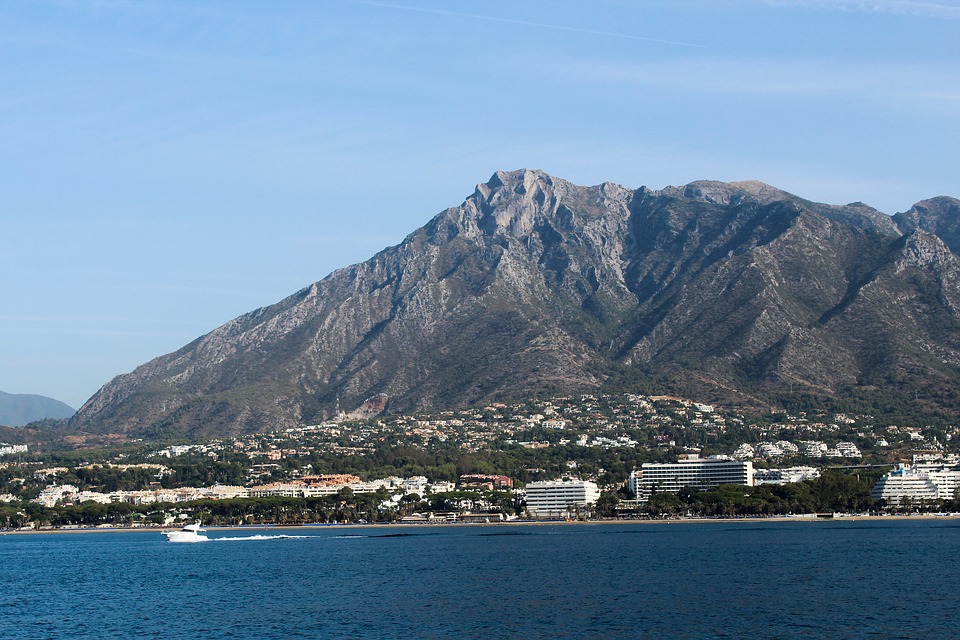 Out of all these honorable mentions, Marbella was probably the closest to making it to our 2-week Southern Spain itinerary but in the end, we chose Ronda. However, that doesn't mean that Marbella isn't a great choice. It has some of the most beautiful beaches in the Costa del Sol, a charming old town, and Marbella's Golden Mile, home to some of the most luxurious villas and estates in Malaga with views of both, mountains and sea.
Guadix, Granada
Guadix is a beautiful mountain town lying on the northern foothills of the Sierra Nevada. The city offers some of the best views of the surrounding mountains but some interesting historical sites, including fascinating medieval monasteries a Moorish fort.
Cabo de Gata, Almeria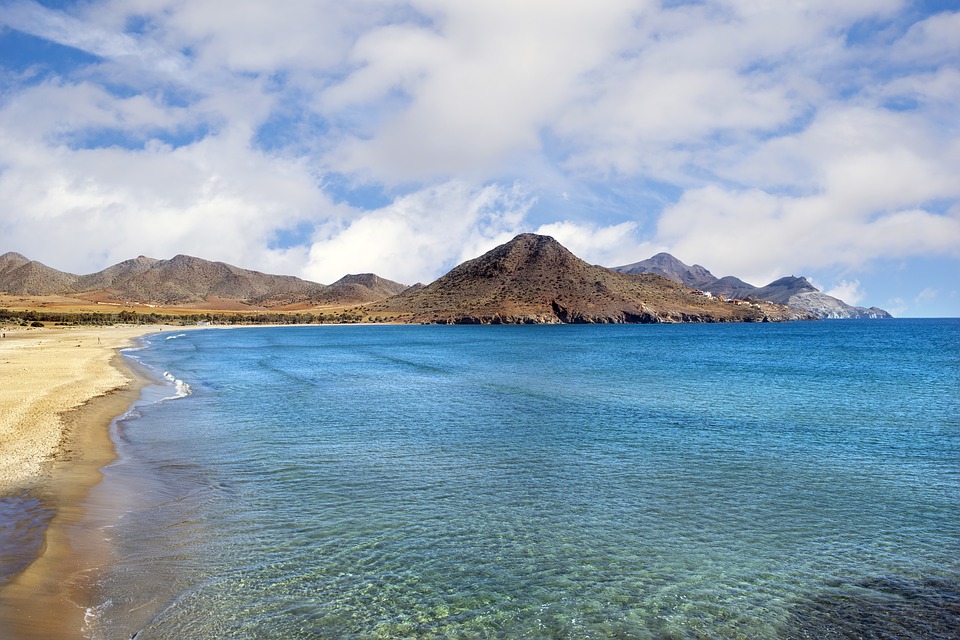 Finally, if you want to add a peaceful coastal town with a laid-back atmosphere that not many people know about to your Southern Spain itinerary, I strongly recommend Cabo de Gata. It's home to some of the most pristine beaches in Almeria, some mind-blowing underwater caves, and it's also one of the best surfing destinations in Spain.
Planning a 7-day Southern Spain itinerary
Finally, I know that two weeks in Southern Spain sound great but if you want to take a road trip around Spain and you only have a week to spare in this part of the country, we got you covered. If I'd have to plan a Southern Spain itinerary in one week for someone that's visiting the region for the first time, my itinerary would look something like this.
Days 1-2: Granada
Day 3: Cordoba
Days 4-5: Seville
Day 6: Cadiz
Day 7: Malaga
How did you like our Southern Spain itinerary? Did you ever visit this part of Spain? What are some of your favorite places? Feel free to share your thoughts again.
Like it? Pin it.