Valencia is Spain's third-largest city and with its beautiful coastline, plethora of interesting sights, and many day trip ideas to choose from, it is one of the most popular destinations on the Iberian Peninsula. Close to 2.5 million people visit Valencia every year and with so many visitors, there aren't too many places that you can say are the real hidden gems in Valencia that most tourists don't know about. However, in this post, we'll do our best to present you with a different side of the city filled with hidden places and non-touristy things to do in Valencia. If you're not a fan of mainstream places and like getting off the beaten track, I'm sure you'll enjoy this post.
Explore the Archaeological Museum
Even though it's located in the city center in proximity to some of Valencia's most prominent tourist attractions, I couldn't help but feel that the Archaeological Museum doesn't get nearly as much attention as it should. The museum is often overlooked, perhaps because it's located underground built next to a huge archaeological dig while on the upper side, its glass roof is disguised at street level as a water pool.
Inside the museum, you'll find some of the most important archaeological findings ever discovered in and near Valencia. The list includes remnants of former buildings, ancient coins, pottery, and many other artifacts from the Arab, Visigoth, and Roman conquests.
Discover La Finca Roja
If you're looking for a non-touristy, peaceful neighborhood where you can unwind and explore away from the city's busiest streets, you'll love La Finca Roja. It's a residential neighborhood east of the main train station.
The neighborhood was constructed in 1933 and it doesn't have important historical monuments like some other neighborhoods of Valencia but it's famous for its beautiful architecture with red-brick facades and green tiles that occupy an entire city block and, of course, its charming coffee shops.
See the narrowest building in Europe
La Estrecha is probably one of the most famous monuments on this list of non-touristy things to do in Valencia. With only 107 centimeters of width, this is the narrowest building in the world. The building is so narrow that when glancing over it, you might think that it's just an extension of the building next to it and not realize that it's a building of its own.
Visit Mercado de Tapineria
Speaking of hidden gems in Valencia, we just have to mention Mercado de Tapineria. Unlike what its name might suggest, this isn't a regular local market. Instead, it's a creative area that has different stalls every week, a cute antique market, gastronomic spaces, and two small squares where you can see live music, exhibitions, and different kinds of workshops.
It's a perfect intimate spot where you can have a nice meal, a drink or two, go shopping or just relax and unwind.
Experience a 1,000-years old tradition
Surely, the city's main cathedral couldn't be on this list of non-tourist things to do in Valencia? Well, the Valencia cathedral is not but a thing that happens in the cathedral every Thursday at noon. El Tribunal de Las Aguas (The Water Court) is technically one of Europe's oldest law institutions that still exist.
Today, this is a customary court and its role is to settle the disputes regarding the use of irrigation water by farmers in the local irrigation communities. In 2009, this interesting tradition became a part of UNESCO's intangible cultural heritage list.
Take a photo at Casa de los Gatos
La Casa de los Gatos (Cat House) is a tiny house in El Carmen that serves as a shelter for the neighborhood's strays. Stray cats have been occupying the space for years when in 2003, local artist, Alfonso Yuste Navarro decided to make an artistic façade of the spot and name it el casa de los Gatos.
After this, the miniature house became one of the city's quirkiest places and one that definitely deserves a mention on our list of non-touristy things to do in Valencia.
Board on Estacio del Nord
Estacio del Nord is Valencia's central railway station but also one of the most underrated places in town. Since it's a railway station, it usually isn't dotted as a tourist attraction and tourists don't go there unless they need to take a train. However, visiting the station is definitely worth it.
In addition to the impressive façade, the station's interior is just beautiful. It's arguably the most beautifully decorated railway station I've ever seen. Inside, you'll find colorful mosaics, unusual tiles, and vibrant stained glass windows that will surely impress you.
Enjoying this post? Then you may also want to check out our guide to solo travel in Spain.
Explore Valencia's quirkiest museum
L'iber is the biggest museum of historical miniatures in the whole world. The museum possesses a quirky collection of more than 1,000,000 (with words, one million) toy soldiers out of which only around 100,000 are on display. Inside the museum, there are several different exhibition rooms, and each room focuses on different eras of the history of Valencia and Spain.
Witness the incredible architecture of Casa Judia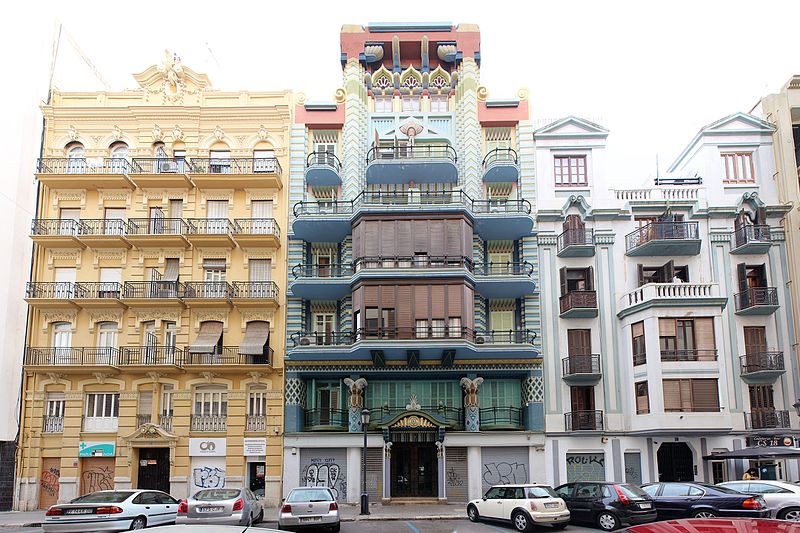 El Casa Judia (the Jewish House) is a beautiful art deco house located alongside some ordinary-looking apartment buildings. It was built in the 1930s for a Spanish Jewish man and besides the dominant art-deco style, the building also features prominent Hebrew, oriental, Arabic, Egyptian, and even Hindu elements, making it one of the most interesting architectural gems in Valencia.
It's a mix of many harmoniously combined architectural styles and vibrant colors that make it very difficult to remain indifferent to such a grandiose sight.
Enjoying this post? Then you may also want to check out our list of hidden gems in Barcelona as well as our list of unusual things to do in Barcelona.
Iglesia de San Lorenzo
Iglesia de San Lorenzo is one of the oldest churches in this part of Spain. It was built in 1238 and was one of the first parishioners of the primitive Valencian parishes.
The interior of the church remained relatively unchanged throughout the years and even today, stepping inside the church feels like traveling back in time. This church isn't very touristy (it's one of our favorite hidden gems in Valencia) and is a great change from the typical busy travel itinerary.
Have a language exchange in a bar
Café Berlin is always a favorite pick among travelers visiting Valencia because of its tasty food and coffee but also because of the many interesting exhibitions and unusual events that attract people from around the city.
One of the most famous activities is the popular language exchange where tourists from different parts of the world get the chance to learn other foreign languages or teach their native language to other fellow tourists.
See street art at El Carmen
This list of non-touristy things to do in Valencia wouldn't be complete without El Carmen, one of the city's quirkiest streets. El Carmen is famous among locals for its amazing street art that gives the area a unique artistic and vibrant charm.
Street art can be seen everywhere in this area, especially around the part filled with bars and nightclubs with one of the most spectacular spots being located around Carrer d'en Gordo; an abandoned space surrounded by abandoned buildings turned into one of the most creative street art hubs of Valencia.
Walk through Portal de la Valldigna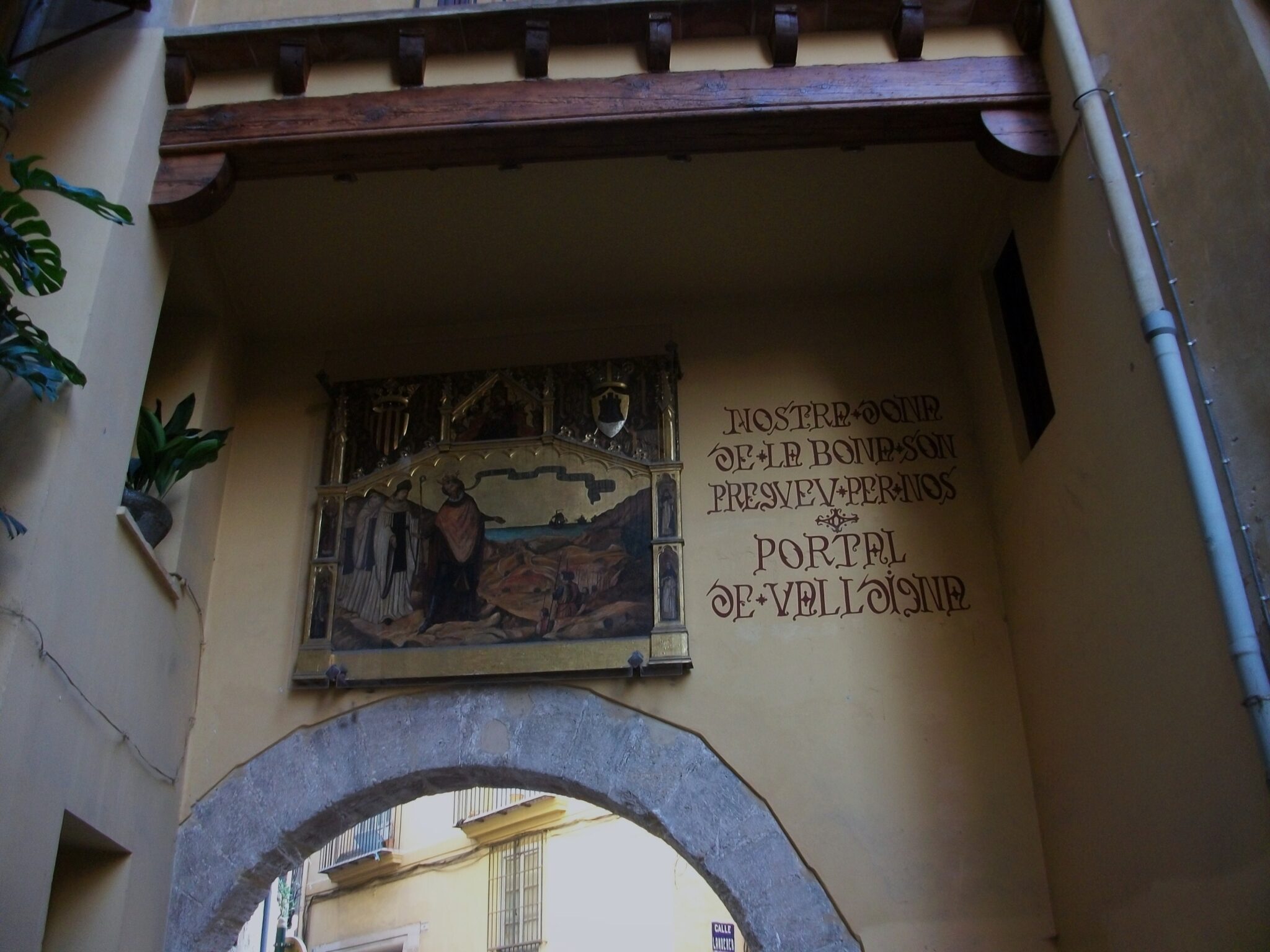 Hidden in the middle of a quiet backstreet in El Carmen, the Portal de la Valldigna is one of the oldest historical sites in the area. It was built in the late 14th century and for a while, served as a gateway that separated the Moorish and Christian parts of the city.
The gateway was in a pretty bad condition until the mid-20th century when it was restored and given protected status.
Relax at Espai Verd
Speaking of non-touristy things to do in Valencia, we just have to tell you about Espai Verd- one of the city's most fascinating architectural innovations. This residential complex was built in the 1980s to add to the city's greenery, hence, the name "Espai Verd" or "Green Space".
This name is rather descriptive because Espai Verd is completely filled with greenery, so much that you can see it spilling out over the exterior of the complex. There are also many trees and flourishing gardens in the courtyard, which, by the way, is open to visitors.
See a monument of unnecessary government spending
If you like visiting abandoned quirky places, you should add Miramar Tower to your list of non-touristy things to do in Valencia. The tower was built in the late 2000s during the Great Recession and was meant to be a symbol of the city that would welcome visitors arriving in Valencia.
The tower was closed only 3 months after it was built and was briefly reopened shortly after to the disappointment of visitors who were expecting a view of the sea (judging from the name of the tower) but didn't get any because the coast can't be seen even from the top. Today, the building lies in disrepair and most locals view it as a monument of unnecessary government spending.
Check out the Arab baths
The old Arab bathhouse is one of the most prominent landmarks from Valencia's Moorish past. The bathhouse was built in the early 13th century. During the Moorish era, there were more than 10 bathhouses that were built in Valencia but this was the only one that stood the test of time.
Interestingly, the bathhouse was actively used until the mid-20th century, even 500 years after the Reconquista. The Arab bathhouse was recently restored but most of its authenticity was preserved and if you're a history fan, this is one place you should definitely add to your list.
Relax at El Saler Beach
To be fair, El Saler is actually just outside of Valencia (around 12 km away) but it's a perfect option if you're looking to get away from the city's busy streets and spend a day relaxing at the beach.
See a model of the walled city
If you're curious about how Valencia used to look like back in the days when it was a walled city, you'd be happy to hear that there's a miniature model of medieval Valencia in the MuVIM (Valencian Museum of Illustration and Modernity). And by the way, if you're into walled cities, check out this list of beautiful walled cities in France.
The model was made based on an 18th-century plan designed by Valencian cartographer Father Tosca. All of the buildings, blocks, and walls were cut and hand-painted by a group of craftsmen, and it's one of the most fascinating pieces of art I've seen.
Tour Suggestions
If you're looking for some more hidden gems in Valencia to add to your list of non-touristy things to do in Valencia, here are a few quirky tours that you might find interesting.
Valencia: Art and Nature Segway Tour
Valencia: Walking Tour of the Medieval City Center
Valencia: Route of the Holy Grail & Religious Art
Jeep Safari Mountain Adventure
Hidden Valencia: Tour of Eixample, Canovas & Ruzafa
Heplful Resources For Visiting Valencia
If you like exploring on your own, renting a car in Valencia is a great option. When renting cars abroad, my favorite choice is always AutoEurope. You can use this link to get up to 30% on car rentals in Valencia.
Are you planning to visit some famous tourist attractions? Opt-in for a Valencia tourist card; if you're spending more than a few days in Valencia, this can help you save a significant amount of money on sightseeing.
If you want to get a cheap flight to Valencia, use this special offer by Qatar Airways to save up to 20% on your flight.
To save on your accommodation in Valencia, this Booking.com voucher gets you up to 15% off on all properties in town.
If you're planning to tour the south of Spain, make sure to check out our Southern Spain itinerary and our Southern Spain road trip guide.
Last but not least, don't forget about the most important thing about traveling; travel insurance. For some great deals for you trip to Valencia, check out World Nomads.
Did you ever visit la capital del Turia? How did you like our list of non-touristy things to do in Valencia? Do you have any other hidden gems in Valencia you think we didn't mention? Feel free to share your thoughts in the comments below!
Like it? Pin it.