Miami is a vibrant and diverse city known for its stunning beaches, lively nightlife, and rich cultural heritage and even though not very often associated with solo travel, there is a plethora of exciting things to do alone in Miami. Whether you're a visitor seeking solitude or a local looking for some personal time, Miami presents an array of opportunities to explore, indulge, and rejuvenate alone. From strolling along the iconic Art Deco District to immersing yourself in the thriving art scene, or simply basking in the sun on pristine shores, Miami beckons solo travelers with endless possibilities for unforgettable experiences in their own company.
Is Miami Suitable For Solo Travelers?
Absolutely! Miami is a fantastic destination for solo travelers. The city's vibrant atmosphere, diverse population, and wide range of activities make it a welcoming and exciting place to explore on your own. Whether you're interested in immersing yourself in the art and culture scene, enjoying the beautiful beaches, indulging in world-class cuisine, or experiencing the vibrant nightlife, Miami has something for everyone. Additionally, the city boasts excellent public transportation and a well-developed tourist infrastructure, making it easy to navigate and feel safe while exploring solo.
Where To Eat?
Miami is a food lover's paradise, and as a solo traveler, you'll have plenty of options to indulge in some delicious cuisine. Here are some recommendations for places to eat in Miami as a solo traveler:
La Sandwicherie – This local favorite offers a wide selection of fresh, made-to-order sandwiches, salads, and smoothies in a casual, outdoor setting. Perfect for a quick and satisfying bite on the go.
Versailles – A Miami institution, Versailles serves up some of the best Cuban food in the city. The lively atmosphere and authentic flavors make it a popular spot for locals and tourists alike.
Pubbelly Sushi – If you're a sushi lover, Pubbelly Sushi is a must-visit. This trendy eatery offers creative sushi rolls and small plates in a stylish, bustling atmosphere.
Panther Coffee – For coffee aficionados, Panther Coffee is a top choice. The award-winning roaster offers a range of high-quality coffees, teas, and pastries in several locations throughout the city.
Yardbird Southern Table & Bar – If you're in the mood for comfort food, Yardbird serves up classic Southern cuisine with a modern twist. The cozy atmosphere and friendly service make it a great spot for a solo dinner.
Where To Stay?
As a solo traveler in Miami, you have several options for accommodation depending on your preferences and budget. Here are a few suggestions:
Enjoying this post? Then you'll probably also like our guide to solo travel in San Francisco.
Getting Around
Getting around Miami as a solo traveler is convenient and offers various transportation options to explore the city. The public transportation system is extensive, with buses and the Metrorail connecting different neighborhoods and downtown Miami. The Metrorail provides easy access to major areas, while buses cover a wider range of destinations. Consider obtaining an EASY Card or EASY Ticket for seamless travel on public transport.
Additionally, the free Metromover is a great option for navigating downtown Miami, with stops near popular attractions, shopping centers, and restaurants. Ride-sharing services like Uber and Lyft are widely available, offering convenience and door-to-door transportation. And last but not least, you can always rent a car in Miami and take your time exploring the places you like. You can use our Auto Europe offer to get up to 30 % off on all car rentals in Miami (for more info about Auto Europe, check out our Auto Europe review).
Safety For Solo Travelers In Miami
Miami is generally considered a safe city for solo travelers, but like any urban area, it's important to exercise caution and be aware of your surroundings. While the city has a reputation for its vibrant nightlife and diverse neighborhoods, it's always wise to take precautions to ensure your safety. Stick to well-lit and populated areas, especially at night, and avoid walking alone in unfamiliar or isolated areas. Using licensed taxis, ride-sharing services, or public transportation is recommended for getting around the city. It's also a good idea to research the neighborhoods you plan to visit and stay in reputable accommodations.
And of course, don't forget about travel insurance. SafetyWing offers comprehensive coverage that ensures peace of mind during your adventures. With medical expenses, trip interruptions, and lost baggage coverage, SafetyWing has you covered in case of any unexpected incidents for as low as $45 per month. Their affordable plans are designed specifically for digital nomads, remote workers, and solo travelers, providing flexibility and convenience.
Now that we covered some basics, let's get to the most important part of this article- the best things to do alone in Miami.
Tour The Pérez Art Museum
We start off this list of things to do alone in Miami with the Perez Art Museum. Solo travelers seeking an enriching and immersive art experience will find PAMM to be an absolute delight. Situated along Biscayne Bay in downtown Miami, this contemporary art museum showcases an impressive collection of international modern and contemporary art.
The museum boasts expansive galleries featuring thought-provoking exhibitions, diverse multimedia installations, and a curated selection of artworks that challenge traditional artistic boundaries. Immerse yourself in the world of contemporary art as you wander through the various exhibitions, each offering a unique perspective and narrative. Marvel at the masterpieces created by renowned artists such as Ai Weiwei, Beatriz González, and KAWS, among others, whose works showcase a wide range of mediums and artistic expressions.
Enjoying this post? Then you may also like our guide to solo travel in Los Angeles.
Explore The Art Deco District
As you stroll through the enchanting streets of the Art Deco District, you'll be captivated by the unique blend of elegance and exuberance that defines this iconic neighborhood. The pastel hues of the buildings, ranging from soft pinks to mint greens, create a whimsical and dreamy ambiance that is truly captivating.
Start your exploration at the Art Deco Welcome Center, where you can gather useful information, maps, and expert advice on how to make the most of your visit. Join a guided walking tour led by knowledgeable guides who will bring the history and stories of the district to life. Learn about the architectural styles, historical significance, and preservation efforts that have made the Art Deco District a UNESCO World Heritage Site.
Admire the intricate details and geometric patterns that adorn the facades of the buildings. From the iconic Colony Hotel to the stunning Carlyle Hotel, each structure tells a story of the glamour and allure of the bygone era. Capture the beauty of these architectural gems as you wander through the streets, immersing yourself in the art and history that surrounds you.
If you're looking for a tour of the area, check out this Art Deco District Walking tour with optional cocktails.
Discover Wynwood Art District
This hidden gem is a haven for art enthusiasts and solo travelers seeking an immersive and captivating experience. With its colorful murals, contemporary galleries, and bustling art scene, Wynwood is a must-visit destination that will ignite your imagination and leave you inspired. The streets act as an ever-changing open-air gallery, with larger-than-life murals and graffiti art that showcase the talent and creativity of local and international artists.
Venture into the numerous contemporary art galleries that dot the district, where you'll discover a diverse range of artistic expressions. From cutting-edge installations to thought-provoking sculptures, these galleries provide a platform for emerging and established artists to showcase their work. Engage with the local artists, attend gallery openings, and let their creativity inspire and challenge your perspective.
Go Paddle Boarding
Miami offers an abundance of opportunities for solo travelers to paddle board and immerse themselves in the beauty of the ocean. With its warm climate and inviting waters, it's the perfect destination to try this exciting water sport. Start your paddle boarding escapade by renting equipment from one of the many reputable water sports companies along the coast. They provide everything you need, from sturdy paddle boards to adjustable paddles, ensuring a safe and enjoyable experience. Don't worry if you're a beginner; they often offer lessons to help you get started and master the art of balancing and paddling.
Eat Your Way Through Little Havana
Speaking of the best things to do alone in Miami, we can't forget about Little Havana. As you step into the lively streets of Little Havana, your senses will be instantly awakened by the captivating aromas of roasted pork, fragrant spices, and freshly brewed Cuban coffee. This vibrant neighborhood is a treasure trove of hidden gems and culinary delights, offering solo travelers an immersive and delicious experience.
Start your gastronomic journey by visiting the iconic Versailles Restaurant, a Miami institution that has been serving traditional Cuban dishes for over 40 years. Indulge in mouthwatering classics such as ropa vieja (shredded beef), lechón asado (roast pork), and tostones (fried plantains). The bustling atmosphere, live music, and friendly conversations make dining at Versailles an authentic and memorable experience.
For a taste of the local street food scene, make your way to the iconic Calle Ocho (Eighth Street). Here, you'll find a plethora of food stands and window counters offering delicious Cuban treats. Bite into a crispy and flavorful empanada, sample a medianoche sandwich (a midnight sandwich with roasted pork, ham, cheese, and pickles), or try a refreshing cup of guarapo (sugarcane juice) to cool down from the Miami heat.
Don't miss the opportunity to visit El Pub, a neighborhood gem known for its homestyle Cuban dishes and warm hospitality. Whether you choose the classic ropa vieja, a hearty plate of picadillo (seasoned ground beef), or a comforting bowl of black bean soup, every bite will transport you to the heart of Cuban cuisine.
Go Wine Tasting At Schnebly Redland's Winery & Brewery
The winery and brewery have taken advantage of Miami's tropical climate to create a one-of-a-kind experience, specializing in wines made from fruits other than grapes. From luscious avocado wine to tangy passion fruit blends, their selection offers a delightful twist on traditional wine varieties.
Begin your wine-tasting adventure at the elegantly designed tasting room, where the friendly and knowledgeable staff will guide you through the tasting process. Explore a diverse range of fruit wines, each meticulously crafted to highlight the natural flavors and essence of the fruits used. Sip on refreshing guava wine, savor the tropical notes of mango-infused varietals, or experience the velvety richness of their lychee wine. With every sip, you'll be transported to a paradise of flavors that perfectly captures the essence of Miami's exotic bounty.
Enjoying this post? Then make sure to also check out our list of things to know before visiting USA for the first time.
Try The Miami Combo Tour
The Miami Combo Tour offers a comprehensive and dynamic experience, allowing you to discover the city's iconic landmarks, soak up its vibrant culture, and explore its hidden gems, all in one exciting package. Start your adventure with a guided tour of Miami's famous neighborhoods, such as the vibrant Art Deco District of South Beach, where you'll marvel at the colorful pastel buildings and soak up the glamorous atmosphere. Learn about the history and architecture of this iconic area as your knowledgeable guide shares fascinating insights and stories along the way.
Next, immerse yourself in the cultural melting pot of Little Havana, where the sights, sounds, and flavors of Cuba come alive. Wander through the bustling streets, adorned with vibrant murals, and experience the authentic charm of this beloved neighborhood. Indulge your taste buds with delicious Cuban cuisine, sip on a cafecito (Cuban coffee), and perhaps even join in a game of dominoes with the locals. Let the vibrant energy and rich cultural heritage of Little Havana captivate your senses.
As part of the Miami Combo Tour, venture into the natural beauty of the Everglades, a unique ecosystem that is a true hidden gem. Board an airboat and glide through the vast sawgrass prairies, where you'll have the chance to spot alligators, exotic birds, and other wildlife in their natural habitat. Immerse yourself in the serene beauty of the Everglades as your guide shares their knowledge and passion for this remarkable ecosystem.
Take The Miami Seaplane Tour
Embark on a solo adventure like no other and soar high above the breathtaking landscapes of Miami by taking the Miami seaplane tour. Prepare to be mesmerized by the stunning aerial views, the exhilarating sensation of taking off and landing on water, and the unforgettable memories that await you on this once-in-a-lifetime experience.
The Miami Seaplane Tour offers a unique perspective of the city, allowing you to witness its beauty from the skies. Imagine yourself gliding above the crystal-clear waters of Biscayne Bay, with the vibrant cityscape on one side and the picturesque coastline on the other. As a solo traveler, the Miami Seaplane Tour is the perfect opportunity to escape the ordinary and embark on a thrilling adventure. You'll have a front-row seat to the stunning natural beauty of the region, from the lush greenery of the Everglades to the iconic landmarks that dot the Miami skyline.
Walk The Miami Design District
With its blend of high-end boutiques, contemporary galleries, and architectural marvels, the Miami Design District is a must-visit destination for people looking for things to do alone in Miami. The district is known for its distinctive facades and avant-garde designs, creating a visual feast for architecture lovers. Let the impressive buildings, innovative structures, and captivating public spaces transport you to a world where creativity knows no bounds.
The Miami Design District is not just a shopping destination; it's also a hub for contemporary art and design. Visit the district's renowned galleries, where you'll find a diverse range of artistic expressions and thought-provoking installations. From contemporary paintings and sculptures to multimedia exhibits, these galleries showcase the work of both established and emerging artists. Engage with the art community, attend gallery openings, and let the creative energy inspire and challenge your perspective.
Visit South Beach
Calling all solo travelers seeking sun, fun, and a vibrant beach scene! Welcome to South Beach, Miami's iconic and glamorous playground. Get ready to experience the perfect blend of relaxation, entertainment, and people-watching as you embark on an unforgettable adventure in this lively and energetic neighborhood.
As a solo traveler, South Beach offers the ideal destination to unwind, meet new people, and embrace the carefree spirit of Miami. The pristine sandy beaches stretching for miles invite you to kick off your shoes, feel the warm sand beneath your feet, and soak up the glorious Florida sunshine. Whether you're looking to relax with a good book, take a leisurely swim in the turquoise waters, or simply bask in the beauty of your surroundings, South Beach's beaches provide the ultimate escape.
Take A Speedboat Tour Of Miami
Brace yourself for a heart-pounding experience that combines adrenaline-pumping speed with breathtaking views of Miami's iconic landmarks and stunning coastline. This high-speed escapade is perfect for solo travelers seeking an unforgettable and action-packed adventure.
The Miami speedboat tour takes you on a thrilling journey along Miami's picturesque shoreline, providing you with a unique perspective of the city's most famous landmarks and plus, if you're brave enough, you might even try the jet skis as a part of the tour at no extra cost. Marvel at the majestic skyline, dotted with towering skyscrapers and glamorous waterfront mansions. Admire the iconic Art Deco architecture of South Beach, with its pastel-colored buildings and vibrant atmosphere.
Cruise past the historic Port of Miami, where massive cruise ships set sail to exotic destinations. Capture stunning panoramic views of the city's renowned attractions, including the famous Miami Beach, Fisher Island, and the Venetian Islands.
But the speedboat tour is not just about the fast-paced adventure; it's also an opportunity to learn about Miami's rich history and vibrant culture. Knowledgeable guides accompany you on the tour, providing fascinating insights and entertaining anecdotes about the city's landmarks and their significance.
Go Kayaking In Virginia Keys
As you set off on your kayaking adventure in Virginia Key, you'll be greeted by breathtaking views of the Miami skyline and the azure waters of Biscayne Bay. The tranquility of the surroundings will wash over you as you navigate through the calm waters, feeling the gentle rhythm of your paddle against the surface.
Virginia Key is a haven for outdoor enthusiasts and nature lovers, offering a variety of kayaking experiences to suit all skill levels. Whether you're a novice or an experienced kayaker, there are options for everyone. Glide along the tranquil lagoon, known as Bear Cut, where you'll be surrounded by lush mangroves and vibrant marine life. Explore hidden mangrove tunnels, a labyrinth of interconnected waterways that lead to secluded and untouched spots, offering a sense of tranquility and solitude.
Tour Key Biscayne On A Day Trip
Escape the hustle and bustle of Miami and embark on a captivating day trip to Key Biscayne, a hidden gem just a stone's throw away from the city. Prepare to be enchanted by the island's natural beauty, pristine beaches, and charming attractions as you indulge in a blissful and rejuvenating getaway.
As you cross the Rickenbacker Causeway, the gateway to Key Biscayne, you'll immediately feel a sense of tranquility wash over you. Leave the city behind and immerse yourself in the island's serene ambiance, surrounded by lush greenery, swaying palm trees, and panoramic views of the sparkling turquoise waters of the Atlantic Ocean.
Learn New Things At Phillip and Patricia Frost Museum of Science
Step inside this modern and innovative museum, and be greeted by a world of wonder and exploration. The museum is divided into various sections, each dedicated to a specific field of science. From astronomy to biology, from physics to technology, there is something to pique the interest of every curious mind.
Begin your adventure at the Frost Planetarium, a state-of-the-art facility that will transport you to the farthest reaches of the universe. Immerse yourself in the awe-inspiring beauty of the cosmos as you witness breathtaking shows and astronomical presentations. Continue your exploration at the Feathers to the Stars exhibit, where you'll delve into the fascinating world of flight. Discover the secrets of avian adaptations and marvel at the diversity of birds that inhabit our planet.
For those intrigued by the mysteries of the deep sea, the Dive into the Abyss exhibit is a must-visit. Plunge into the depths of the ocean and encounter mesmerizing marine life, from colorful coral reefs to elusive deep-sea creatures. Learn about the delicate balance of marine ecosystems and the importance of conservation efforts in preserving our oceans for future generations.
Get Inspired At Paradox Museum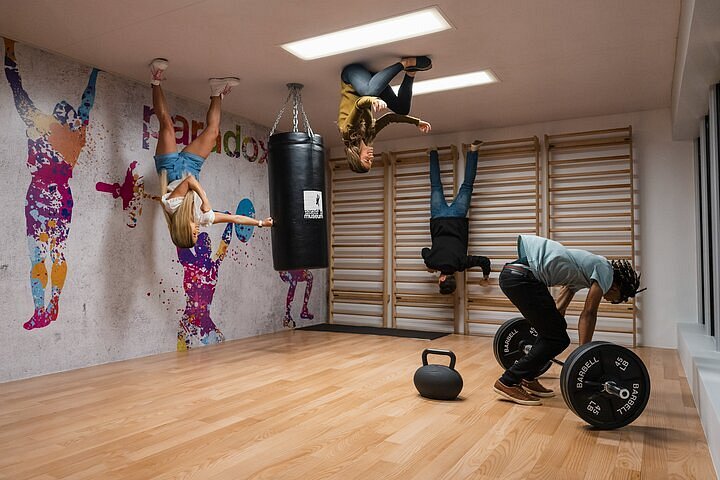 Speaking of things to do alone in Miami, we have to mention the Paradox Museum. From rooms that appear to defy gravity to mind-boggling puzzles and interactive installations, every corner of this museum will leave you questioning your own senses.
One of the highlights of the Paradox Museum is the Ames Room, a mind-altering space that plays tricks on your perception of size and distance. As you step inside, you'll witness an optical illusion that makes people appear to shrink or grow depending on their position in the room.
Another fascinating exhibit is the Infinity Room, where mirrors create an illusion of infinite space. Step inside and feel as if you're floating in a never-ending realm of reflections. The visual effect is both enchanting and disorienting, making it a favorite among visitors. For those who enjoy mind games and puzzles, the Paradox Museum offers interactive exhibits that challenge your cognitive abilities. Test your problem-solving skills in the Mind Maze, where you'll navigate through a series of perplexing puzzles and optical illusions.
See Contemporary Art At The Rubell Museum
Located in the heart of Miami's Wynwood neighborhood, the Rubell Museum is housed in a sprawling warehouse-like space that itself is a work of art. Step inside, and you'll be greeted by a dynamic and ever-changing collection of contemporary artworks that span various mediums, from painting and sculpture to photography and installation.
The museum's collection is a testament to the Rubell family's passion for art and their dedication to supporting emerging and established artists. Discover thought-provoking pieces that tackle social, political, and cultural issues, inviting viewers to engage with the world around them in new and profound ways. From bold and provocative statements to subtle and introspective reflections, the artworks at the Rubell Museum provoke conversation, challenge perspectives, and ignite the imagination.
Have A Unique Experience At The World Erotic Art Museum
This hidden gem is a celebration of human sensuality, offering a captivating and thought-provoking experience that explores the diverse expressions of erotic art throughout history. Step into this intimate and intriguing museum, and prepare to be captivated by a vast collection of erotic artworks, sculptures, photographs, and artifacts from different cultures and periods. From ancient civilizations to contemporary artists, the museum showcases the rich tapestry of human sexuality and the art that has emerged from it.
As you wander through the museum's halls, you'll encounter a variety of artistic expressions that range from subtle and suggestive to bold and explicit. Discover masterpieces that beautifully depict the human form, explore themes of love and desire, and challenge societal norms and taboos. The artworks on display encompass a wide range of styles, from classical and romantic to abstract and avant-garde, providing a comprehensive look at the evolution of erotic art over time.
Learn About Local History At History Miami Museum
Nestled in the heart of downtown Miami, this museum is a treasure trove of artifacts, exhibits, and interactive displays that bring the past to life and offer a deeper understanding of the local culture and heritage.
Step inside the History Miami Museum and embark on a journey through the centuries. From the indigenous tribes that first inhabited the region to the pioneers and immigrants who shaped Miami's identity, each exhibit reveals a different chapter of the city's history. Discover the diverse cultures that have influenced Miami, from the vibrant Afro-Caribbean heritage to the Latin American influences that permeate its streets.
The museum's collection spans a wide range of topics, from early settlements and the development of the city to key moments in Miami's social, political, and economic evolution. Immerse yourself in the stories of the past as you explore photographs, documents, and personal testimonies that offer a glimpse into the lives of those who came before us.
Fly A Hovercraft In The Everglades
Step into the pilot's seat and prepare to be amazed as you navigate through the winding waterways and vast expanses of the Everglades in a state-of-the-art hovercraft. Feel the rush of excitement as you glide effortlessly over the marshy terrain, skimming over the water's surface and effortlessly maneuvering through the dense vegetation.
As you soar through the Everglades, you'll be treated to a mesmerizing display of the region's abundant wildlife. Keep your eyes peeled for graceful alligators, majestic birds, and elusive creatures that call this magnificent ecosystem their home. The hovercraft's unique vantage point allows you to witness the intricate web of life that thrives in the Everglades up close and personal.
But it's not just the thrill of flying and the wildlife encounters that make this experience truly unforgettable. The Everglades itself is a natural wonder like no other. Immerse yourself in the serenity and untouched beauty of this unique ecosystem, known as the "River of Grass." Marvel at the vast expanse of sawgrass prairies, the shimmering waters of the wetlands, and the lush mangrove forests that stretch as far as the eye can see.
See Miami From Above On A Helicopter Tour
Buckle up and prepare to soar through the clouds as you witness the stunning vistas of this vibrant city from a whole new perspective. As your helicopter lifts off, you'll feel a surge of excitement and anticipation. The cityscape below transforms into a sprawling mosaic of colors, shapes, and textures. Marvel at the glittering waters of Biscayne Bay, where turquoise waves lap against white sandy beaches. Look out at the vibrant streets of downtown Miami, where towering skyscrapers create a mesmerizing urban jungle.
The beauty of a helicopter tour lies in its ability to showcase Miami's diverse landscape in a way that is truly unforgettable. Soar above the famous Art Deco buildings of South Beach, their pastel hues radiating under the warm Florida sun. Admire the lush greenery of the city's parks and gardens, which provide a serene contrast to the bustling streets below.
Take A Sunset Cruise
If you're traveling solo, one of the best things to do alone in Miami is to take a sunset cruise and admire the beautiful views of the city as the sun disappears behind the horizon. Board your vessel and set sail on an adventure that will leave you in awe. As the boat glides through the water, you'll feel the gentle breeze on your face and the warm rays of the sun caressing your skin. Find the perfect spot on deck to soak in the breathtaking panoramic views and prepare to witness nature's masterpiece unfold before your eyes.
As the sun descends, casting its warm glow across the horizon, the Miami skyline transforms into a stunning silhouette against the radiant sky. Watch as the city's iconic landmarks, such as the Art Deco buildings of South Beach and the towering skyscrapers of downtown, become illuminated by the soft, golden light of the setting sun. It's a sight that will leave you mesmerized and grateful for the beauty of the world around you.
But it's not just the cityscape that captivates during a sunset cruise. Miami's coastline is a haven for marine life, and you may be lucky enough to catch glimpses of dolphins frolicking in the water or graceful sea birds soaring overhead. The tranquil ambiance of the evening provides the perfect opportunity to connect with nature and appreciate the wonders of the ocean.
Take The 'Celebrity Homes' Boat Tour
Embark on a glamorous adventure as a solo traveler on the 'Celebrity Homes' boat tour in Miami, where you'll get an exclusive glimpse into the luxurious lifestyles of the rich and famous. Set sail on the sparkling waters of Biscayne Bay and prepare to be captivated by the opulent mansions, mega-yachts, and celebrity hideaways that line the shores.
Cruise along the picturesque coastline, passing by lavish waterfront estates that exude elegance and grandeur. From magnificent mansions to sleek and modern architectural marvels, each home showcases the unique style and taste of its celebrity owner. Keep your eyes peeled for the sprawling estates of A-list actors, renowned musicians, and successful entrepreneurs.
Throughout the tour, the guide will share fascinating anecdotes, trivia, and insider stories about celebrities and their homes. Learn about the famous parties held within these walls, the architectural features that make each property unique, and the legendary tales that have unfolded in these exclusive neighborhoods. It's a journey that will leave you feeling like an insider in the glamorous world of the rich and famous.
Stroll The Miami Beach Boardwalk
Embark on a leisurely stroll along the iconic Miami Beach Boardwalk and immerse yourself in the vibrant atmosphere of this coastal paradise. Stretching for miles along the pristine sands of Miami Beach, the boardwalk is a bustling promenade that showcases the best of what the city has to offer. As you begin your walk, you'll be greeted by the refreshing ocean breeze and the sound of crashing waves.
The Miami Beach Boardwalk is not just a place to walk; it's a vibrant tapestry of life, filled with colorful characters, energetic joggers, and families enjoying the sun-kissed surroundings. From locals to tourists, the boardwalk is a melting pot of cultures, languages, and styles. It's a microcosm of Miami's diverse and dynamic atmosphere, offering a unique glimpse into the city's cosmopolitan essence.
Learn How To Make Cigars
If you're into Cuban culture and are a fan of cigars, visiting a cigar shop is probably one of the best things to do alone in Miami for you. Most of these stores hold live demonstrations that offer a rare opportunity to witness the skill and precision of master cigar rollers as they transform carefully selected tobacco leaves into works of art. The passion and expertise that go into each cigar are palpable, and you'll be captivated by the craftsmanship on display.
Throughout the demonstration, the artisans will share their knowledge and expertise, providing insights into the different types of tobacco, the art of blending flavors, and the cultural significance of cigars in Miami and beyond. They'll regale you with stories of the industry's history, the techniques passed down through generations, and the pride they take in their craft. It's a chance to learn from the masters themselves and gain a deeper understanding of the passion that fuels this age-old tradition.
Explore The Fairchild Tropical Botanical Garden
The Fairchild Garden is a haven where nature's wonders unfold, inviting you to explore, relax, and reconnect with the natural world. Spread across 83 acres, this tropical paradise is home to an astonishing variety of plant species from around the world. Wander along winding pathways that lead you through diverse ecosystems, from rainforests to deserts, showcasing the incredible biodiversity of our planet.
Beyond its natural beauty, the Fairchild Garden also offers a range of educational and cultural experiences. Engage in interactive exhibits that provide insights into the importance of plant conservation and the vital role that botanical gardens play in preserving our planet's biodiversity. Attend workshops and lectures led by experts, where you can deepen your knowledge and understanding of the natural world.
Visit Vizcaya Museum & Gardens
Vizcaya is a testament to the visionary artistry and impeccable taste of its creator, James Deering, and offers a captivating experience that will leave you spellbound. The architectural splendor of the villa is a sight to behold, with its intricate details, Venetian-inspired facades, and magnificent waterfront location. Step inside, and you'll be transported to a world of refined beauty and artistic brilliance.
The interior of Vizcaya is a treasure trove of art, antiques, and exquisite craftsmanship. Explore the lavishly decorated rooms, adorned with intricately carved woodwork, ornate plaster ceilings, and magnificent frescoes. Each room tells a story, reflecting the eclectic tastes of its owner and the wealth of cultural influences that shaped the Gilded Age.
Venture outside, and you'll discover the mesmerizing Vizcaya Gardens, a lush oasis that stretches across 10 acres. Stroll along winding paths that meander through beautifully landscaped gardens, adorned with fountains, sculptures, and vibrant flora. Admire the stunning vistas of Biscayne Bay, where the shimmering waters provide a picturesque backdrop to the serenity of the surroundings.
Try The Food On Ocean Drive
Embark on a culinary adventure along Miami's iconic Ocean Drive, where a world of flavors and vibrant dining experiences await solo travelers like you. As you stroll down this bustling street, be prepared to tantalize your taste buds with an array of delectable dishes, from local specialties to international cuisine.
Start your gastronomic journey at one of the many sidewalk cafes and restaurants that line Ocean Drive. Take a seat at the outdoor terrace and soak in the lively atmosphere as you peruse the menus filled with mouthwatering options. Whether you're in the mood for fresh seafood, Latin American flavors, or international cuisine, you'll find a wide range of choices to suit your palate.
Indulge in the vibrant flavors of Miami's diverse culinary scene. Sample the city's famous stone crab claws, a local delicacy known for its sweet and succulent meat. Savor the rich and aromatic Cuban cuisine, where classics like ropa vieja (shredded beef) and picadillo (ground meat) take center stage. Or venture into the world of Latin American cuisine with dishes like ceviche, empanadas, and arepas that will transport your taste buds to a tropical paradise.
Have Dinner With A Group
Joining a group dinner tour is the perfect way to break the ice and meet like-minded individuals who share your passion for exploration and good food. As you gather with your group, you'll be greeted by friendly guides who are experts in Miami's culinary landscape. They will take you on a culinary adventure, introducing you to hidden gems and local hotspots that may be off the beaten path.
The group dinner tour typically includes visits to multiple restaurants or eateries, each offering a unique culinary experience. From cozy neighborhood gems to trendy culinary establishments, you'll have the opportunity to sample a variety of flavors and cuisines. Whether you're craving traditional Cuban dishes, fresh seafood, fusion cuisine, or international flavors, the tour will cater to diverse palates and preferences.
Hop On The Party Cycle Bar Crawl In Wynwood
If you're traveling solo and looking for exciting things to do alone in Miami at night, the party cycle bar crawl in Wynwood is a must. The Party Cycle Bar Crawl combines elements of a pub crawl, a guided tour, and a mobile party all in one. Picture yourself and a group of fellow adventurers pedaling on a multi-passenger cycle bar, moving from one popular bar to another while enjoying music, drinks, and the infectious energy of Wynwood.
As you embark on this exciting adventure, you'll have the chance to visit some of Wynwood's most iconic and lively bars, each with its own unique charm and atmosphere. From trendy craft breweries to chic cocktail lounges, the Party Cycle Bar Crawl ensures that you experience the best that Wynwood's nightlife has to offer.
Go Clubbing
When it comes to experiencing Miami's vibrant nightlife as a solo traveler, hitting the clubs is an absolute must. Get ready to dance the night away, meet fellow partygoers, and immerse yourself in the electrifying energy that Miami is famous for. With a plethora of world-class clubs and a thriving music scene, your solo adventure in Miami will be elevated to new heights.
To make the most of your club-hopping experience, it's a great idea to join a nightlife tour specifically designed for solo travelers. These tours not only provide a safe and organized way to explore the city's nightlife but also offer a fantastic opportunity to connect with like-minded individuals and discover the hottest venues.
One highly recommended nightlife tour for solo travelers is the Miami walking party with open bar and entry. This guided tour takes you to the most happening clubs in the city, ensuring an unforgettable night of dancing, music, and socializing. With VIP entry and skip-the-line privileges, you'll breeze past the queues and dive straight into the heart of Miami's nightlife scene. You can also check out this Miami party cruise or the Miami Madness experience.
Visit Biscayne Bay National Park
Embark on an exciting journey to Biscayne Bay National Park and discover a hidden gem nestled on the southeastern coast of Florida. As a solo traveler, this pristine natural paradise offers a multitude of opportunities for exploration, relaxation, and connection with nature. Get ready to immerse yourself in the beauty of Biscayne Bay and experience a truly unique and unforgettable adventure.
Biscayne Bay National Park is a sprawling 173,000-acre oasis that encompasses not only the bay itself but also numerous islands, coral reefs, mangrove forests, and vibrant aquatic ecosystems. Its diverse habitats make it a haven for a wide range of marine and bird species, making it a paradise for wildlife enthusiasts and nature lovers.
Take a day trip to Key West
Last but not least, we round up this list of cool things to do alone in Miami with a day trip idea. Embark on an unforgettable day trip from Miami to the charming island paradise of Key West. As a solo traveler, this vibrant destination offers a perfect blend of relaxation, adventure, and cultural exploration. Get ready to immerse yourself in the laid-back atmosphere, soak up the tropical vibes, and create lifelong memories in this idyllic getaway.
To begin your day trip, hop on a comfortable air-conditioned bus or book a guided tour that will take you from Miami to Key West. Sit back, relax, and enjoy the scenic drive along the iconic Overseas Highway, which offers breathtaking views of the turquoise waters, picturesque islands, and expansive sky.
As you arrive in Key West, you'll be greeted by a charming town with a rich history and a lively spirit. Start your exploration by strolling down Duval Street, the main thoroughfare known for its vibrant energy, lively bars, quaint shops, and delicious eateries. Grab a coffee and indulge in people-watching as you immerse yourself in the unique atmosphere of this island gem.
Looking for some more Florida travel inspiration?
You may also be interested in some of the following articles:
Relaxing things to do in Orlando
Unusual things to do in Orlando
Did you like our list of fun things to do alone in Miami? Do you feel there are some other exciting activities we should include in this list? Feel free to share your thoughts in the comments below.
Like it? Save it for later.