Most people that visit Orlando never make it outside of the Magic Kingdom and spend most of their time in theme parks. However, Orlando is a city with a tropical landscape and as such is very different than most cities on the North American continent. Simply, this city is full of surprises and there are a lot of unusual things to do in Orlando. A green oasis, an alligator safari, a psychic center, a gravity hill, the famous Orlando wetlands- the list goes on… No wonder millions of people visit the metropolis every year and some even move to Orlando after they realize how much the city has to offer. Hopefully, this article will show you why that's the case. If you're looking for theme park attractions, move on. If you're looking for some unusual things do in Orlando, read on. Let's start!
See alligators at Black Hammock
As I mentioned, there are many things to do in Orlando outside of the theme parks. An alligator watching cruise is definitely one of the most interesting ones. Seeing these magnificent creatures is an experience you can enjoy only in a few other places in the whole world. Many companies offer cruises from where you can safely indulge in this adventure and the rates are more than affordable. Finally, if that's not adventurous enough, you can always join a group tour and trek the notorious Alligator Alley Trail.
Cruise in a vintage car
Unless you're from around, I bet you didn't know that you can cruise in a vintage amphicar in Orlando. Heck, most people don't even know that amphicars exist outside of Hollywood movies. There might not be a lot of amphicars in the world but the Boathouse restaurant in Orlando owns 10 of the few remaining ones and is the only place where you can have this unique experience. The cruise starts with an amphibious car driving on land before splashing into the water for a 30-minute cruise.
Are you looking for more interesting boat tours in Orlando? Go to Best of Orlando today and save up to 15% on your first booking.
Find a psychic at Cassadaga Spiritualist Camp
Getting a psychic reading sure doesn't sound like something most people would want to do on a vacation but if you're looking for a different experience, this is as quirky as it gets. Cassadaga Spiritualist Camp is located around 30 minutes driving from Orlando and is also known as the World's Psychic Capital. Even though today this is a residence with 55 private houses, it's always open for visitors. There are classes, workshops, and you will even have the chance to get a consultation with your very own psychic. If you like the place, you might even stay here for a few days. If you like to connect with your spiritual side, there are only a few places in the world that can compare to the Cassadaga Spiritualist Camp.
To reach this place, it's best to rent a car. If you're looking for a deal, use my Sixt discount code and save up to 15% on all Orlando car rentals.
Discover a green oasis in the heart of Orlando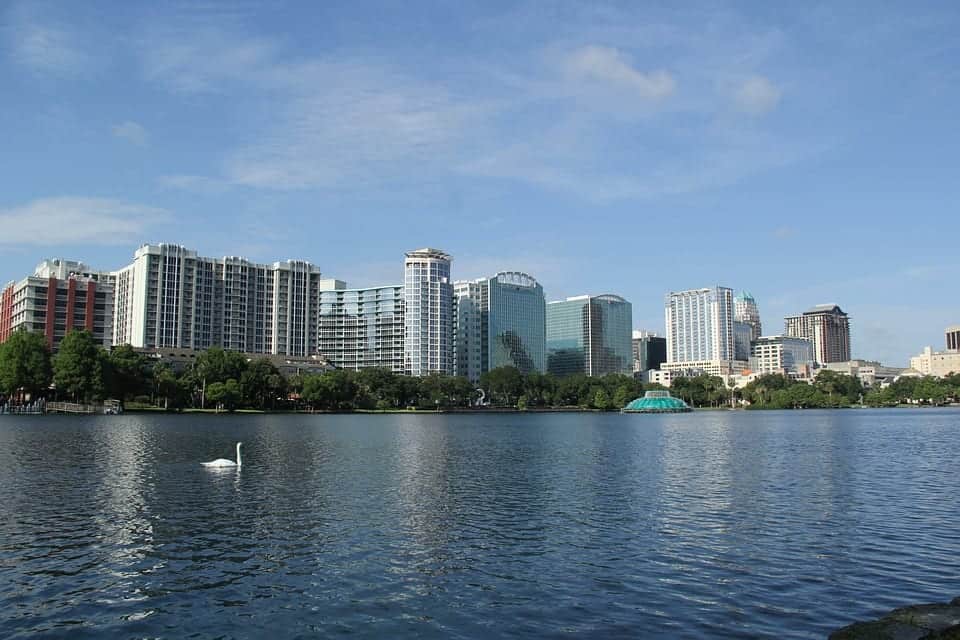 Located in downtown Orlando, Lake Eola Park is a beautiful green oasis stretching over 200 acres of greenery. The park has a lot of walking paths and swan-shaped paddle boats that you can rent and cruise the lake. However, my favorite part about this park is the popular Saturday farmers market. Here, you can find some of Orlando's best street food, fresh local produce, and even artwork and oftentimes- live music.
If this is something you're interested in, use this Seat Geek coupon to get up to 10% off on all ticket purchases, including concert, sport matches, and theater plays. My favorite thing about it is that you can see the venue from the seat you're booking before you actually book!
Climb up Orlando's gravity hill
We can't talk about unusual places in Orlando without at least mentioning Spook Hill. Would you want to see your cars rolling up the hill and defying gravity along the way? Head to Spook hill and see this happening right in front of your eyes. Located around 50 kilometers away from Orlando,  Spook Hill will show you a rare optical illusion that you can see only in a few other places in the whole world. The phenomenon was discovered in the 1990s' and ever since it has been one of the most fascinating attractions in Orlando- much better than the ones in the Magic Kingdom.
Enjoying this article? Also, check out this similar article I wrote about destinations in California off the beaten track.
See actual rockets at Kennedy Space Center
The NASA facility lies approximately one hour from Orlando, near Titusville. While visiting, guests have the chance to see the actual rocket and other vehicles used in space by taking a bus tour of the facility. Use this unique opportunity to meet some of the astronauts, experience flight in simulations and also see an actual launch be checking the facility's calendar. The facility is open to visitors daily from 9 A.M. to 6 P.M. Multi-day and annual passes are also available.
And talking about passes, definitely check out Best of Orlando before visiting. They have some amazing deals that can save you up to 40% on all Orlando tours and attractions. 
Enjoy nature at Rock Springs Run
Who said you can't enjoy nature and get off the beaten track away from all the tourists in one of the most touristy cities in the US? Stretching over 17 miles of trails, the Rock Springs Run is a great place for hiking and camping or just getting away from the tourist hordes in the Magic Kingdom. It's really surprising that thousands of people visit Orlando every day but only a few of them discover and enjoy the natural beauties of the region…
The Rock Springs Run is also a great kayaking destination. Of course, you can rent a kayak in the park but you can also bring your own. If you're looking to buy a new kayak and want to get a (very) good deal, follow this link.
Visit the forgotten Singing Runway
Built in the 1970s' Orlando's singing runway is already forgotten by most people. This runway was used for plains taking off from the Magic Kingdom's only airport before it was shut down. Today, the runway is closed and there aren't a lot of people passing by but if you drive with a speed higher than 45 miles/hour, you can still hear the iconic "When you wish upon a star" that surprised passengers upon their arrival in the Magic Kingdom.
Related: Unusual & untouristy things to do in Atlanta
See tropical plants from around the world
Orlando's specific climate makes this area perfect for many different types of flora you didn't think you could find anywhere near the North American continent. Stretching over an area of 50 acres, the Leu Garden houses a myriad of different tropical plants from different parts of the world that found a home right here, in Orlando. The garden's designer was Harry P. Leu who brought different tropical plants from his travels, creating Orlando's very own tropical paradise. Are you looking for some peace and quiet away from the busy streets of Orlando? Then you should definitely consider visiting the Leu Garden.
Stroll around Tibet-Butler Nature Preserve
If you want to get away from the tourist crowds and enjoy the best of Florida's natural scenery, only a few places can compare to the Tibet-Butler Nature Preserve. Located on the shore of Butler Lake, this 440-acre preserve will give you a glimpse of wilderness not too far from Orlando's busiest streets. Additionally, there are several short trails where you can go for a scenic stroll along the quiet longleaf pine forests next to the shore.
Enjoying this article? Then you'll probably like my article about cool things to do in Williamsburg VA.
The Holy Land Experience
The Holy Land Experience is a rather descriptive name for this unusual theme park. Opened in 2002, this theme park has a lot of replicas that will make you feel like you're in Jerusalem in the 1st century A.D. The point of the Holy Land experience is to allow pilgrims from all around the world to experience the birth of Christianity through a series of Broadway-style plays and exhibits. Overall, it's a unique and captivating experience, suitable for all ages. If you're in Orlando and are looking for a different experience, definitely check out the HLE.
If you're looking to save big on your accommodation in Orlando, check out Motel6 for the best motel deals.
Visit an upside down house
If we're talking about Orlando's quirkiest attractions, we simply must mention the Wonder Works or the upside-down house, as locals like to call it. Stretching over an area of 35,000 square feet, this amusement park is a perfect combination of education and entertainment. The museum has more than 100 exhibits that will surely pick your mind and spark your imagination. If you like quirky, entertaining amusement parks, this is one of the best ones Orlando has to offer.
Orlando might be most famous for its theme parks and rollercoasters, but as you can see, it has so much more to offer visitors, even those on a budget. Lastly, did you ever visit Orlando? Did you visit some of these places or did you spend most of your time in some of the family resorts in Orlando near the famous theme parks? Share your experiences in the comments and let me know which are your favorite unusual places in Orlando.
Before you visit, also check out this list of things to know before visiting America.
Like it? Pin it.