We all love community gatherings in which people celebrate different occasions from religious milestones and cultural events to the coming of spring and a good harvest, showcasing a piece of their culture along the way. As the world prepares for the multiple editions of the best international carnivals, it is a little challenging to highlight which of the various carnivals stands out. Some of these festivals stand out with their colors, others with intriguing customs, while some are flat out bizarre and not for the faint-hearted. As you might be guessing from the title, this article is all about the last group; here are the most unusual festivals from around the world for every month of the year.
Unusual festivals around the world held in January
Up-Helly Aa, St Ninian's Isle, Scotland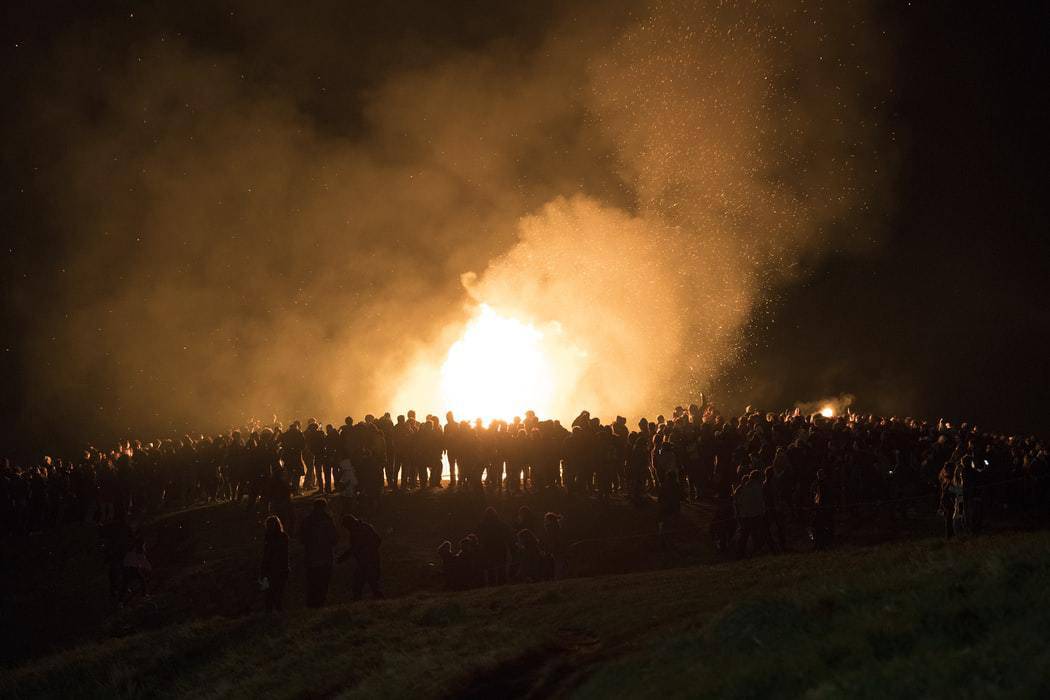 Starting off this list of the most unusual festivals in the world, we have Up Helly Aa; the biggest fire festival in Europe takes place on the Scottish Isle of St. Ninian and it features men wearing Vikings costumes committing a torchlit procession that culminates with the burning of the Viking gallery.
Today, the festival consists of twelve main events held between January and March but this wasn't always the case. This festival originates from the early 1800s and originally, participants were dragging barrels of lighted tar on sleds but this practice was banned in 1874 due to the high number of casualties and property damage. Hence, the festival was slightly refined in 1881 and now features elements that celebrate Scotland's Viking heritage.
Jalilkattu, Tamil Nadu, India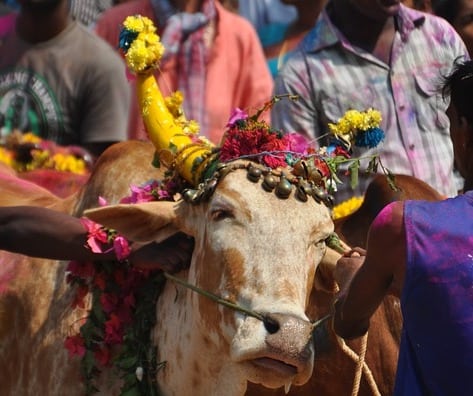 This bull-taming festival held in Tamil Nadu is part of the Pongal celebrations. The main event consists of a specially-bred Bos Indicus bull getting released into a crowd of brave participants that hump on the bull's back and try to hang on as the bull rages in the crowd. Unsurprisingly, casualties are an inevitable part of this festival.
Jalilkatu was first practiced in the 3rd century BC as a test of bravery among the ancient Ayars. The festival was briefly banned in 2017 but violent protests by the local population gave the local authorities no choice but to revoke the ban.
Unusual festivals around the world held in February
Battle of the Oranges, Ivrea, Italy
Every year, the city of Ivrea in Northern Italy hosts one of the largest modern food fights in the world. The festival recreates the Revolt of 1194 against the king who practiced his tyranny on the people of Ivrea for years. The revolt was successful and this festival celebrates the liberation of the people of Ivrea. The only difference between the two events is that the modern Ivrea festival uses oranges rather than weapons.
Thaipusam, Tamil Nadu, Malaysia, Sri Lanka, and Singapore
Thaipusam is a Hindu festival practiced in areas where Tamils live in which religious devotees fulfill their vows by practicing severe asceticism. The most memorable and bizarre thing people remember from this festival is seeing hundreds of people whose bodies are pierced and hooked with giant needles, making this sight one of the most unusual festivals in the world. The festival commemorates a story from Indian mythology in which Parvati (Goddess of Fertility) gives Murugan (god of War) a spear to vanquish the evil demon Soorapadman.
Sweet Wars Festival, Vilanova, Spain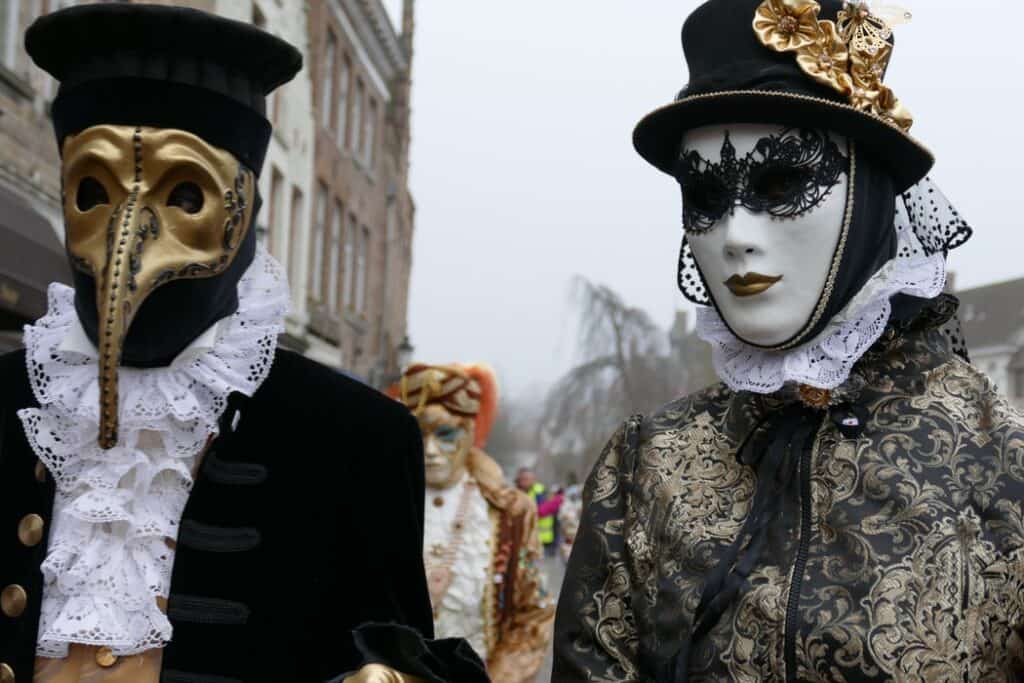 Even though this festival isn't internationally famous, it's the only Catalan festival to survive General Franco's regime. Despite the attempts to ban the festival, it carried on throughout the years and today, it's the Vilanova's biggest festival. As its name suggests, the main event consists of thousands of participants divided into groups throwing sweets at each other. The festival also features an array of other mock battles, pranks, and a lot of social satire to honor Sa Majastat el Rei Carnestoltes (His Majesty the King Carnival), also known as the" King of the Senseless".
Hadaka Matsuri, Okayama, Japan
Talking about the most unusual festivals in the world, we just have to mention this festival in which 10,000 Japanese men wearing nothing but mawashi (sumo wrestler outfit) flock to Saidaiji Temple before jumping in cold water as they try to get the wooden stick called 'shingi' and put it in a lockbox. People believe that the person who can do this will have a very good year ahead.
Unusual festivals around the world held in March
International hair freezing contest, Yukon, Canada
The people of Yukon have decided to use the cold winters to organize one of the most unusual contests in the world. This annual festival involves participants freezing their hair in some weird shapes and the one with the most original shape wins.
Argungu Fishing Festival, Argungu, Nigeria
The Argungu Festival is a colorful annual fishing festival held every year in the Nigerian village of Argungu. This festival features extreme fishing techniques in which participants catch fishes as big as an average human with their bare hands or other primitive tools. Hence, it's no surprise that casualties occur quite often. That's why the festival was banned for a few years. However, in March 2020, one of the most popular fishing festivals in Africa will be back after a long break.
Are you enjoying this post? Then you may also like- 29 incredible ancient cities in Africa.
Busó Festival, Mohács, Hungary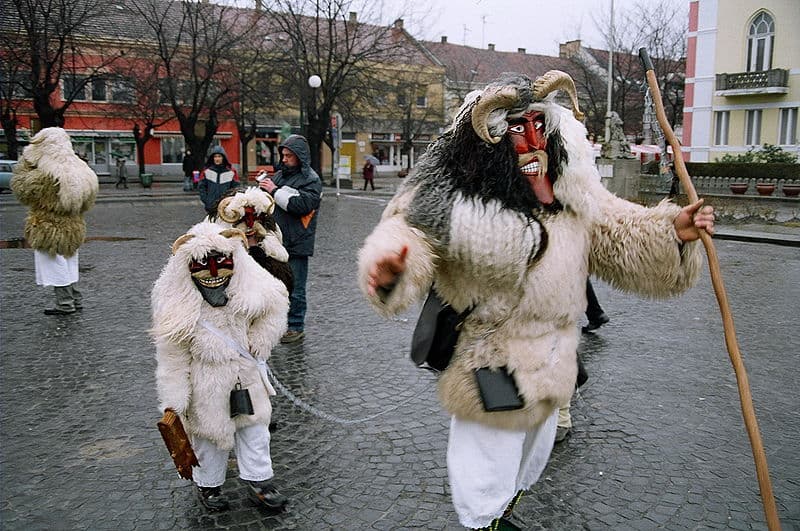 This unusual festival dates back to the 18th century when men used to dress as horned devils (Hungarian: busos) in attempts to chase away the winter. Frankly, they look quite scary, especially in the dark but as long as it's for a good (and sunny) cause, I suppose it's okay!
Ugadi, Kairuppala, India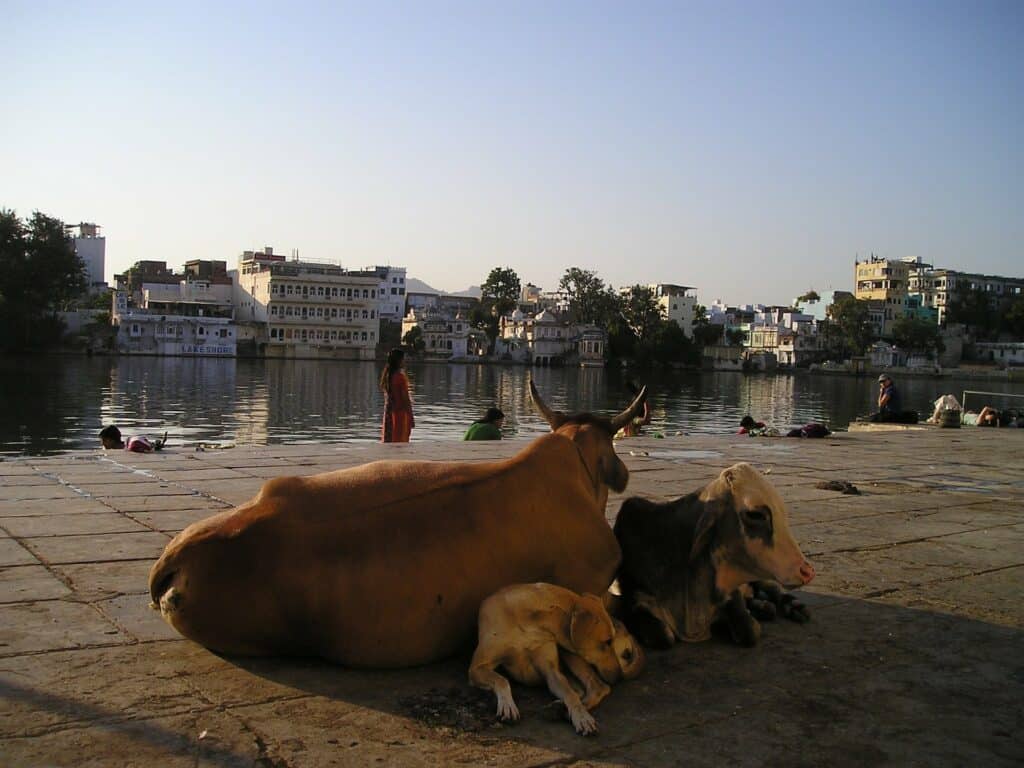 We all know that cows are holy animals in Hinduism. However, I think we can all agree that believing that a cow poop hitting you in the face will bring you good luck is a bit too much. But even if it doesn't, at least it's enough to make it to this list of the most unusual festivals in the world. However, not only do a lot of people in the village of Kairuppala believe in this, they even have a whole festival devoted to it! The Ugadi festival that takes place every year in March culminates with the largest cow poop fight in the world.
Unusual festivals around the world held in April
Kanamara Matsuri Festival, Kawasaki, Japan
Kanamara Matsuri is definitely one of the most unusual festivals in the world and everything about it is bizarre. The name of this festival translates to 'Festival of the Steel Phallus' and obviously it features a lot of penis-shaped lollipops, penis glasses, penis status, and a lot of other penis-themed souvenirs cherished by a lot of female participants.
To make things even weirder, the local legend says that a sex demon fell in love with a beautiful girl and after he couldn't have her, as revenge, he started ripping off every man's phallus. The demon was finally defeated when a local blacksmith forged a steel phallus and used it to break the demon's teeth. That's where the name 'Festival of the steel phallus' comes from.
Anyway, if you're into quirky festivals, you just have to attend the world's largest parade of phallus-shaped structures (well, except for pornography conventions).
Garudan Thookkam, Kerala, India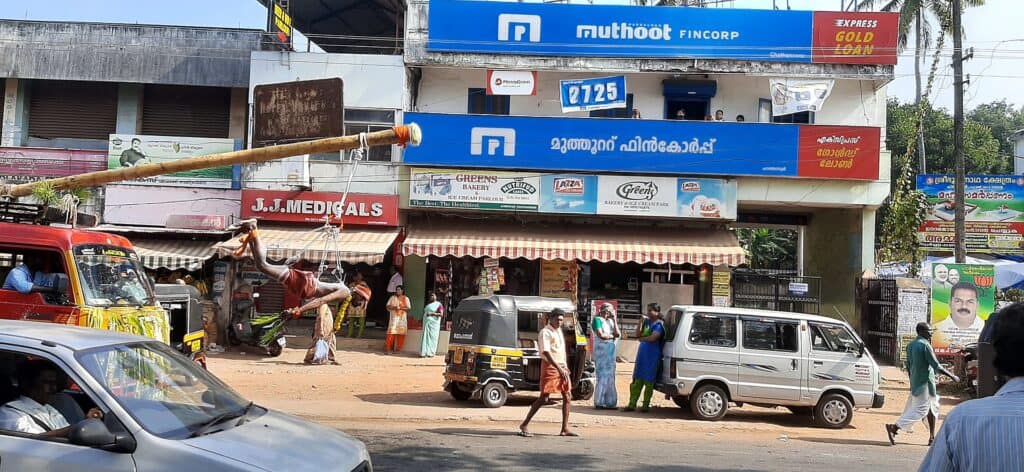 People in Kerala take hanging out with your friends on a whole other level. Garudan Thookkam is a local festival in Kerala in which pilgrims dress up as Garuda (a mythical creature famous for being the only one that could calm the goddess Kali down) and hang themselves upside down from sharp hooks that passes from several parts of their bodies. It's basically Thaipusam on steroids and a festival you should avoid if you have a weak stomach.
Naki Sumo, Tokyo, Japan
Naki Sumo, also known as the Baby Crying Festival is already becoming a sport in Japan. The entire festival consists of grown men's ability to make babies cry. In most cultures, making a baby cry is one of the worst things you can do. However, in Japan, making babies cry is a 400 years-old tradition. The festival takes place at the Sensoji Temple every April. Hundreds of babies from around the city are brought and participants do their best to make them cry. The rules are simple; whoever makes one of the babies cry first, wins.
Crucifixion Festival, San Pedro, Cutud, Philippines
Taking place in the largest Catholic nation in Asia, the Crucifixion Festival is exactly what it sounds. Devotees who partake in this festival are nailed to a cross to get a taste of what their lord and savior had to go through to redeem their sins. Even though this sounds extremely dangerous, casualties are a rarity; all nails are sterile and there are a lot of doctors to intervene in case of serious injuries. But even despite this, a festival that has men standing nailed to a cross certainly deserves a mention on this list of the most unusual festivals in the world.
Unusual festivals around the world held in May
Ma'nene Festival, South Sulawesi, Indonesia
The Torajan people of Sulawesi have a festival that makes Halloween and Dia de los Muertos look like child's play. The Ma'nene Festival is held every three years and it involves people digging up the corpses of their loved ones, washing them and putting their favorite clothes on. The celebration was started in the 19th century when a hunter stumbled upon a corpse. He put his clothes on the corpse and gave it a proper burial and it's widely believed that this blessed him with good fortune. A lot of people save prior to the holiday in order to give their loved ones a proper burial and repair their coffin.
Hitori Zumo, Omishima, Japan
If you're one of those people who think Groundhog Day is a silly tradition, wait until you hear about Hitori Zumo. Even if you don't know a lot about sumo wrestling, you probably know that it's a sport that features two fat wrestlers. However, during the Hitori Zumo, this condition is not necessary. Every year, hundreds of people from around Japan come to the Oyamazumi Shire in Omishima to watch their favorite wrestlers take on 'the spirit of the rice plant'. Locals believe that the outcome of this 'battle' determines whether the bumper crops will have a good season or not.
Unusual festivals around the world held in June
El Colacho (Baby Jumping Fiesta), Castillo de Murcia, Spain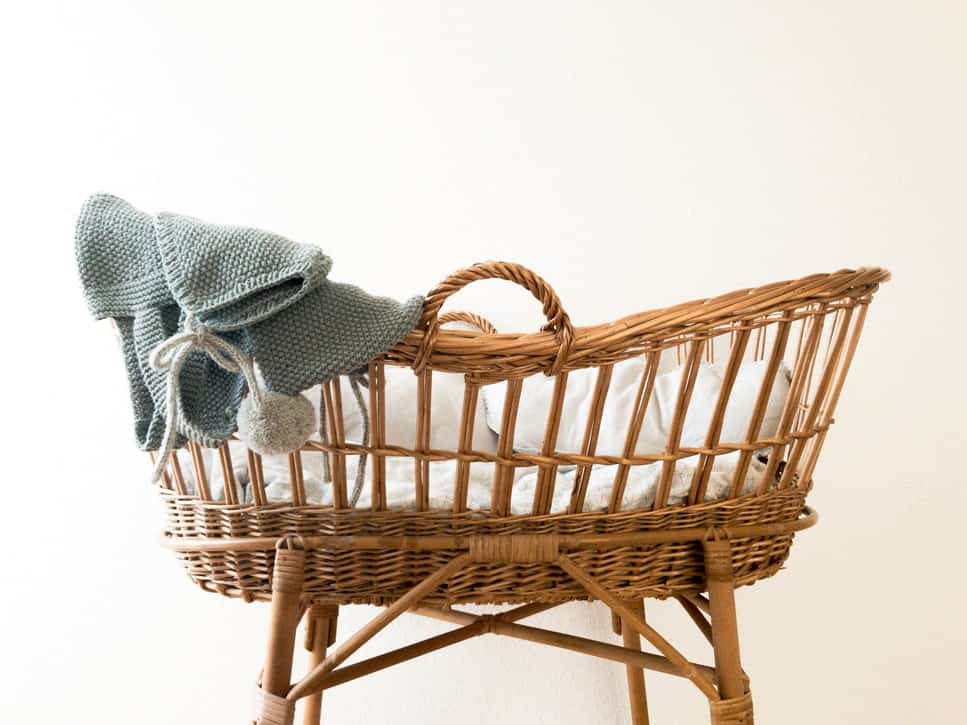 No, it's not a typo. Spain has another weird festival in which people jump over babies lying on blankets. The festival dates back to the 1600s and celebrates the Catholic feast of Corpus Christi. People believe that this ritual cleanses the babies of original sin and ensures them safe passage through life and protect them from illness and evil spirits.
La Batalla del Vino, La Rioja, Spain
As its name suggests, La Batalla del Vino (Wine Battle) is a giant wine battle that includes hundreds of people wearing white clothes tossing wine on each other with bottles, buckets, and even water pistols. This festival honors San Pedro and consists of a week-long fiesta and a lot of wine drinking prior to the battle that's the main event of this festival.
Unusual festivals around the world held in July
Boryeong Mud Festival, Boryeong, South Korea
The coastal town of Boryeong is home to the annual Mud Festival, one of Korea's largest and messiest festivals. It consists of a big party with a lot of mud-related activities, including mud fireworks and mud wrestling. The festival dates back to 1997 and unlike a lot of other festivals on this list, doesn't have a historic background but it is one of Korea's most popular festivals.
Are you planning a trip to South Korea soon? Check out this list of things you should know before visiting Korea.
Nadaam Festival, Mongolia
Nadaam is arguably the world's largest celebration of nomadic sports. This 13th-century tradition originally followed the celebration of weddings, war victories, or spiritual gatherings. Today, the festival still features the three nomadic sports- horse riding, Mongolian wrestling, and archery, and it has a special tribute to Mongolia's liberation from Chinese rule.
Wattolümpiade, Brunsbüttel, Germany
Wattolumpiade translates to Mud Olympics and it's very true to its name. It's a fun and messy festival that takes place in the small town of Brunsbuttel along the banks of Elbe. The festival includes all kinds of games in mud, including mud football, mud sled racing, mud volleyball, etc. All the earnings from the festival go to helping cancer patients in the Schleswig-Holstein area.
Fiesta de Santa Marta de Ribarteme, Las Nieves, Spain
As you can see, Spain is home to some quirky festivals but the most unusual one among them is definitely this one. Fiesta de Santa Marta de Ribarteme celebrates the near-death experiences of people who experienced such situations in the past year. These people are put in coffins and carried around the city by their 'mourning' relatives. The theme might be morbid but like everything else in Spain, culminates with a fiesta that features drinking, dancing, and fireworks.
Underwater Music Festival, Florida, USA
The Underwater Music Festival takes place on the first Saturday after the 4th of July at Looe Key Reef, North America's only living coral reef and the message of the festival is to spread awareness about preserving Earth's remaining coral reefs. A lot of divers and musicians come from around the country to participate in this unusual festival. Participants wear whimsical nautical costumes and 'play' a pre-selected radio play-list on specially designed underwater musical instruments.
Unusual festivals around the world held in August
Gotmar Festival, Pandhurna, India
Gotmar is a festival in which two teams from the villages of Saargon and Pandhurna compete to capture a tree located in the riverbed that separates the two settlements. In the process, the spectators throw rocks and pebbles on the participants as they try to reach the target. The origin of this unusual festival is unclear but the locals are crazy about it. Recently, the police tried to stop the festival but the villagers started throwing rocks at them too, giving them no other choice but to retreat.
La Pourcailhade, Trie-sur-Baïse, France
Meat is an inevitable part of French cuisine and this festival is devoted to one of their favorite things- pigs. The festival takes place in Trie sur Baise and it features a myriad of pig-related activities, such as piglet racing, pig imitation contest, black pudding eating contest, and so on.
World Toe Wrestling Championship, Ashbourne, UK
A list of the most unusual festivals in the world without can't be complete without mentioning this quirky competition. Held every year in Ashbourne, the World Toe Wrestling Championship gathers the best toe wrestlers from around the world as they battle for the title. The rules are simple; it's an elimination tournament that includes 1-on-1 battles and the loser is the contender whose foot touches the tedium first.
La Tomatina, Bunol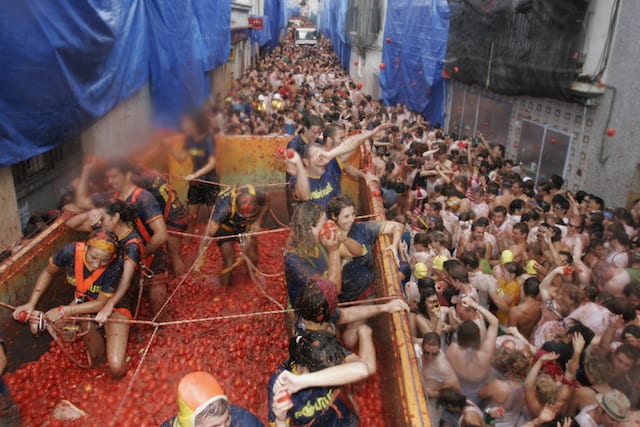 La Tomatina is a typical food fight festival that takes place in the Spanish locality of Bunol. The festival consists of thousands of party hoppers pelting each other with tomatoes to paint the town red. After the tomato pelting experience, fire-tracks and lorries carrying water spray the streets to help the participants clean the city.
It is a once-in-a-lifetime experience you cannot afford to miss, with numerous foods available to eat and play with. What was once a free event has now become a ticketed event, obviously to deal with the influx of people.
Aadi Perukku, Tamil Nadu, India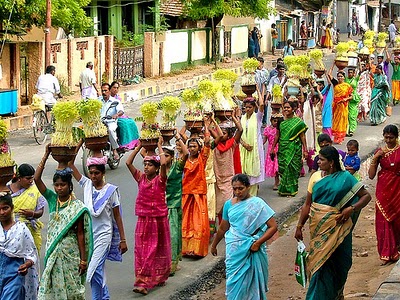 This is an annual festival that takes place in the Indian state of Tamil Nadu that features devotees smashing coconuts on each other's heads. The festival happens during the rainy season and people believe that breaking coconuts from your head allows you to break free from your past and surrender yourself to God. Agencies like the State Human Rights Commission has requested the local authorities to ban the festival because of its unreasonable nature but so far, all of their attempts have been unsuccessful.
Unusual festivals around the world held in September
Zhongyuan Festival, China
According to ancient Daoist tradition, during the seventh month of the Lunar calendar (usually late August/early September), ghosts who don't rest in peace come back to Earth. In China, this event is known as the Hungry Ghost Festival. On this day, Chinese people feed the ghosts, perform myriad of ceremonies that supposedly stop ghosts from haunting families, and always reserve an empty seat for the deceased at the family table. Bizzare sight, definitely worthy of this list of the most unusual festivals in the world.
Paryushana Festival, India
Paryushana is the holiest festival in Jainism. It's a festival that lasts eight days and features numerous spiritual activities, but perhaps the most unusual one of them all is the Kaya Klesh. This is a ritual in which Jain monks pluck out each strand of hair on their head, one by one. To avoid more serious wounds, they dust their scalps with dried cow dung ash before the ritual. According to Jainism, hair symbolizes an illusion that one has to distance himself from in order to achieve liberation.
Unusual festivals around the world held in October
Vegetarian Festival, Phuket, Thailand
The Vegetarian Festival in Phuket might be meat-free but that doesn't mean it's gore-free. Participants cut out eating meat from their diet during the whole month and perform an array of quirky religious rituals. The most bizarre ones include walking on hot coal and piercing with giant needles in order to invoke the gods. It's believed that during these rituals, the participants are the medium of God and will be rewarded with good health and peace of mind.
Banni Festival, Kurnool, India
When talking about the most unusual festivals in India, Banni deserves a special mention. The festival's main event consists of a mass of devotees gathering at Devaragattu temple with sticks in their hands. Suddenly, they start hitting each other, full-force; a sight that may shock you if you're not ready for it. Medical teams are always present but serious and even fatal injuries still occur.
The local legend says that two vicious demons terrorized the town until Lord Parameswara heard the people's prayers and killed the demons. Ever since, the people living in this area have been organizing this festival as a sacrifice to the gods. In the past, the ritual was even performed with spears and axes but this practice was abandoned for obvious reasons.
Unusual festivals around the world held in November
Lopburi Monkey Festival, Lopburi, Thailand
Lopburi is one of the oldest cities in Thailand, home to some fascinating historical buildings, and a must-visit stop on your Thailand itinerary. However, the city is also famous for hosting the popular Lopburi Monkey Festival. Throughout the years, the long-tailed macaques have become residents of the city and can oftentimes be seen roaming around the streets among the crowds. And since they are such an important part of the city, the locals thought it would be a nice idea to organize a banquet for them. Every year in November, you can see hundreds of monkeys feasting on towers of fruit, veggies, ice cream, and other kinds of food.
Thimithi, Tamil Nadu, India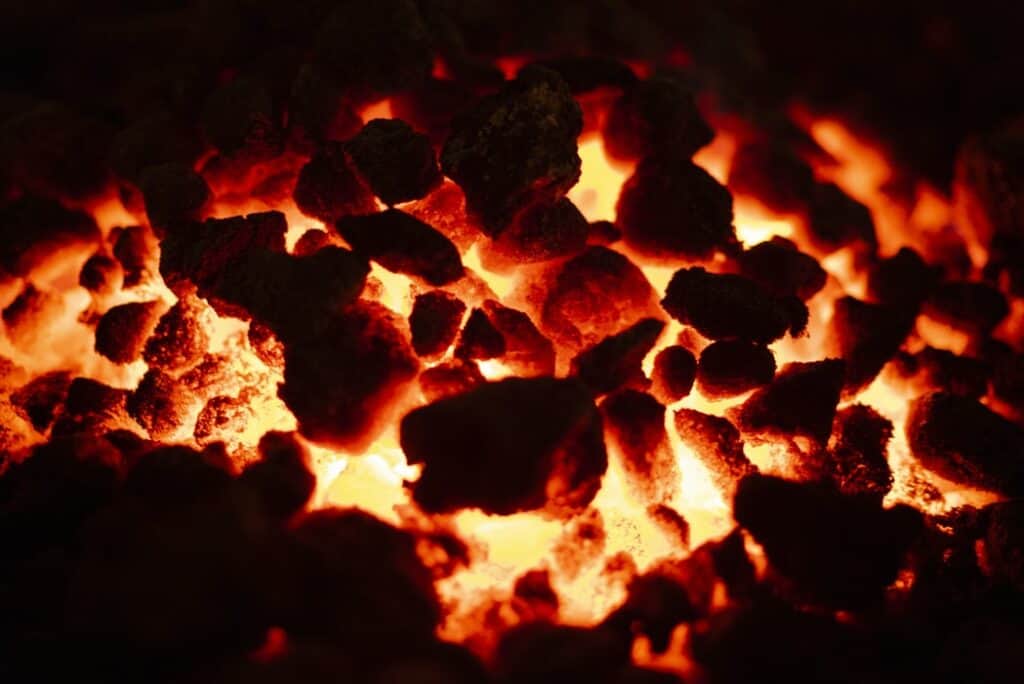 This unusual festival is devoted to the goddess Draupadi who, according to the Mahabharata, was forced to prove her innocence by walking on fire after the battle of Kurukshetra. Hence, devotees thought it would be appropriate to do the same to pay tribute to the goddess. If you want to experience this bizarre festival, you can see it every November in one of the several Kurukshetra temples around Tamil Nadu.
Ekadashi, Ujjain, India
This small town of Madhya Pradesh turns into a pilgrimage hub for one day every year when hundreds of people come from around the country to participate in this bizarre festival in which devotees lay down on the ground and wait for a herd of cows to run over them. To make things even weirder, cows wear colorful headdresses. Pilgrims believe that this ritual can bring them prosperity.
Unusual festivals around the world held in December:-
Made Snana, Karnataka India
Speaking of the most unusual festivals in the world, how does massive rolling in leftovers sound? This unusual ritual dates back to the 16th century and is popular among lower castes who blindly believe that this can help them boost their health and get rid of their physical ailments. The ritual takes place in various temples around the Indian state of Karnataka and similarly to other Indian festivals, there have been several unsuccessful attempts to ban the festival.
Tossing infants from the roof for good luck, Karnataka, India
Apparently, the people of Karnataka decided to save the weirdest and most bizarre festivals for the end of the year. Even though it doesn't have an official name, this strange ritual involves throwing toddlers from a balcony 30-50 meters above the ground. People practicing this ritual believe that this will give the infant a long and prosperous life. The festival dates back to 700 years ago and both, Hindus and Muslims partake in it.
Bonus
Onbashira, Lake Suwa, Japan (held every six years)
This list of the most unusual festivals in the world couldn't be complete without Onbashira, one of the most dangerous festivals in the world. It consists of four groups of men log-riding as they clamber on massive tree trunks while rolling down the hill. To make things even weirder, whoever survives this crazy rides and reaches the target first, beats his chest while screaming 'kampai'. The festival takes place every six years because the four Onbashira trees grown specifically for this festival, need around six years to fully grow.
Eyo Festival, Lagos, Nigeria
Finally, we round up this list of the most unusual festivals in the world with Eyo in Lagos. The Eyo Festival occurs when a king or chief passes away or a new king comes to power. When that happens, traffic in the capital stops and hundreds of people would go out in the streets masked as the ghosts of the departed kings.
It's a spooky sight to see so many people dressed as ghosts parading on Lagos' traffic-free streets but to make things even more bizarre, if the masquerades see someone riding a motorbike or a car, they beat them with their sticks. Kings and chiefs don't die every year, so the festival only occurs when that happens. The last two festivals took place in 2011 and 2017.
Did you like this list of the most unusual festivals in the world? Would you like to experience some of them? If so, which ones? Which festival would you rather wish not to know about? Feel free to let us know in the comments.
Like it? Pin it.