Even though until the 1990s, Prague was a closed, communist capital, today the city has transformed into one of Europe's most beautiful and most visited cities. More than 20 million people visit Prague every year and most of the city's most popular sites are always very crowded. If you like getting off the beaten track and discovering new hidden gems, you'll surely love this list of non-touristy things to do in Prague. The list features old cemeteries, futuristic towers, creepy-bizarre statues, hidden streets, and a lot of quirky museums (among others).
However, before we share some of these non-touristy things to do in Prague, let me tell you…
Where to stay in Prague?
If you want to be near the most popular tourist attractions, Old Town is always a great choice. All paths comfortably lead to this vast urban hub, which makes it the perfect place for travelers to hole up for the night. Alternatively, if you're looking to save some money on accommodation, consider staying somewhere in New Town. If you're planning to experience Prague's nightlife, get drunk, and want to stay near the city's most famous clubs, stay around Zvikov District. Finally, if you're visiting Prague with kids, Mala Strana is a perfect peaceful neighborhood with several family-friendly hotels.
With that being said, let's get to the actual list of non-touristy things to do in Prague!
1. Old and New Jewish Cemetery
Starting off this list of untouristy things to do in Prague, we have The Old Jewish Cemetery. The cemetery is a part of the former Jewish ghetto, Josefov, not far from the Old Town Hall. This is the eternal resting place of the Rabbi Löw was and a myriad of other notable Jews from Prague. The New Jewish Cemetery stands in the neighborhood of Vinohrady and is part of the Olšany Cemetery complex, that's home to the graves of some of the most influential Czech politicians, artists, and intellectuals, including Franz Kafka, Antonín Dvořák, Karel Čapek, Božena Němcová, etc.
2. Zizkov district
If you're looking for a different experience away from Prague's busiest streets, Zizkov is a great alternative. Among locals, it's famous as 'the student district' and you can find a lot of interesting and affordable pubs and cafes, a laid-back vibe, and a lot of street art.
The most famous sight in Zvikov is probably the iconic TV Tower. It appears out of nowhere as you walk around Zvikov and it looks like a rocket that's just about to take off. To make everything even more bizarre, this 216-meters-high tower is 'decorated' with statues of what seems like creepy babies crawling on it (courtesy of David Černý; more about him below) that give the whole area a futuristic dystopian feeling.
The tower is one of the best-preserved remnants of Soviet architecture and today, it's home to several restaurants and a six-star hotel.
3. Jiřího z Poděbrad Farmer's Market
If you're looking for some non-touristy things to do in Prague and you'd like to try some local food at a place that not a lot of other tourists visit, Jiřího z Poděbrad is the perfect place. You can also visit the more famous Naplavka but if you're looking for a more authentic local experience, we suggest checking out this market. It's a great place to try some local snacks, fruits, and drinks and mingle with locals. If you want to visit, the market is open Wednesday-Saturday between 8 AM and 2 PM.
4. Bizarre Statues by David Černý
Above, I briefly mentioned David Černý. He's arguably the most controversial artist in the Czech Republic and his bizarre statues are scattered around Prague. We mentioned the TV Tower's babies but you can see the same crawling, creepy babies near Kampa Island.
Some of his other notable statues include 'Wenceslas on a Horse'. A dead, upside-down horse, that is. A quick walk from Wenceslas Square takes you to the backstreets of Old Town where if you look close enough, you'll discover a statue of Sigmund Freud hanging from the top of a building. A few hundred meters down the road, on the façade of Divadlo na Zabradli Theater, you'll find a sculpture of a fetus squeezing out of a pipe.
5. The narrowest street in Prague
Sandwiched between two large buildings at U Lužického semináře Street, this tiny passage can barely be called a street but not only it's a street but it has its own traffic light. The reason for this is that the street is only 50 cm wide which is barely enough to fit one person. However, don't follow the traffic light blindly; people who are in a rush don't always obey the traffic lights.
Conveniently, there are a lot of restaurants around, and since two people coming from both directions can't pass by which might make you enter a restaurant or a bar and think 'since I already entered, why not have a drink'. If this is true, this has to be one of the most clever tourist traps I've ever come across.
And speaking of restaurants and cafes, I just have to mention…
6. Naplavka Promenade
Naplavka is the perfect place to enjoy a spring or summer evening. The promenade is on walking distance from the city center and Old Town and is arguably Prague's best hipster hangout and a local favorite. A lot of locals come here to grab a beer with their friends and during spring and summer, you'll find a lot of places with live music.
Speaking of authentic, hipster, gastronomic experiences in Prague…
7. The Socialist Cantina
This list of non-touristy things to do in Prague wouldn't be complete without Jidelna Svetozor. If you like discovering retro places to eat, you'll love this Soviet-style cantina. Once upon a time in socialist Czechoslovakia, there was a special breed of cafeterias that would usually open around lunchtime selling affordable but filling meals for only a few pennies. Needless to say, the business model of these state-owned canteens wasn't sustainable and most of them perished throughout the years.
However, that wasn't the case with Jidelna Svetozor. This cantina still exists defying the test of time and remaining one of the last communist memories of Prague. Everything is the same as 40 years ago; the self-service counter, the dim lights, old Formica tables, and of course, grumpy stuff.
If you want to check out this place, you can find it in the maze of underground passages around Wenceslas Square.
8. Jeleni Prikop
Speaking of non-touristy things to do in Prague that are favorite among locals, Jeleni Prikop is another great recommendation, especially during spring and summer where one can get trampled by troops of tourists. Jeleni Prikop translates to Deer Moat and was created during the era of Rudolph II. He actually used this as a reserve for far more exotic animals- lions; at the time, lions were the symbol of the Bohemian Kingdom. Today, the moat is a great place for people that want to enjoy a peaceful walk in total solitude.
9. Explore Prague's outskirts at Radotin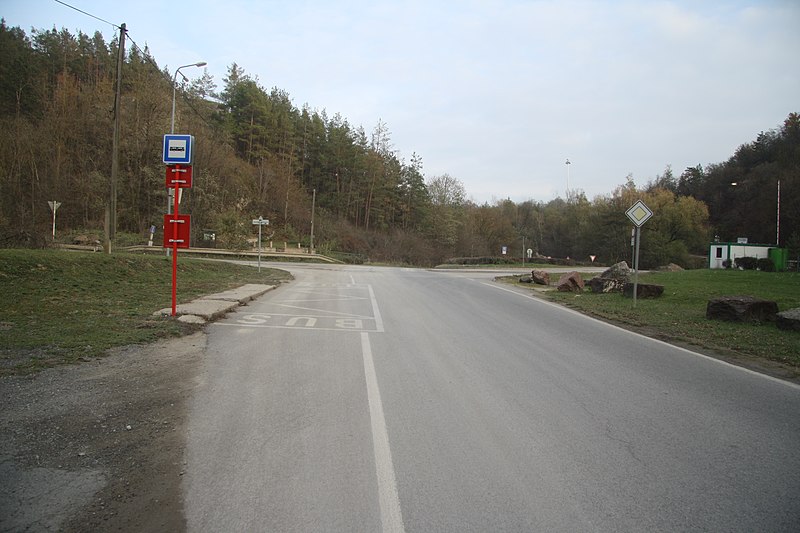 If you ask me, the countryside is the most beautiful part of the Czech Republic. Even though technically, Radotin lies within Prague's limits, this picturesque area can give you a glimpse of the famous Czech countryside without ever leaving the capital. Radotin lies at the River of Vltava and you can find several great romantic picnic spots and places to take a walk without anyone else being around.
Additionally, since the district is very small, you can hear the loudspeaker announcements every afternoon in every part of town. I'm not quite sure what the announcers are saying but I don't think you can get a better communist throwback than this. If you like discovering hidden gems and getting off the beaten track, you'll surely love Radotin.
10. The Forbidden Spot
The Forbidden Spot is a concept space that's home to an art gallery, a bar, a hangout space, and a lot of food trucks. The spot is located behind Letna Park and is surrounded by walls coated in some fascinating street art. Some of Prague's best street artists, graffiti writers, painters, and illustrators have left a mark on this spot. If you want to visit this hub of alternative culture, the Forbidden Spot is open on Tuesdays and Thursdays between 3 PM and 7 PM.
If you're lucky enough, you might even catch some of the interesting events that take place here, like skateboarding competitions, Barber battles, and an array of quirky art exhibitions.
11. Hotel Jalta Nuclear Shelter
Did you ever hear about a nuclear shelter located under a 5-star hotel? When we did, we just knew it has to become a part of our list of untouristy things to do in Prague. The shelter can be found under Wenceslas Square and is a part of Hotel Jalta.
This hotel is a part of a rare breed of Soviet hotels built to accommodate important international visitors. Historians say that these 'luxurious soviet hotels' were some of the most heavily bugged buildings in history but Hotel Jalta had an even bigger secret; a nuclear shelter with three levels that can easily fit and accommodate almost 200 people for up to 2 weeks.
After the fall of socialism, the hotel was purchased by someone who likes history (evidently), as they preserved the shelter and created a 5-star property out of this hotel. If you want to visit Hotel Jalta's nuclear shelter, the only way is to join a tour that's carried out by hotel employees. The price is 150 CZK (around $7).
12. Head to The Hills
If you're looking for some non-touristy things to do in Prague, away from the capital's most frequented streets, climbing up Letna Hill is a must. Yes, Letna Hill is the hill next to Prague Castle; one of the largest castles in the world but also one of the most touristy places in town. However, most people don't make it to the top and turn back after visiting the castle. If you visit at sunrise, you probably won't find anyone else around and you'll capture an amazing postcard-quality view of Prague. But if you still think this is too touristy, you can always check out Vitkov Hill or Vysehrad south of the city center.
13. Holesovice District
North from the top of Letna Hill, you'll find Holesovice; easily the most beautiful hipster neighborhood not only in Prague but in Europe too. Holesovice to Prague is what VII District is to Budapest or what Kreuzberg is to Berlin but it's so much more than just a hipster hangout. Holesovice is a historic district with a lot of historic buildings and interesting places to visit.
If you plan to explore Holesovice, you should definitely visit Veletrzni Palace (National Gallery), the Industrial Palace, DOX Center, and Lapidary of the National Museum. After visiting these interesting museums and galleries you might feel inspired to visit more of Prague's quirky museums. That's why we saved the best for the end. After all, how can we speak of non-touristy things to do in Prague without its quirkiest museums?
14. KGB Museum Prague
In different parts of Europe, you'll find several KGB museums. Most of them are in places that Russia's secret service was using for one purpose or another. The location of the KGB Museum in Prague isn't historically significance but that doesn't make this collection any less impressive. To make things even more impressive, this collection belongs to a single person.
The museum features an impressive number of items, such as Soviet uniforms, different kinds of weapons, spy cameras, old typewriters, photographs, and even death masks. The visit to the museum will cost a small fee but in exchange, you'll get a tour from the actual owner and a dose of his quirky enthusiasm for the subject for no extra fee.
15. Museum of Torture Instruments Prague
This museum is a part of this list of non-touristy things to do in Prague for obvious reasons. With so many picturesque places in Prague, it's no surprise most people choose to skip museums that cover thematic like this one.
This bizarre collection of 100+ items showcases human cruelty on display by featuring some of the most brutal torture mechanisms of all time. These instruments were mostly used on heretics, witches, rebels, gluttons, and other enemies of the state.
Some of the most gruesome instruments include the iron maiden, also famous as the "Virgin of Nuremberg", the Gridiron (used for roasting people alive), the Spanish tickle torture device, and the Catalan Garrote. All instruments in the museum come with retro-style cartoons illustrating the ways in which they work(ed).
16. Sex Machines Museum Prague
This comprehensive collection has over 200 sex 'machines' that prove that people in the Middle Ages had some very weird sex toys too. The museum has been around since 2002 and is the only museum in the world exclusively devoted to sex machines.
Some of the exhibits you can find here feature iron corsets, large erotic apparatus from women's prisons, copulation tables, and a myriad of instruments designed to cause any type of erotic stimulation you can think of. And for the ones that you can't figure out, don't worry; there are some vivid descriptions that will make you get the picture right away.
17. The Museum of Alchemists and Magicians of Old Prague
You're probably familiar with Prague's history as one of the best dark tourism destinations in Europe. This museum is all about this side of Prague's history. The Museum of Alchemists and Magicians showcases some of Prague's most famous practitioners of dark arts of all time.
Prague's dark history dates back to the rule of Rudolf II, whose interest in occultism turned Prague in Europe's unofficial dark arts capital. Rudolf II invited a myriad of alchemists and 'sorcerers' to Prague, thus beginning the golden era of occult practice in Europe.
The legacy of all these magicians is saved in this quirky two-level museum that displays the best-preserved artifacts from this era, including the tower where the great Kelley performed esoteric experiments and an actual alchemist's lab.
18. Idiom Installation
Finally, we left the best of this list of non-touristy things to do in Prague for the end. The Idiom Installation is an infinite tower of books shaped like a well. This is easily one of the most Instagrammable places in Prague and also one of the city's best hidden gems. The Idiom was first presented at the Sao Paulo International Biennial in 1995 but it found a permanent home in Prague's Municipal Library in 1998. In the following years, the idiom became a local favorite and was even featured in Science Magazin. This means that this book well has been untouched for over 20 years; removing a single book could cause the entire installation to crush.
Helpful resources for visiting Prague
For finding the cheapest flights to Prague, check out Qatar Airways's Oh-la-la Deals.
Want to rent a car in Prague and get off the beaten track? Use this AutoEurope offer to save up to 30% on all car rentals in Prague.
If you're planning to travel around the Czech Republic by train, check out our train travel guide.
For some quirky, alternative tours, save big with these offers by GetYourGuide.
Last but not least, don't forget about travel insurance. My personal choice is always World Nomads. They might be more expensive than most average travel insurance providers but they will have your back no matter what happens, unlike some other travel insurance providers that offer cheap packages but don't provide coverage for a lot of emergencies.
Now, it's your turn. Let us know did you like this list of non-touristy things to do in Prague? Which one was your favorite? Feel free to let us know in the comments!
Like it? Pin it.