Romania is a fish-shaped country in Eastern Europe, dotted with medieval castles and living museums of small villages where a peaceful, archaic way of life is well-preserved. The country is also home to the heaviest building in the world, Europe's largest mammal, has the highest concentration of bears in the old continent, and of course- vampires. I'm just joking about the last one… Or am I? Nevertheless, if you are looking for a different experience, traveling to Romania is definitely a must. Here are some important things you should know as a first time visitor.
Being part of Eastern Europe, Romania is located in the part of Europe that doesn't usually attract a lot of tourists for some reason. However, Eastern European countries are just as beautiful as their western neighbors. They just don't do a really good job in marketing their destinations. Romania is an ex-communist country and the only one in Europe where the communist leader was killed by his own people.
Today, Romania is the 9th largest country in Europe. As a former eastern bloc member, the country is still developing and that brings a lot of perks for travelers who are thinking of visiting Romania. So if you're wondering how to travel Romania, keep reading; our Romania travel guide covers everything you need to know before traveling to Romania!
First of all: it's really cheap
The average wage in Romania is only 500 Euros! Also, the only (a bit more) expensive city is the capital Bucharest, which is a home to 2.2 million people. A reasonable budget for visiting Romania is around 30-40 euros per day (with accommodation) but you can easily manage with even less! You can find hostels starting from 10 euros per night and hotels or private accommodations starting at 20 euros per night. The most expensive meal I had while visiting Romania was $12 and the cheapest was around $2.5. And beer is even cheaper! However, keep in mind that everything is a bit more expensive in Bucharest.
Travel requirements for visiting Romania
If you come from Europe or the Americas, you probably don't need a visa to enter. Check this official list from the Foreign Affairs Ministry of 105 countries that need a pre-approved visa letter.
Currency: the Romanian Lei
1 Euro equals 4.7 Romanian Lei and you will find notes of 1, 5, 10, 50, 100, 200, and 500 which are plastic and almost indestructible. Pretty cool, right? However, most prices in Romania are displayed and calculated in Euros but you cannot use euros when paying in cash. Some shop owners might offer you an in-house exchange rate but be careful! Always double-check the exchange rate before you agree to do this. You can pay with your credit cards pretty much everywhere in the big cities but in the remote areas, cash is king.
Getting around Romania
Like most Eastern European countries, the roads aren't great in Romania and traveling between major cities can often take long hours. The railway, even though not 100% reliable, is a great choice since there are train stations in every city and even in small villages. I would say the best choice for shorter distances is the train and for longer distances, the best way to go by bus. However, if you want to get off the beaten track, I would suggest you to rent a car. You can use this link to get up to 15% on car rentals in Romania.
When traveling to Romania, it's recommended to have travel insurance before getting here. If you're traveling to Romania and thinking about which travel insurance plan to choose, you can compare travel insurance from the world's leading travel insurance carriers and save a lot of time while planning your trip.
Looking for a cheap flight to Romania? Use this special Qatar Airways offer and save up to 50%.
Is traveling to Romania safe? And why are Romanians considered to be Gypsies?
First of all, visiting Romania is pretty safe, just like all other countries in Europe. A lot of people might tell you to be very careful when traveling to Romania because there are a lot of thieves. I must say I never had that impression of Romania and I met a lot of solo travelers here, including girls. These stereotypes probably come because of the many misconceptions other Europeans have for Romanians. One of these misconceptions is that Romanian people.
And that's true. Romania does have a significant Gypsy minority but the only reason for this is that they didn't historically oppress this ethnic group like many other countries in Europe. The gypsy people are the real definition of Nomadic people and there are groups of them in most parts of Europe. However, in Nazi Germany, killing a Gypsy wasn't considered a crime and in the SSSR, gypsy women were sterilized. In Romania, none of these things happened, which contributed to Romania having the number of Gypsy people it has today.
Additionally, recently the Gypsy community in Europe condemned the word Gypsy and requested to be referred to as Romani people. Obviously, today this creates a lot of confusion with the ethnic Romanian people but the two are culturally distinct.
Transylvania and Romania's vampire history
Traveling to Romania can't be complete without venturing into the most popular part of the country; Transylvania. One of the most famous things about Romania are the vampire stories surrounding the Bran Castle, commonly known as Dracula's Castle. Yes, Count Dracula was a real person that lived in the Transylvania region in Romania. If there was a place where a 'vampire' ruled over a country, it was Romania. It was here that the vampire legend was born. If you would like to read some scary stories from the region and from around the continent, check out my post about the most haunted places in Europe as well as the best Halloween destinations in the world (Transylvania is on the list).
Transylvania also hides stunning remote landscapes and you will also find a lot of other medieval castles built in geographically unreachable locations. Some of these places are inhabited and have preserved their authentic way of life by keeping a low profile away from civilization. This makes Romania a great destination for slow tourism and Transylvania's hidden charm was the main reason that even Prince Charles fell in love with Romania.
Related: everything you need to know before traveling to Serbia
Other places to visit in Romania
Transylvania is amazing but visiting Romania offers much more than just castles in remote locations. Romania's cities have a different charm, partially communist, and partially western. You obviously must visit Romania's capital, Bucharest, Cluj, Brasov, Timisoara, and my personal favorite: Sibiu, the European Capital of Culture.
Additionally, Romania has access to the Black Sea and a few cute coastal towns, plenty of lush forests and hills, and of course the Carpathian Mountains with more than 100 peaks over 2,300 meters. Finally, there's an array of natural parks and animal reserves in the Danube Delta natural biosphere, filled with bears and buffalos.
Related: everything you need to know before traveling to Bulgaria
The best time to visit
In my opinion, the best time of the year to visit Romania is autumn. Romania is filled with lush forests and during autumn, when you're traveling around the countryside you will experience a stunning array of gold, brown and red colors covering the woodlands and mountains. Alternatively, if you want to explore the Black Sea Coast, the best time to visit Romania is the summer. And if you want to explore the beautiful Romanian mountains the best time to visit is the winter.
Enjoying this post? Then you also ought to check out these interesting facts about Moldova you probably didn't know.
A few interesting facts about Romania
1. Romania is home to the heaviest building in the world.
The parliament in Bucharest contains 700,000 tons of steel and bronze, a million square feet of marble, 3,500 tons of crystal, and 900,000 square meters of wood. This massive building has 1,100 rooms and an annual heating bill of $6 million
2. Romania has the 6th fastest internet connectivity in the world.
This makes Romania the perfect place for digital nomads. Wi-Fi is available in most public spaces and the cellular network is very good across the country.
3. It's home to Europe's largest mammal.
The European bison is up to 3 meters long and 610 kg. This animal was nearly hunted to extinction in the past. However, it was recently reintroduced to several countries in Eastern Europe, most notably Romania.
4. A countless number of UNESCO protected churches.
The most popular ones are probably the Eight Churches of Northern Moldova, famous for their stunning frescoes. That's why they're also known as the Sistine Chapel of Romania. Another fabulous piece of architecture is the Eight wooden churches of Maramures, including Sapanta Peri, the tallest wooden church in the world
5. The most beautiful bookshop I've seen in my life!
Cărturești Carousel in Bucharest was opened in 2015 in a restored 19th-century building. The Carousel contains over 10,000 books and it also has a stunning top floor bistro.
6. The world's most colorful graveyard?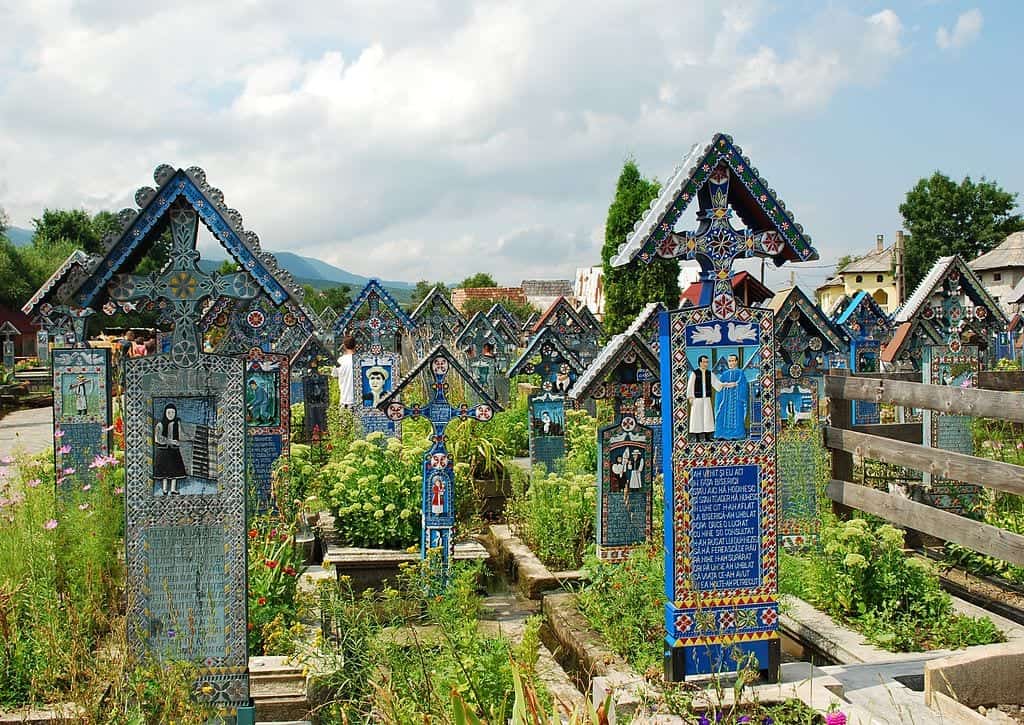 I know cemeteries aren't supposed to be a colorful and happy place. However, that's not the case with The Merry Cemetery in Sapanta. This graveyard is famous for its colorful tombstones, featuring picturesque scenes from their lives. The graveyard gained enough popularity to become an open-air museum today, and a national tourist attraction.
That's briefly the story of Romania and I hope this article will make your trip a whole lot easier. Are you planning a trip to Romania soon and have some more questions? Feel free to reach out in the comments.
Helpful resources for traveling to Romania
Get up to 15% off on car rentals in Romania by using this link.
Looking for travel insurance for your upcoming Romania trip? Compare travel insurance carriers and their offers before booking.
In order to get the best deal for flying to Romania, save up to 50% with Qatar Airways.
Use my Booking discount codes to get special accommodation deals in Europe and save up to 15%.
Did you enjoy this article? Don't forget to pin it.