Laos was a real mystery country for me before I visited. Landlocked between China, Thailand, Vietnam and Cambodia, Laos is the country that gets forgotten by travelers exploring Southeast Asia. I could see hundreds of blogs with information about Bangkok, Phuket, Ho Chi Minh, and Phnom Penh, but very few about Laos, and especially its capital- Vientiane. That's why I decided to write this Vientiane travel guide. I'll try to give you some useful suggestions about what to do in Vientiane, where to eat, and how to make the most out of your trip.
Before my my trip to Laos, I heard it being described as a 'less developed' Cambodia. I was soon educated on how woefully wrong that was…
Vientiane, the most quiet capital in the world
I've never quite seen a capital city like Vientiane. Apart from the remnants of French influence, Vientiane seemed pretty generic and too quiet for a capital. There aren't big and fancy skyscrapers or shopping malls and crazy nightlife, but yet there's this peculiar charm, especially in the sunsets next to the Mekong River.
In Vientiane, everything happens next to the river. You can see an array of food and beer stalls, street vendors, musicians, and jugglers. All this creates a visual and aural disharmony, but still beautiful in its own way. You can hear Lao pop (most probably the world's worst) coming from every corner, while most of Vientiane's 600,000 people seem to be here, squeezed along the Mekong bay.
What to do in Vientiane
Even the airport seemed awfully quiet even though I didn't arrive at an odd hour. There's no Uber in Laos. There is a similar app but I didn't have any luck in booking a cab with it despite my numerous attempts. This means that the only way to get out of the airport is a shuttle bus or a pre-booked taxi/minivan. However, the airport isn't very far from the city center- only around 6km, so even the cab doesn't cost a lot.
While we're at it, if you're looking for a cheap flight to Vientiane, check out this Qatar Airways special offer and save big on all flights to Laos.
Most hostels have a lot of solo travelers visiting them and you can arrange your transportation to near-by sights for a really good price if you are a guest. One day trips to Buddha Park and Long Kor cave cost around 100,000 Kips ($12 USD). After settling down in the hostel, I took the advice of most travelers and went straight to the Mekong Riverside.
The Mekong Riverside
The Mekong river has historically been a giver and taker of life in Southeast Asia for thousands of years. Even more in Laos, as the only landlocked country in the region. The Mekong for Laos has the same importance as the Nile for Egypt, the Ganges for India or Huang He for China. Without Mekong's waters, life would be a daily struggle for survival; but still, its waters made life a daily bet for some villages, whether through natural disasters or diseases throughout history.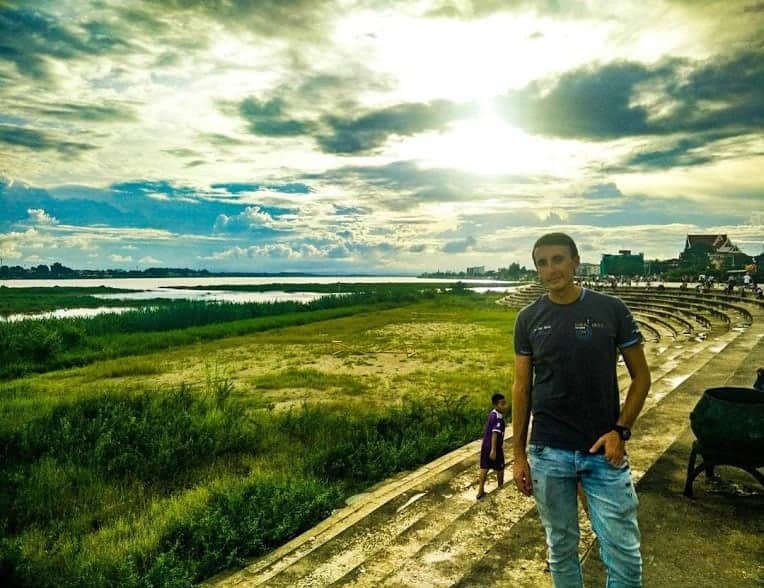 Even in these modern times, this is clearly visible. While walking around the streets of Vientiane you might get the impression that it's a boring city. Just take a walk on the Mekong Bay and your presumptions will be completely denied. The charm of Vientiane lies at the Mekong Bay. It's here that the boring, generic city transforms into a vibrant and authentic scenery. It's at the Mekong Bay where you truly will experience the best of what Vientiane has to offer.
The French Influence
Laos used to be a French protectorate back in the days, and Vientiane as its capital has an obvious French influence in its appearance. The city is a unique mix of Oriental and French architecture. There are a lot of colonial looking buildings and breathtaking temples peeking through the wide boulevards. The wine and coffee shops with the flaky baguettes in the window, just add to the French legacies which are ubiquitous in this country, especially in its capital.
There's also the famous replica of the Arc de Triomphe, known as Patuxai (Victory Gate). This monument is a symbol of the Laos independence and all the soldiers that died fighting for freedom. The Patuxai is actually a bit larger than the Arc de Triomphe. Take that, France!
Quick Side-trip getaways
There are a couple of quick getaways that you must do if you're in Vientiane. My personal favorites were the Buddha Park just outside of the city and the amazing Kong Lor Cave, which is a bit more far away. The latter one will take a couple of days, but it's completely worth it.
The Buddha Park is a park located 25 km on the outskirts of the city. The park is a home to more than 200 Hindu and Buddhist fascinating statues sprinkled across the place.
As for Kong Lor, this cave is one of Southeast Asia's geological wonders! Seven kilometers of Nam Nih Bun River flow through the cave, making it impossible to cover by walking and the color lights inside the cave make the view even more fascinating. This was my favorite place in Laos and I strongly suggest you visit it even though it's off the beaten path.
Places to visit in Vientiane
I would have to start with That Luang. The Great Stupa, besides for looking fascinating is also the most sacred monument in the country. That Luang is surrounded by few other architectural masterpieces as well, making the complex looks more like a fortress, rather than a monument.
I already mentioned Patuxai, the Laos Victory Gate. It only costs 10 cents to climb up to the 7th floor and enjoy probably the best view in Vientiane, especially during the sunset.
Another great place to be during sunset is the Night Market at the Mekong Bay. After the sunset, all street vendors take out their stalls and the riverside looks even more alive than it does during the day. You can get some really good bargains here. You should also try Lao Lao, a traditional rice whiskey that has a scorpion in the bottle!
Before visiting Vientiane, I could only dream about chatting with a Buddhist monk but in Vientiane, this is completely normal. Monks regularly visit the Sangha College once per month to chat with stuednts and tourists passing by. So, you can finally ask them all the questions that have been bothering you for years. It's definitely a unique experience.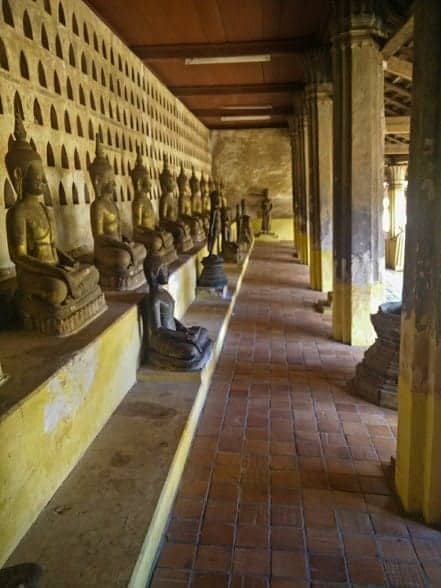 A few words for the end
Finally, if you are looking for a busty and dynamic city, Vientiane probably wouldn't be the choice. The city is quite different compared to the neighboring capitals like Bangkok and Hanoi. However, Laos is a country that's' certainly worth a visit, especially because of its raw, untouched and unexplored nature. After the Vietnamese War, Laos became the most bombed country per capita, leaving most of its forest not reachable because of the number of active mines that's still out there.
In Laos, all roads lead to and from Vientiane and I always say you can get an idea about a country from the life in its capital. Vientiane is an example of the laid back and calm nature of Lao people. Plus, scam artists are much less likely to be seen here, compared to Thailand, Vietnam, and Cambodia.
Helpful resources for visiting Vientiane
For the cheapest flights to Vientiane, Qatar Airways is always a great choice. To save even more, this use this Qatar Airways special offer and save big on all flights to Laos.
If you're a student, get great discounts on all flights to Vientiane with this STA Travel offer.
For travel insurance, I always recommend World Nomads.
If you want to take some amazing tours while in Laos, my go-to choice is always Intrepid. Use this offer and save 15% on all of their tours in Asia.
If you want to rent a car in Vientiane, this offer gets you up to 30% off on all car rentals in Laos.
For some great budget-friendly tour in Laos, this offer by Contiki to get 10% off on all tours.
If you want to travel around Laos with bus or train, use Bookaway and save big on all transportation bookings.
For saving on accommodation, this Booking.com offer gets you up to 20% on all accommodation bookings in Vientiane.
And last but not least, don't forget to sort out your visa. If you want to get your Laos visa easy and hassle-free without a trip to the embassy, check out Ivisa. I always use their services when I need to obtain a visa before traveling and their service is amazing.