India is one of the only few countries on this planet with a lot of different ethnic groups that managed to survive on the same land without any major internal conflicts This magnificent country has always been known as a land of diversified cultures, spirituality, and mysticism. Hence, it's no wonder that there are a lot of regional cult traditions across the country that have grown to be worshiped widely today. Moreover, as time passed by, devotees came up with a lot of creative and unusual ideas to express their devotion. Some of these eccentric festivals will definitely pique your curiosity, others might give you a culture shock or even make you cringe, while some of them will make you pack up your bag and witness this amazing variety of cultural traditions. In this article, we'll cover the 15 most unusual religious festivals of India.
15. Made Snana, Karnataka
What is unusual about it?
Made Snana is a ritual in which devotees roll over in leftovers of food. The ritual has been in practice for more than five centuries. People are invited for this meal in the temple and once they're done, they are asked to roll in their leftovers.
The meaning behind it
This practice is mostly observed by lower castes. It is blindly believed that this helps them to get rid of various physical ailments.
When is it celebrated?
It depends on the calendar but Made Snana is normally celebrated in November or December.
14. Jallikattu, Tamil Nadu
What is unusual about it?
Jallikattu is a bull-taming festival held in Tamil Nadu that's a part of the Pongal celebrations. During this festival, a Bos Indicus bull (bred specially for this event) is released into a crowd of people and the participants hump on the bull's back and try to hang on as the bull is trying to escape. Casualties are very common.
The meaning behind it
This festival was first practiced in the 3rd century BC. It used to serve as a platform to display bravery among the ancient Aayars.
When is it celebrated?
Jallikattu was banned after the high number of casualties and injuries in 2017. However, after the recent protests by the local population, the festival was reestablished in January 2018.
13. Nag Panchami, All over India
What is unusual about it?
Nag Panchami is a Hindu festival that features serpents worshiping. On this day cobras, nagas, and other snakes are worshiped with sweets, milk, flowers, and even sacrifices. During Nag Panchami, digging the earth is strictly forbidden because it could hurt the snakes residing in it.
The meaning behind it
A legend says that once upon the time, a farmer accidentally killed some little serpents. Enraged by this, the mother took vengeance by killing the farmer and his whole family, except for one of his daughter. She was spared because she was praying to the Naga snakes. After this, her family was revived and Nag Panchami has been celebrated ever since.
When is it celebrated?
This festival is held on the fifth day of the moonlit-fortnight, normally in July/August.
Enjoying this article? Check out our post of the most bizarre festivals in the world!
12. Lath Mar Holi (Barsana, Vrindavan)
What is unusual about it?
Lath Mar Holi is a festival held one day before Holi, the festival of colors. The name of this festival actually translates to "Holi in which people hit each other with sticks". On this day, it's the ladies that do all the hitting. They hurl sticks at the men and in the end, a few unlucky participants are captured and forced to wear women clothing and dance in public.
The meaning behind it
According to Indian mythology, Lord Krishna used to visit Radha's (his beloved one) village and tease her and her friends. They got offended by this and chased Krishna away. The festival follows the story in which the men from Nandgaon visit Barsana every year only to be greeted by sticks.
When is it celebrated?
It's celebrated in March, one day before Holi.
11. Thimithi, Tamil Nadu
What is unusual about it?
Worshippers from around the country gather here to commemorate the goddess Draupadi by walking barefoot on burning coal.
The meaning behind it
According to the Mahabharata, after the battle of Kurukshetra, Draupadi was forced to prove her innocence by walking on fire and came out unscathed. That's why today, In Tamil Nadu, there are several temples dedicated to Kurukshetra, where devotees worship the goddess and perform a lot of rituals, including this one.
When is it celebrated?
Depending on the year, the festival is held in either October or November.
Related: What happened to Goa and why it isn't the backpackers paradise it once was?
10. Thaipusam Festival, Tamil Nadu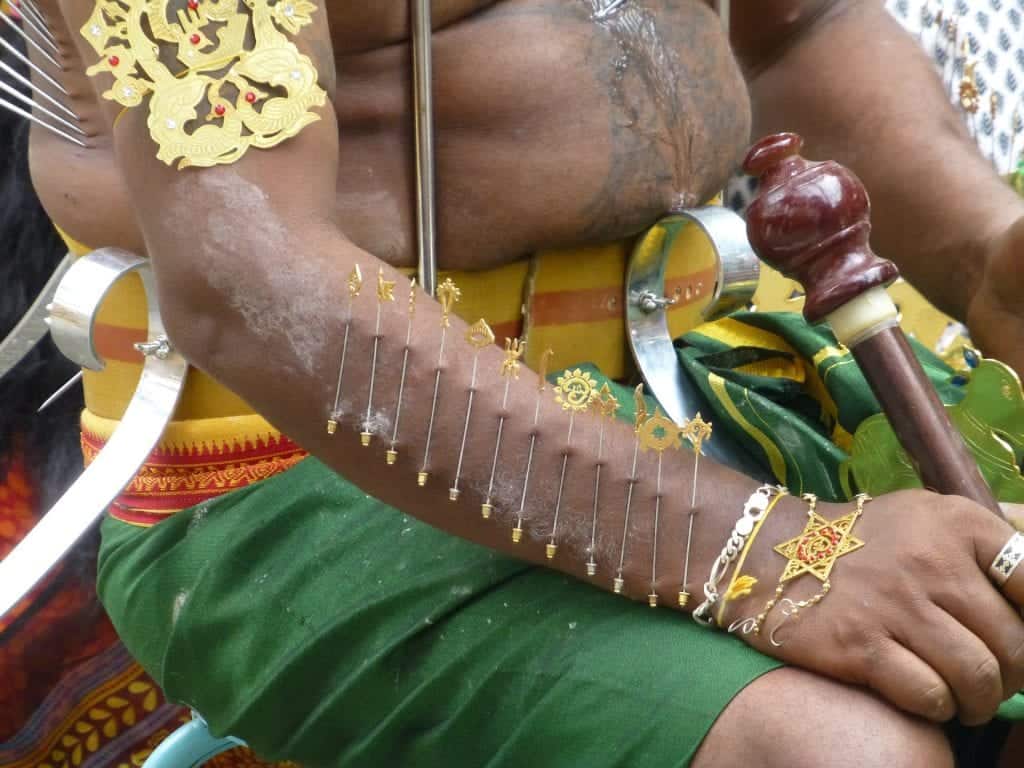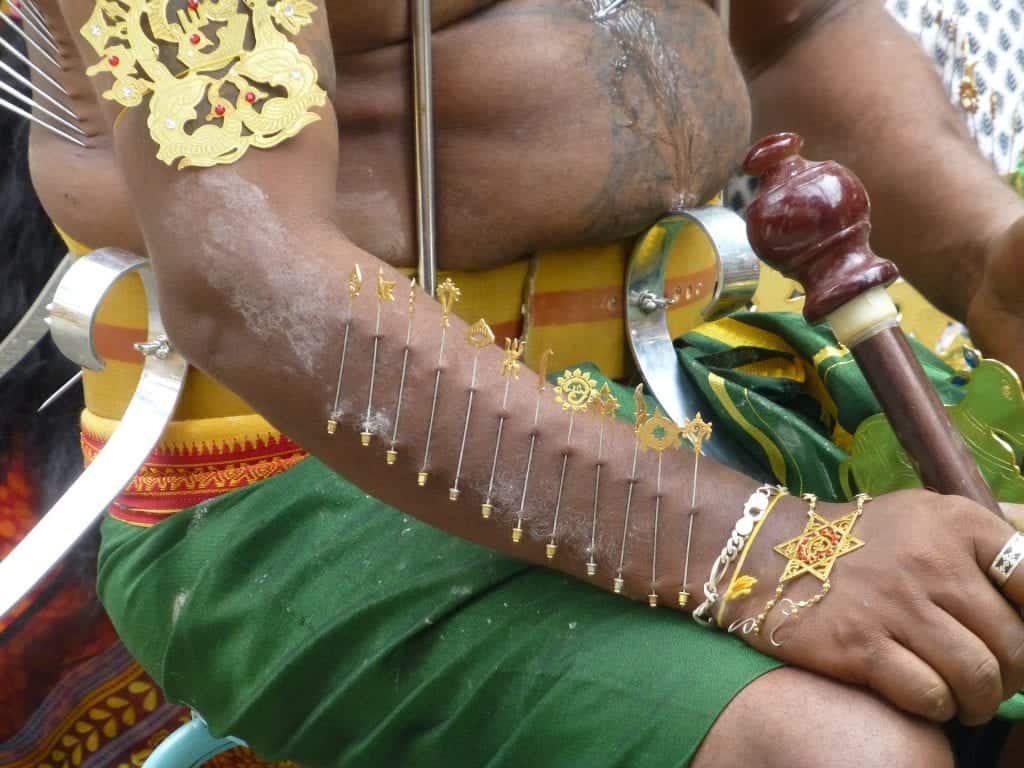 What is unusual about it?
The devotees cleanse themselves through long days of fasting and they also pierce their bodies with skewers and hooks.
The meaning behind it
Thaipusam is one of the most unusual festivals in India celebrated by the Tamil Hindus to commemorate the occasion of Parvati giving Murugan Vel a spear to fight the demon Soorapadman.
When is it celebrated?
Thaipusam is held between the months of January and February.
9. Ekadashi, Madhya Pradesh
What is unusual about it?
Despite the obvious risks, hundreds of men travel to Ujjain every year to participate in the celebration of Ekadashi, a ritual in which participants are trampled by cows. The cows are decorated in colorful headdresses before they are let loose to storm into the city,
The meaning behind it
As you probably know, cows hold a central place in the Indian mythology. Participants believe that the ritual can help erase all of their problems and bring them prosperity.
When is it celebrated?
Ekadashi is celebrated one day after Diwali, which occurs in November.
8. Kaya Klesh, across India
What is unusual about it?
The Kaya Klesh is one of the 36 rules that Jain monks have to follow. Furthermore, in this particular ritual, the monks pluck out each strand of hair on their head, one by one. To avoid more serious wounds, the scalp if initially dusted with dried cow dung ash before the ritual.
The meaning behind it
According to the Jain tradition, the hair symbolizes illusion from which one needs to distance himself in order to be liberated.
When is it celebrated?
This ritual is performed during the Parshuyan festival that takes place in September.
Alternatively, check out this article if you're looking to attend some more ordinary but still amazing, must-experience festivals while you're traveling in India.
7. Karni Mata Fair, Rajasthan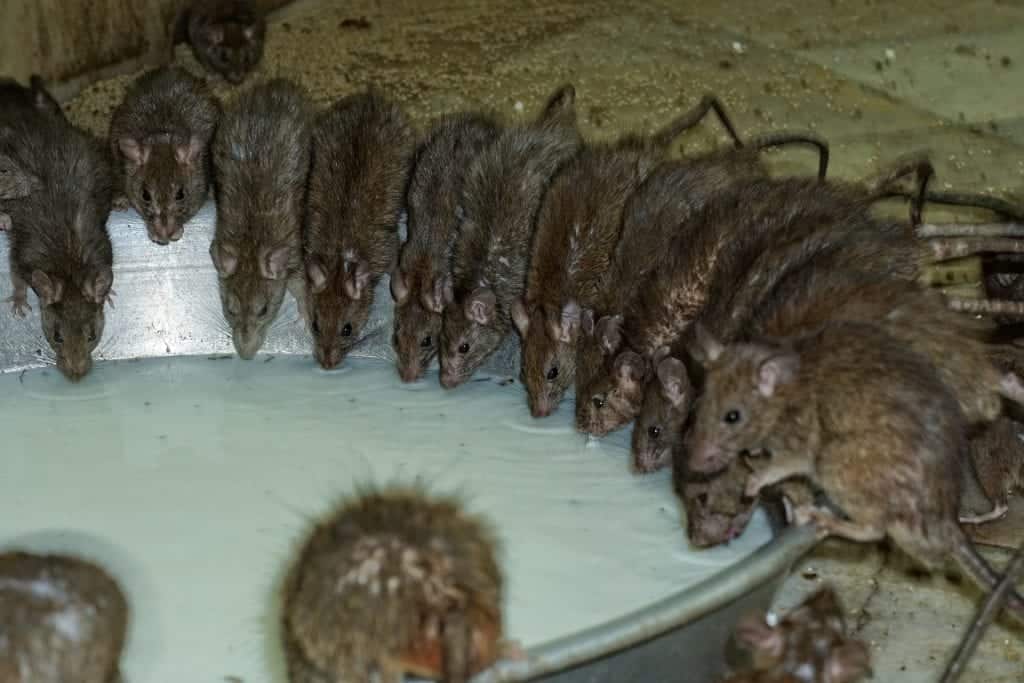 What is unusual about it?
First of all, it's held in the Karni Mata Temple, also known as the temple of rats. This temple is more than 600 years old and is a home to around 20,000 rats. During this festival, rats are not only fed and worshiped but the highest honor the devotees can receive is to eat the rats' leftovers.
The meaning behind it
Karni Mata was supposedly the reincarnation of the goddess Durga. When the son of one of her storytellers died, she prayed to the god of death to bring him back. After her request was refused, the reactions of the storytellers were not pleasant. This made the goddess angry and she reincarnated the boy and all of her storytellers as rats to serve her and live in the temple forever.
When is it celebrated?
The fair is organized two times a year in April/May and October/November.
6. Aadi festival, Tamil Nadu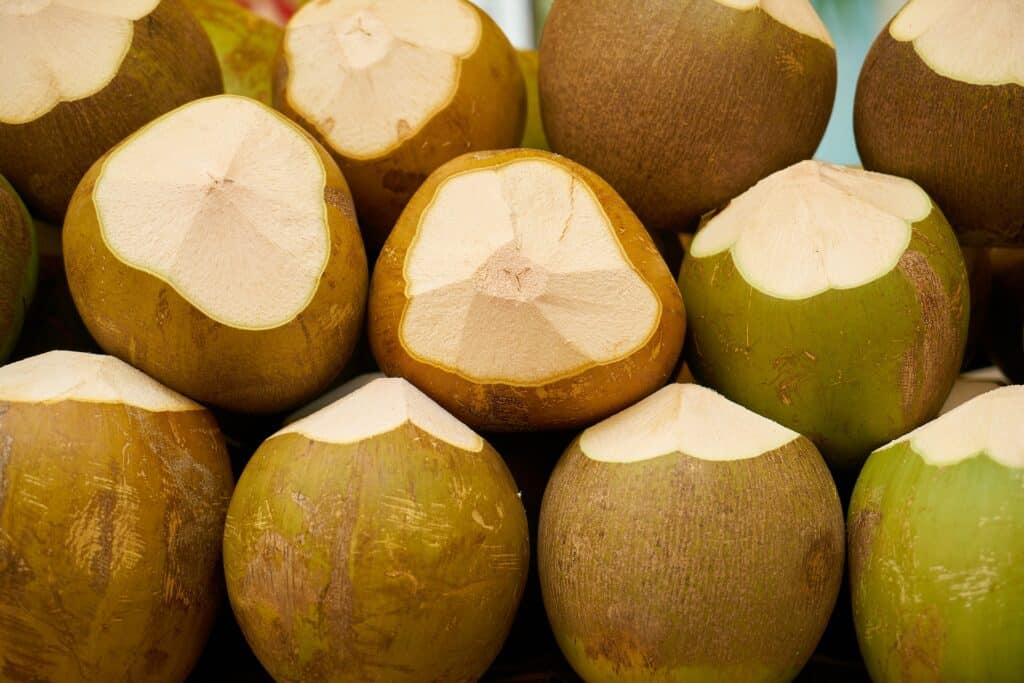 What is unusual about it?
The Aadi is a festival held in Tamil Nadu in which devotees smash coconuts with their head. It's a safe guess that Aadi is the festival that results in most headaches in the world.
The meaning behind it
This festival happens during the rainy season when all rivers are filled with water. On this day, people in this part of India perform a lot of different rituals to please the goddess Cauveri and thank her for all the rivers that provide water for their agricultural activities.
When is it celebrated?
Depending on the year, the festival is held in either June or July.
5. Tossing infants from the roof for good luck, Maharashtra and Karnataka


What is unusual about it?
I don't think I need to add an explanation here.
The meaning behind it
People believe that this brings good luck and will enable the infants to have a long and prosperous life. This ritual has been practiced in India for more than 700 years, not only by Hindus but also by Muslims.
When is it celebrated?
This ritual usually takes place in the first week of December.
4. Garudan Thookkam, Kerala
What is unusual about it?
We all love hanging out with our friends but in Kerala, they take seem to take this literally. For Garudan Thookkam, pilgrims dress up as Garuda and hang themselves upside down from sharp hooks that also pass through several parts of their bodies.
The meaning behind it
According to the mythology, Garuda, was a humanoid creature that was sent by Lord Vishnu to the goddess Kali to drink his blood because that was the only thing that could calm her down.
When is it celebrated?
The ritual is performed during the Meena Bharani festival that normally takes place in either March or April.
3. Banni Festival, Andhra Pradesh
What is unusual about it?
This ritual takes place at midnight in front of the Devaragattu temple in Kurnool, Andra Pradesh. Masses of devotees gather here with sticks in their hands and start hitting each other, full-force. Despite the presence of medical teams and doctors injuries and even casualties aren't uncommon. In fact, these guys got the easy way out. In the past, their ancestors performed this ritual with axes and spears.
The meaning behind it
The legend says that there were two vicious demons named Mani and Mallasura living at the hillocks where the ritual takes place. They used to torture saints and the local people. Unable to bear the torture of the demons, the people began praying to Lord Parameswara and Parvati, after which the Lord appeared at the hillock and killed the demons on the night of Vijayadasami. Ever since the villagers of the Rakshapada area have been organizing this festival as a sacrifice to the gods.
When is it celebrated?
The festival is celebrated in October, during the Vijayadasami festival.
2. Agni Keli, Mangalore
What is unusual about it?
Well, participants try to set their opponents on fire. Yes, you read that correctly! The devotees are divided into two groups, the contest lasts for 15 minutes and every participant gets to throw 5 burning palm stalks at their opponent. Finally, the men who participate must wear only a small piece of clothing wrapped around their genitals and nothing else.
The meaning behind it
It's a ritual that's more than 2,000 years old that is carried out to appease the goddess Durga. The thousands of spectators that come to witness the festival, seem to find this pretty amusing as well.
When is it celebrated?
This unusual ritual is held during the eight-day festival at the Kateel Durga Parameshwari Temple.
1. Gotmar Mela Festival, Madhya Pradesh
What is unusual about it?
Gotmar is an annual festival that features two opposing teams from the villages of Pandhurhna and Saargaon. The two teams compete to capture a tree located in the riverbed that separates the two settlements. The unusual part? The spectators throw rocks and pebbles on the participants as they try to reach the target.
The meaning behind it
The origin of this unusual festival is unclear but many people believe it started from a tale of two lovers who lived at opposite sides of the river and wanted to be together. During their escape attempt, the residents of the two villages started throwing rocks at them and killed them both. The festival is held in their memory.
When is it celebrated?
Gotmar is held in the month of August. The police attempted to ban the festival last year but they were attacked by the villagers who started throwing rocks at them too. Two officers were injured and several vehicles damaged.
What do you think of these unusual festivals? Would you like to visit some of them? Let me know in the comments!