Are you looking for some suggestions about things to do in Hanoi (Vietnam), money-saving tips, food suggestions, and useful information about the city and the local people? You're at the right place!
Hanoi and bikes, still a better love story than Twilight
Before visiting Hanoi, I heard that the city has 8 million residents and 8 million bikes. After visiting, I'm sure that there's even more of the latter. That was the first thing I learned about this city since Day 1 in Vietnam. Everyone is driving bikes here, including taxi drivers. And my first interaction with a local was the one with the taxi driver. Little did I know that the Grab (local Uber-like app) taxi that I booked will turn out to be a motorbike. As I said I just landed in Vietnam and I had all of my luggage with me. But the two big bags weren't a problem for the taxi driver. His answer to my 'how the hell am I gonna get on this bike with these bags' face was: "Come on, what are you waiting for"?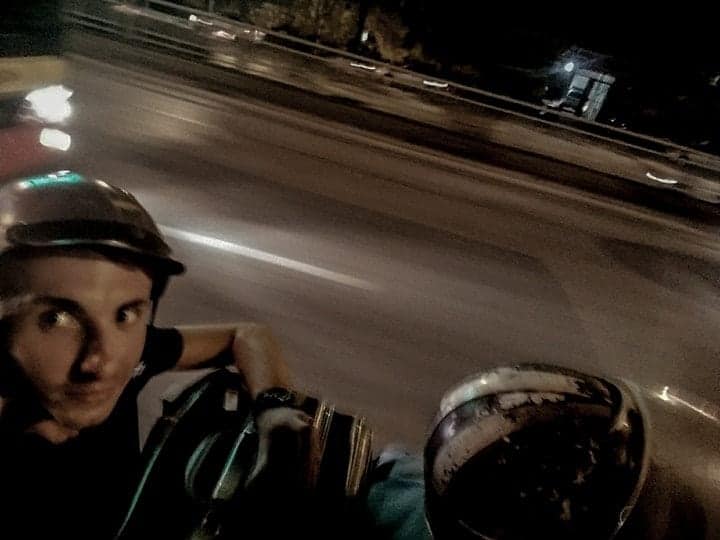 Location
The city is geographically located in North Vietnam, and it has been the capital throughout most of Vietnamese history, but, that's not the case today. The geographic location of Hanoi makes it either the first or last point of a trip for most travelers visiting Vietnam. For me. it was the first point, and I think I made the right choice because I learned so many things about Vietnam here.
Historically, North and South Vietnam had their differences even before the Cold War. And my impression is that the north managed to keep its authentic culture intact, while the south was subjected to strong western influence.
Hanoi travel tips for first-time visitors
Hanoi is famous in the region for its lakes that give a special charm to the city. And the translation of the name Ha Noi is a "city inside rivers". But this city has much more to offer than its lakes. From completely chaotic streets and crowded roads to beautiful architecture, charming night markets, and wide, long bridges, Hanoi is a city of contrasts. This city is the face of the Vietnamese obstreperousness and stubbornness throughout the years.
The city is very difficult to get around in. I was mostly relying on Google Maps, but my phone let me down my first day and I got lost. Getting lost in Hanoi can happen to anyone. Getting stuck in traffic or elbowing your way through the crowds is one thing, but something that caught my eye was the streets. I know it sounds peculiar, but I could swear that I didn't see two streets meeting at 90 degrees not even once. And there are many one-way streets that were a pain in the backside as well. So yeah, I sincerely recommend you get a local sim card (for only $3) and use Google Maps or count on getting lost.
I know I made these chaotic streets sound scary, but that's part of Vietnam's authenticity. If you're one of those travelers that can always find the beauty in the chaos, Hanoi, and Vietnam, in general, is the right place for your next trip. Hanoi is the kind of city that makes urban jungles like Phnom Penh and Vientiane look like quiet suburbs. It definitely looks more chaotic than Bangkok, and it's almost as chaotic as Delhi and Mumbai.
Average costs of traveling in Hanoi
Dorms – 80,000 dongs and above ($3 USD and above)
Hotel rooms – 250,000-450,000 dongs ($10-$20 USD); but if you want to save even more, use this to get you 15% off on all accommodation rentals in Hanoi.
Street food – 30,000-80,000 for a meal ($1-$3 USD); Check out this post for some more Vietnam shopping tips.
*Street food is pretty safe and not very spicy. Personally, I can say that I enjoyed street food even more than the food in the restaurants.
Transportation with buses: 1,000 dongs per ride (less than 10 cents). If you plan to take day trips or travel to another city, use Bookaway to arrange your transportation. It's affordable, easy, and hassle-free.
Grab bikes: around 2,000 dongs per km, but they're very fast and get out of the traffic easier;
Taxi: around 10,000 dongs per km;
How are Vietnamese like towards tourists?
Vietnam is a poor country, and the prices for everything are pretty cheap. There's a note of 500,000 dong which is worth $25 USD. However, some people will openly try to rip you off. While I was traveling across Vietnam, I met a French lady working as an English teacher. She said she's been living in Vietnam for 5 years and in she shared a very interesting observation with me:
"Vietnamese are taught that the Western countries are the ones to blame for all of their problems and that we "owe" them. So, they expect from us to spend a lot of money when visiting, and when you try to bargain, they get upset and treat you poorly".
Luckily I didn't face any of these problems but I've heard some people complaining about it. People were generally friendly and helpful, besides the language barrier. This leads me to…
My crazy story in Hanoi
Here, it's normal if a local guy or a girl approaches you just to converse in English. Very few people in Vietnam speak English and the ones that do, don't have the chance to practice their skills in conversations.
I got used to this while staying in Hanoi, so I wasn't surprised when a guy approached me and asked if he can practice his English while talking to me.
I agreed and we went for a cup of coffee. At the coffee shop, we met his 'cousin', who 'worked for the secret police'. We had a nice chat and I was learning a lot about Vietnam from our talks. So I was thrilled when they asked me to go for lunch with them and try some of the best local food.
We sat down in this place that looked like a street food joint where the food was only halfway done and we had to finish the cooking on our own. The 'cousin' said that the food we're eating is tiger meat and only very important people in Vietnam can have that. This was when I started getting suspicious and started thinking that this is a scam.
What happened next?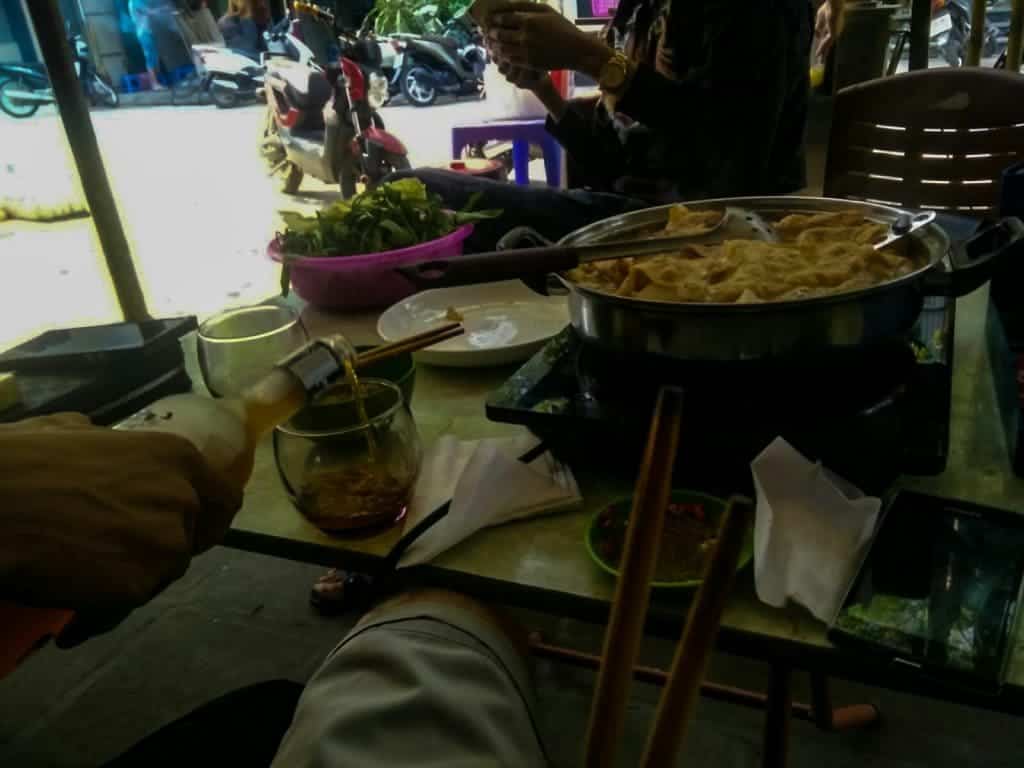 When the bill came, it was a whopping 8,000,000 dongs (350 USD) and the guy suggested that we split the bill. I was outraged, as this was clearly a scam. We cooked the food on our own, it wasn't that good, and there's no way on Earth that the thing we ate was tiger meat. I was not backing down and I threatened with calling the police. After that, both the 'cousin' and the waitress backed down.
I can see how some people would fall for this scam. So if you ever get in a situation like that just insist on calling the police, and do that personally. Don't let the person trying to scam you call the police since they might have a police friend involved in the scam. You can always come across unpredictable situations like these while traveling and that's why it's important to get a decent travel insurance provider. Wherever I go, my go-to choice is always World Nomads and I warmly recommend them.
Things to do in Hanoi Vietnam
The Hanoi citadel also known as Than Long Imperial Citadel is one of Vietnam's historical sights. Than Long is the old name of the city and the citadel has been the center of the country for more than 1300 years. It's from here that North Vietnam commanders plotted against the US and South Vietnamese armies. The bunkers where the meetings were held are kept in surprisingly great shape. Just going in these underground tunnels will make you feel like you traveled through time to the Cold war period.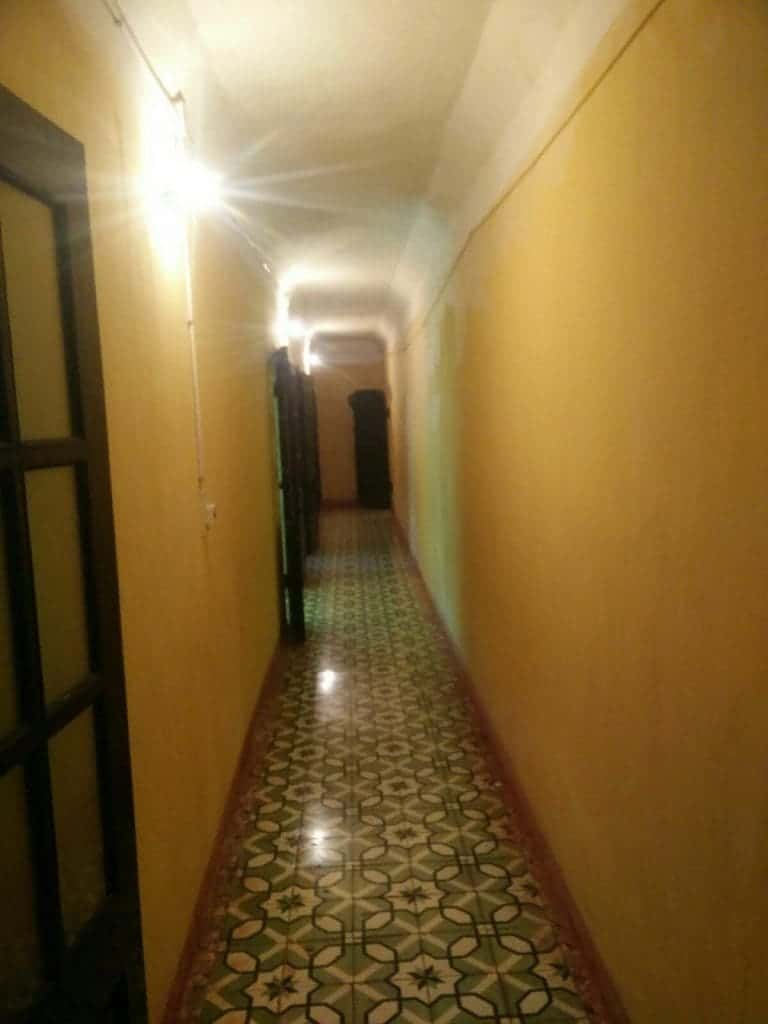 The Ho Chi Minh Mausoleum holds the embalmed remains of Ho Chi Minh. This massive granite structure looms over Ba Dinh Square in Hanoi. Ho Chi Minh still has the status of a great leader and people from around the country come to Hanoi and line up to give respect to his remains.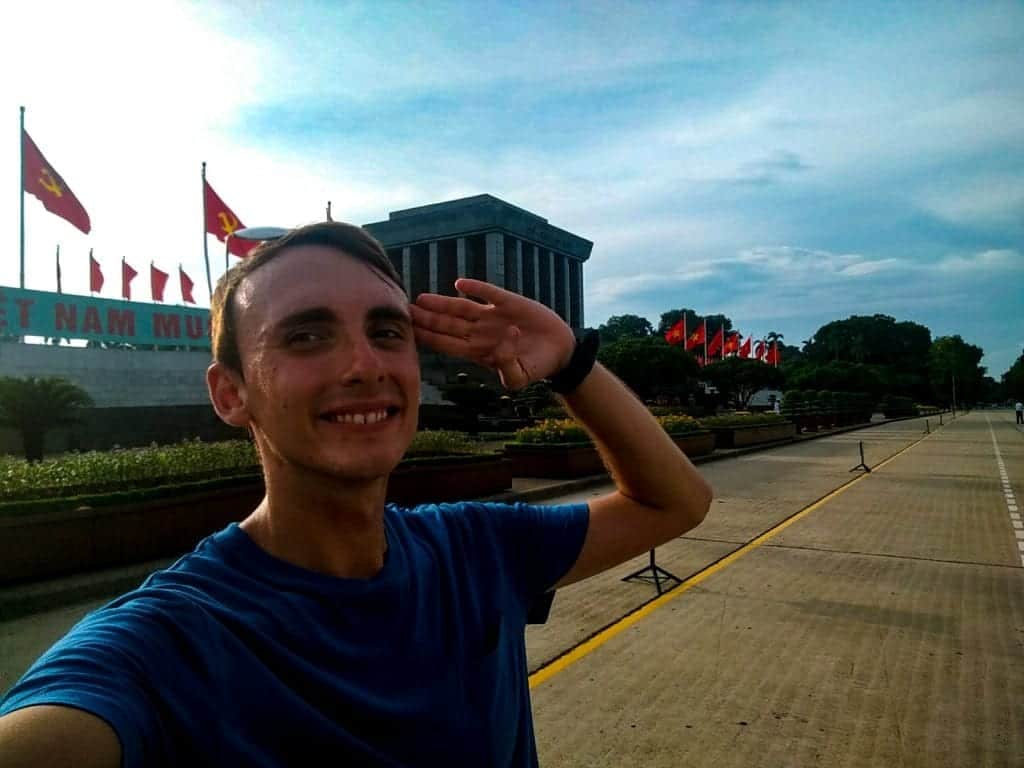 Don't forget the lakes
As mentioned, Hanoi is known as a city of lakes. The most famous one is Hoan Kiem Lake. The legend says a giant tortoise lived in this lake and according to the legend, this tortoise gave a divine sword to a Viet king. A sword that helped defeat the Chinese and liberate Vietnam after 1000 years of occupation. The two other famous lakes are Ho Tay and Truc Bach. However, don't forget about the Red River. The sunsets over the lakes or the Red River look magical and that's certainly something you can't miss.
Because of all these big water surfaces, the city has a lot of bridges, with the most famous one being Long Bien. This is one of the largest bridges in Asia and connects two big parts of Hanoi separated by the Red River. What's interesting about it, is that very few people actually know that Long Bien was designed by Alexandre-Gustave Eiffel; the architect that designed the Eiffel Tower and the Statue of Liberty.
The pagodas
The See Quan Su Pagoda – is one of the most important temples in Vietnam. It also serves as the headquarters for the Vietnamese Central Buddhist Congregation.
Located on a small peninsula on the East side of West Lake, Tran Quoc Pagoda is regarded as the most ancient pagoda in Hanoi with its history line of more than 1,500 years. It's indeed one of the most beautiful temples in Vietnam but it gets even more pretty during sunsets, as the sun disappears from the horizon. That was the most beautiful sight in Hanoi for me.
The Old Quarter is the most authentic part of the city. It has streets that are around 2,000-years old. There are also a lot of places to try cheap, traditional food, and buy authentic local things. These tiny crowded streets are surrounded by fascinating old, worn colonial architecture. In this neighborhood, the strong French influence in the area is still present.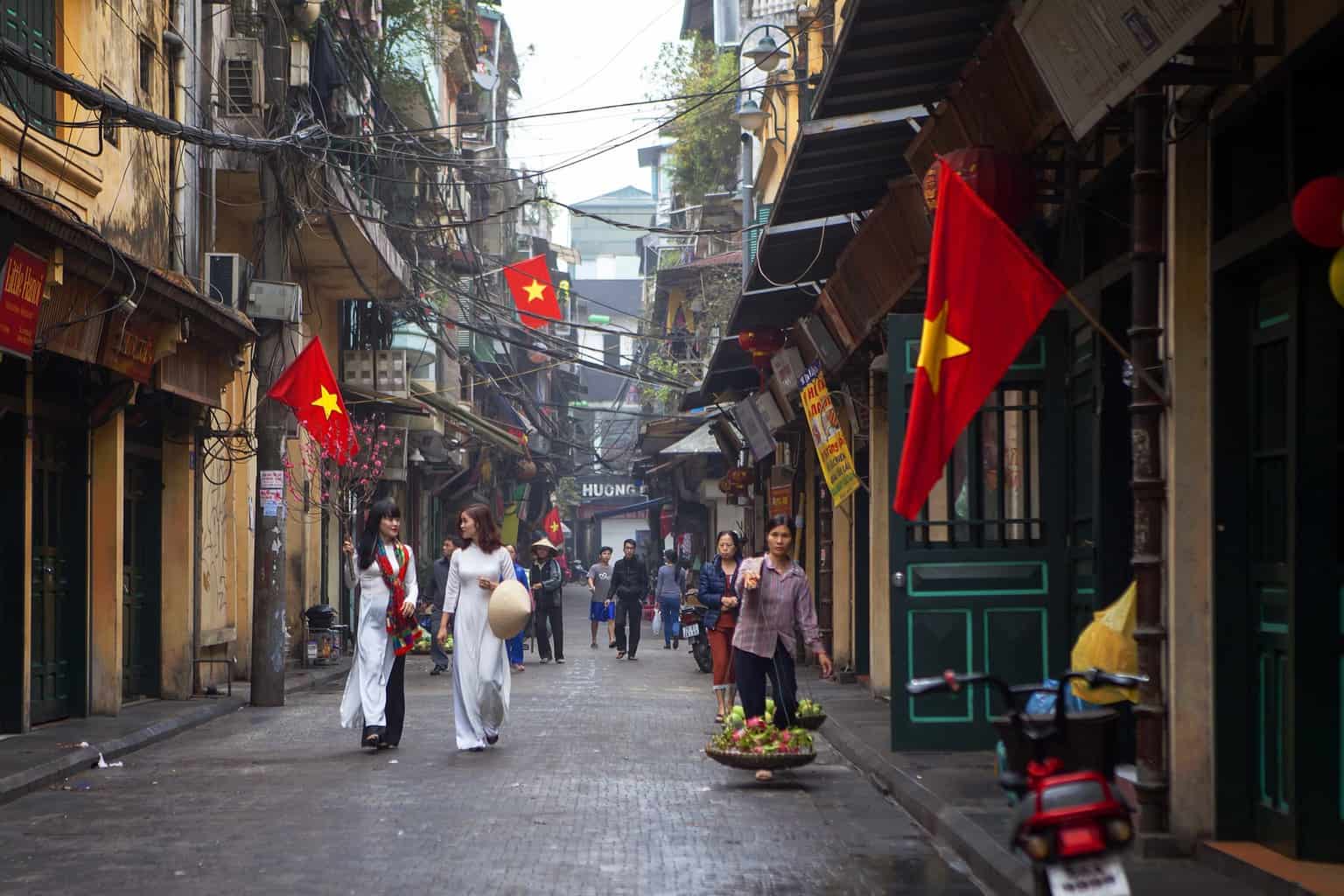 In the end, I can say that even though it's not my favorite, Hanoi is a beautiful city with its chaotic charm. Just like Delhi, one needs to keep both, an open mind and open eyes in order to survive and fully experience the city. However, if you don't fancy the chaos, there are a couple of one-day trips you can take. One is a cruise to Ha Long Bay or similar alternatives, and the other one is Sa Pa, one of the most beautiful regions in Asia. Sa Pa is one of the highlights of Vietnam's natural beauty and an area that's also home to many hill tribes.
Useful resources for visiting Hanoi
Looking for cheap flights to Hanoi? Qatar Airways has some of the best deals you can get. Additionally, this coupon can get you a big discount on all Qatar Airways flights to Hanoi.
For budget accommodation options in Hanoi, this Booking discount coupon can get you 15% off.
To save money on buses and trains across Vietnam, get some great deals on Bookaway.
If you need a great budget-friendly tour, get 10% off on all Vietnam tours by Get Your Guide on this page.
Finally, don't forget about travel insurance; use this World Nomads coupon to get a great deal.
Planning to visit Vietnam soon? Check out the types of visas in Vietnam.
Did you like this article? Would you ever visit Hanoi? What's your favorite thing about this city? Let us know in the comments!
Like it? Pin it.