With a country as vast as Vietnam, it is important to plan what you want to see and what area of the country you want to cover. Although it is possible to visit the north, south and central regions of Vietnam in the usual vacation period of 2-3 weeks, it isn't nearly enough time to visit all the destinations and all the sights worth seeing. In this post, we'll focus on Northern Vietnam only and provide a brief overview of some of the best places to visit in this region.
Hanoi – The Capital City
If you have your heart set on visiting Northern Vietnam, you will probably fly into Hanoi (get some great deals here). This fascinating city is steeped in history but also unarguably in touch with the modern world. The first thing you will notice as you head into the city from the airport are thousands of motorbikes whizzing all over the place. It might look chaotic, but they all seem to follow some unwritten highway code and speeds are low and accidents surprisingly rare.
There are so many things worth seeing in Hanoi, including Ho Chi Minh's mausoleum and some notable lakes. The selection of restaurants in Hanoi is wide and varied with a noticeable French influence running central to some food staples such as baguettes and good quality cheese. Hanoi is the perfect starting point for your Indochina adventure and a great place to experience for 2/3 days.
Halong Bay
Halong Bay and the bays nearby truly are one of nature's wonders and certainly, one of the must-visit destinations in Vietnam as a whole. Although there are plenty of cruise operators offering luxury Halong Bay cruise tours. They allow you to view the bay in all its splendor exclusively and the extra money you pay for the luxury services will be worth it without a doubt. Getting in contact with a luxury Halong Bay cruise operator before you leave home will allow you to design your own bespoke tours with any additional extras required. To sum up, a Halong Bay cruise is best experienced in premium comfort. After all, it's not something you do every day!
Cat Ba Island
Even though its a part of Halong Bay, I feel the Cat Ba Archipelago deserves a special mention. Cat Ba Island is one of 360 islands of the Cat Ba archipelago and without a doubt, one of the best places to visit in Northern Vietnam. More than 50% of the island's territory is a national park that was created to protect the extremely rare Cat Ba Langur. To be completely honest, the other half of the island which isn't protected leads me to believe that the local authorities are trying to do too much with too little resources in terms of tourism development but at least the protected part of the island is lush and pristine.
Bai Tu Long Bay
Located north of Halong Bay and around 100 kilometers away from the Chinese border, Bai Tu Long is an archipelago that consists of hundreds of tiny, uninhabited islands and towering limestone rocks. Even though the number of cruises to the bay is increasing in recent years, personally, I prefer Bai Tu Long Bay over Halong Bay because it's still less crowded, more pristine, and just as magical as its southern neighbor.
Hill tribe communities
From Sapa in the north of the country, you are entering hill tribe country. This eclectic mix of cultures, languages and local customs is an experience to rival any other in Vietnam. Guided tour treks are available as are accompanied visits to hill tribe markets. The various hill tribes are not there for the benefit of tourists. You can actually see the way they live their day to day lives which is largely unchanged from hundreds of years ago.
Sapa
Sapa is without a doubt one of the most beautiful hill stations in Vietnam and one of the most visited places in Northern Vietnam. The 10,312-foot-tall Mount Fansipan towering over the emerald green, fairytale-like rice paddies terraces will surely take your breath away as soon as you reach Sapa. If you want to trek to a remote minority village, enjoy the best of Vietnam's nature, or see the highest mountaintop in Vietnam, Fansipan, this is the right place for you.
Tam Coc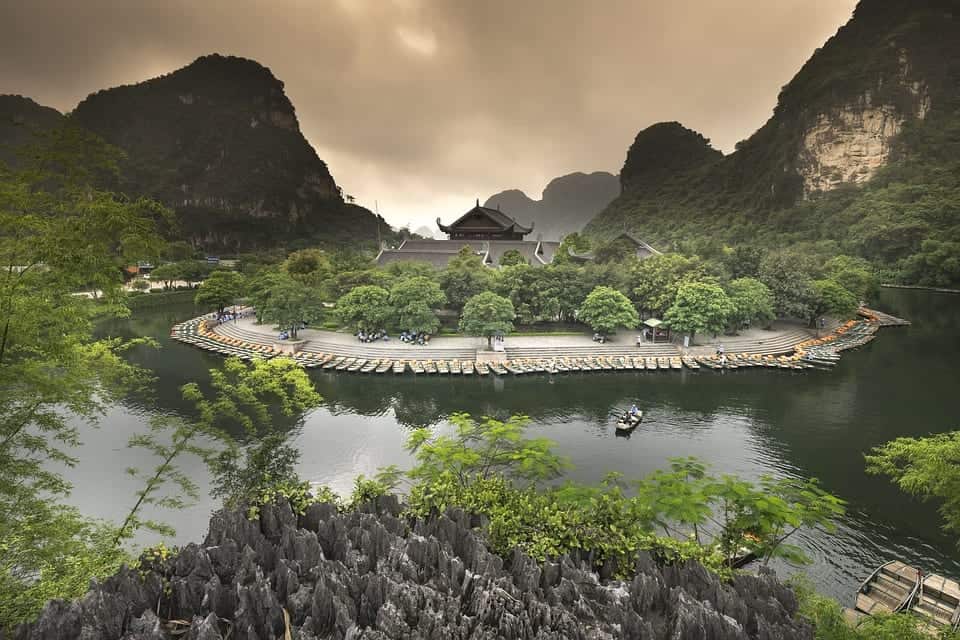 If it looks familiar, it's because you probably saw it in the Oscar-winning movie, Indochine (1993). After the Academy Award, Tam Coc instantly turned into one of the most popular places in Northern Vietnam. Even though I don't like going to places that are super-touristy, the large, dark karsts and deep caves contrasting the beautiful movie-feature-worthy rice paddies, and the unique Rural Charm of Tam Coc are more than enough to leave you breathless.
Insider tip; if you want to explore this magnificent region, I strongly suggest you rent a bike. Read more about my motorbike adventure in Vietnam.
Mai Chau
Located in the heart of the Hoa Binh Province, Mai Chau is the first town along Vietnam's famous Northwest Loop and a melting pot of several different Vietnamese hill tribe communities. The region has several beautiful caves, numerous waterfalls, and beautiful verdant valleys. It's one of the places in Vietnam that offers numerous authentic local homestays. It's a great destination for a day trip from Hanoi or a place to visit on your way back from Sapa.
Bac Ha
Bac Ha is probably the northernmost place on this list with the Chinese border just around the corner. If you want to see something different and get off the beaten track, I can't recommend this small charming town enough. If you're planning to spend a few days here, make sure to stay for the weekend. The colorful, chaotic and messy but yet vibrant and charming Sunday Market is a reason enough to visit. It's a great chance to see a range of different ethnicities from different backgrounds and with different cultures in one place. It will be very different than anything you saw on your trip to some of the more touristy places in Vietnam.
Ninh Binh
Home to the largest pagoda in Vietnam, Ninh Binh is oftentimes described as the inland version of Halong Bay; the scenery surrounding the town is dominated by the delta of Red River and is filled with tall limestone mountains, lush valleys, and charming farmlands. However, this is not all this town has to offer. Ninh Binh is also home to Cuc Phuong National Park; home to one of the largest virgin rainforests in Asia and the oldest national park in the country.
Detian Falls
Detian Falls consist of three stages and every one of them seems more colorful and more pristine than the previous one. The road leading to the falls passes through thick forest, caves, and emerald-green cascade pools. One great way to get to the falls is by rafting and at the 53rd merestone, you can even cross the Chinese border (legally) and see the falls from another viewpoint. However, keep in mind that this doesn't mean you can venture further into China's territory without a proper visa.
The Perfume Pagoda
Only a couple of hours driving from Hanoi, you'll discover one of the most beautiful sacred sites in Vietnam. The Perfume Pagoda consists of several different temples built in the limestone cliffs of Huong Tich Cave. The oldest temples around date back to the 15th century and are certainly worthy of your time. The pagoda is probably the most crowded place on this list of the best places in Northern Vietnam because it attracts thousands of pilgrims from different parts of the world but I still recommend you to visit. This temple complex standing on top of cave cliffs is one of the fascinating things you can see only in Vietnam and nowhere else.
Ha Giang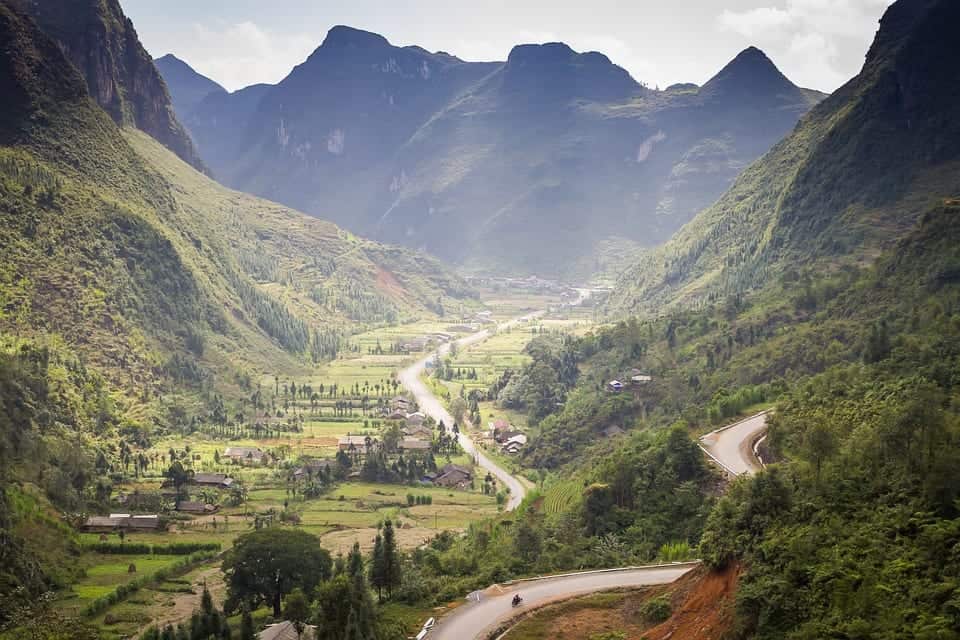 The town of Ha Giang is the capital of, in my personal opinion, the most beautiful province of Vietnam. The province of Ha Giang is slowly becoming famous in recent years for its unrealistically-beautiful forests and picturesque granite mountains which bring a lot more curious visitors in recent years. If you like the outdoors, Ha Giang has to be on the top of your list of places to visit in Northern Vietnam. In Ha Giang, you'll find more forest trekking routes than any other part of the country and also some of the best camping spots not only in Vietnam but in the whole region. However always make sure to be on the safe side before your explorations and get a proper Vietnam travel inurance.
The Dong Van Plateau
Located just north of Ha Giang, the Dong Van Plateau is arguably the most beautiful destination in the northeast of Vietnam. Sure, the plateau has the beautiful rice paddies of Sapa and some of Ha Giang's beautiful forests but there are other things that will make you want to visit. Some of them are the pristine lakes hidden deep in the plateau's pine forests, the deepest canyon in Southeast Asia, and more than 20 different ethnic minority tribes that inhabit the region.
Cao Bang
Another great and not so famous place to visit in the northeast of Vietnam is Cao Bang. The town is the regional capital of the Cao Bang province which is probably one of Vietnam's least frequented parts. Cao Bang is a pretty town with tiny streets and charming street markets. However, the few people that do visit this town use it as a starting point for exploring the natural beauty of the Cao Bang province. There are a lot of accommodation options in and around northern Vietnam, as well as rent-a-bike shops for people that want to venture deeper into Cao Bang and explore the beauty of this province without having to follow and depend on an overpriced group tour.
When to Go
Although Northern Vietnam can be visited at any time of year, it does tend to get cold and sometimes foggy during November, December, and January. The summers in the north are nowhere near as hot as the south and it tends to cool down at night quite significantly. If you have an open diary, the best time to visit are the spring and summer months, your Vietnam tour operator will be able to provide you with further information.
Useful resources for visiting Northern Vietnam
For cheap flights to Vietnam, use this Qatar Airways offer and save big on your next flight.
For budget accommodation options in Vietnam, this Booking coupon will get you 15% off on all properties in Vietnam.
If you need a great budget-friendly tour in Northern Vietnam, get 10% off on all Vietnam tours by Contiki on this page.
If you don't have travel insurance yet, use this World Nomads coupon for the best travel insurance packages you can find.
Finally, don't forget to sort out your visa before traveling to Vietnam. You can obtain one through Ivisa for only $45 USD. I've used it in the past, the process is very fast and hassle-free and I warmly recommend them.
Did you like this list of places to visit in Northern Vietnam? Do you prefer the north or the south of Vietnam? Do you think we didn't mention some places that deserve mentioning? Let us know in the comments!
Like it? Pin it.