He who contemplates the depths of Paris is seized with vertigo.
Nothing is more fantastic nor more tragic.
Nothing is more sublime. A Paris in a day itinerary sure sounds like a mission impossible. However, I'll do my best to help you see as much as you can from the City of Light with this article!
***
Paris has arguably the highest amount of recognizable monuments in the world. Starting from its iconic buildings through the charming boulevards and romantic bridges, all the way to the incredible museums and beautiful parks. Personally, I can't get enough of the city and if you asked me I would tell you to spend at least one or two weeks in the French capital. However, I understand that a lot of people have limited time and many people only visit Paris for a day. So if you want to make the most out of your time in Paris, make sure to check out this itinerary. Take a look at this post if you want more information about visiting France on a budget.
For starters, save yourself a lot of time and buy a 10-ride ticket for the metro. It should be enough for the whole day and it will save you a lot of time you would spend if you have to buy every ticket separately in the crowded Paris metro stations. Additionally, you can also book online tickets for the sights you will want to visit. This will also save you a lot of time you would otherwise spend waiting in long queues. Alternatively, you can also rent a car in Paris and this special offer gets you 15% off on all car rentals in town.
Now, before we start, I'd like to give you a few tips to make your whole Paris experience even better.
Don't act like a tourist and Parisians will be nicer to you
Parisians are often a target of travel writers for their notorious arrogance. I must say that I disagree with that. Parisian politeness has its own rules and you should learn some of them before visiting Paris. If you are polite with them, they will be polite to you, just like everywhere else in the world. However, Parisians might seem distant because the "instant friendship" is not a thing here.
But that's not just Paris. That's the case with most of the western hemisphere and it's easy to forget this if you spent a lot of time traveling around South Asia, Africa, or South America. Greet people before asking anything and make an effort of learning a few basic French expressions. It will be appreciated and make your experience much better.
Don't try to do too much
Paris is a huge city with so many things to do and see and discover. And you can't possibly expect to cover everything in one day. And that's okay. There will be other opportunities. Just try to enjoy the time you have at the moment to discover as much of the city as you can.
Make a list of your favorite attractions and prepare a plan because your time is limited and you don't want to waste it on unnecessary things. Alternatively, if you're in for a longer stay, I would suggest you get off the beaten path and discover some of the best hidden gems in Paris. And if you stay for longer, you'll need accommodation. Use my discount code to save 15% on all properties in Paris.
With that being said, let's start with the itinerary.
The morning in Paris
In my opinion, the best way to start your Paris in a day itinerary is by observing a 360-degree panorama of the famous Place de la Concorde from the southern bank of the Seine. After all, what's a better way to start your day than seeing the most famous landmarks of the City of Light, including the Eiffel Tower and Champs-Élysées. It was at this square that most of the important beheadings in French history happened. To be specific, I'm talking about Louis XVI, Marie-Antoinette, and one of the leaders of the French Revolution, Danton.
You should also consider prebooking your Eiffel Tower, Louvre, and Seine Cruise Tickets to save time and make the most out of your trip.
10 AM: Champs-Élysées and Eiffel Tower
From here you can take a walk through Champs-Élysées to the Eiffel Tower and feel the morning atmosphere of one of Paris' most bustling avenues. The distance between the two is around 20 minutes. Next, you can make a quick stop and get some groceries and some pain au chocolate and have a picnic while looking at the Eiffel Tower. After that, head straight to the elevator and climb to the top of the Eiffel Tower and enjoy an amazing view of the city.
12:30 PM: Hôtel des Invalides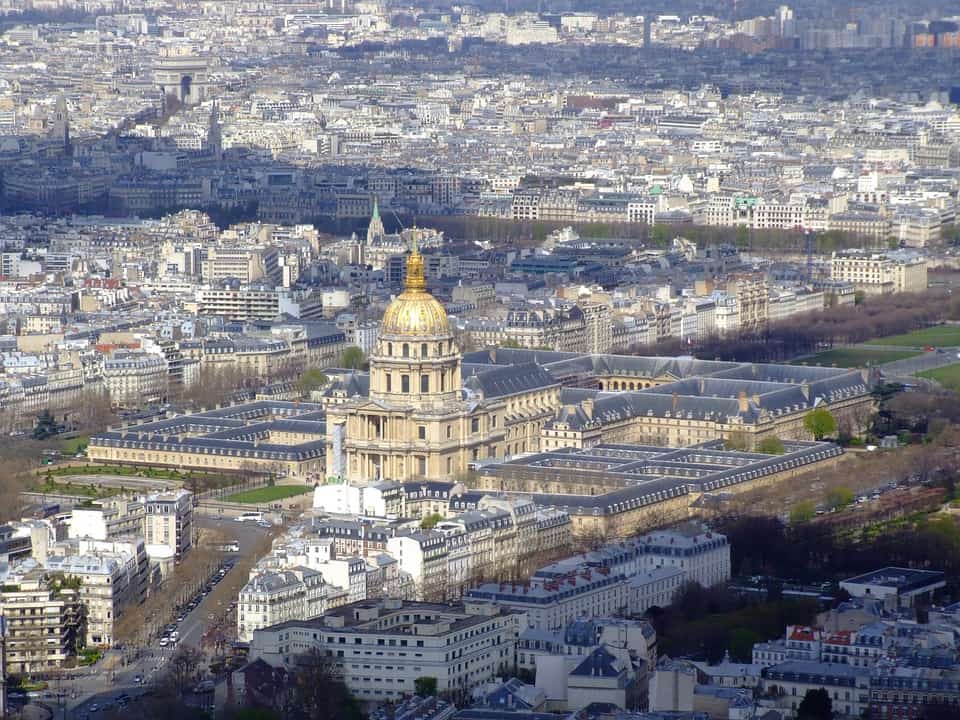 Take a 10-minute walk and you will reach this grandiose complex from the 17th century. This architectural masterpiece is one of the most beautiful buildings in town and it's no surprise that it's included in most private tours in Paris. The place is surrounded by beautiful green gardens and it has its own impressive military museum. Finally, this magnificent sight shelters the grave of one of the greatest French leaders, Napoleon. While Hôtel des Invalides might not be one of the most famous Parisian landmarks, it's certainly a one worth visiting.
1:30 PM: Place de la Concorde and Louvre
From the Hôtel des Invalides, you can get on metro number 8 to the Concorde station. Once you go out you'll see another one of Paris' most famous squares: Place de la Concorde. From here you can take a cup of coffee to go and walk through the Jardin des Tuileries, the biggest garden in the city, to the Louvre. On the way, you can admire the amazing Musee de l'Orangerie, Musee d'Orsay, and the Arc de Triomphe du Carrousel. Now, when you get to the Louvre, you can literally spend your whole day here because there are so many things to see. I would recommend not to spend too much time here but if you want to see the Mona Lisa and friends, I suggest you come here first thing in the morning to avoid the rush.
3 PM: Place Saint Germaine
You can take a short walk through the Pont Royal, one of the oldest bridges in Paris to Place Saint Germaine. Here you can see the Abbey of Saint-Germain-des-Prés, which is more than 1500 years old. This was a burial palace of all Merovingian kings of Neustria and today is, in my opinion, one of the most underrated sights in Paris. Another reason to visit this amazing abbey is the fact that it is the last remnant of Romanesque architecture in Paris.
Near the church, the Place and Boulevard Saint-Germain, Café de Flore and Les Deux Magots were the regular meeting places for the Parisian writers, sculptors, painters, musicians, and other artists in the 20th century. They all came in these places to work, chat, share, and find inspiration.
4 PM: Notre Dame and lunch on the Seine
Next, it's time to go back to the metro. Take line number 4 and get off at Saint Michel. It's time to admire the gothic perfection that is Notre Dame. The cathedral is a perfect representative of French Gothic architecture, a style that became popular in the late medieval times. Today, Notre Dame is the most visited place in Paris, even topping the Eiffel Tower so you can say that no visit to Paris is complete without Notre Dame. The best part about it: the admission is free and the cathedral is accessible to people with reduced mobility. After you're done, you can sit down and relax in some of the famous bistros along the Seine and have your lunch with a beautiful view of Paris' most famous river.
6:00 PM: Montmartre
The best way to complete your Paris in a day itinerary is to climb to the top of Montmartre and visit the breathtaking Sacré-Cœur. You will need to switch 2 metro lines to get there as it's a bit far from the other top attractions mentioned in this article. First, you will need to take the number 4 from Saint Michel and get off at Marcadet. From here, take line number 12 and get off at Lamarck-Caulaincourt. Warning: there will be a lot of stairs but Sacré-Cœur will be worth it.
This basilica devoted to the Sacred Heart of Jesus Christ was built in 1914 and today is still sitting at the highest point in Paris. I'm suggesting this place for the end of the day because the scenic view of the sunset is simply stunning. You can end your tour with a glass of good French wine while you admire the sunset over one of the world's most beautiful cities. Where else will you get a better view of the City of light if not at its highest point?
Helpful tips for visiting Paris
With so much to see in Paris, it is impossible to cover everything in a single day. If possible, extend your stay while taking advantage of post-covid remote working options and book affordable short to mid-term Airbnb-style accommodations in Paris. Doing so allows you to live like a local for a few months.
Get the cheapest flights to Paris using this Qatar Airways special offer. Yes, this is an affiliate link, but the flights are so affordable, even I use it when booking my flights.
If you want to rent a car in Paris, this special offer gets you 15% off on all car rentals in town.
And last but not least, if you want to save on all booking.com rentals in Paris, use my discount code.
Did you like this article? Share it on Pinterest.