The Riverside is the main landmark of Hoi An, a city that can best be described as the Venice of the east. This charming city has the most unique mix of Japanese, Chinese, Vietnamese and Colonial architecture and it quickly won me over as soon as I set a foot on it. Hoi An has been one of the main trading ports in Vietnam throughout history. The Cham people that controlled this part of the country for more than 1000 years, made the city famous for spice trading. However, it was after the Vietnamese took control of the country in the 15th century that Hoi An started flourishing.

Today, the city is famous for the picturesque historic buildings, pagodas and riverside cafes, and of course hand-made clothing. You won't be wrong if you say that Hoi an is the tailoring capital of Vietnam. You can purchase anything here, from suits to sundresses and leather boots and the prices are pretty cheap too. Check out this article if you're looking for some tips for buying tailor-made clothes in Vietnam.
However, if you are not a fan of shopping, Hoi An has a lot of other things in store for you. The charming town is a great place to lay back and relax, in an otherwise chaotic country. The atmosphere in the city is soothing as it is, and on top of that, there's a beach just 15-minute away from the Old town. The food is amazing, and personally, I tasted the best food in Vietnam in Hoi An. The Cau Lao noodles are a must when visiting Hoi An.
Best time to visit

Hoi An
Northern and Southern Vietnam have completely different climates. The North has the typical four seasons, while the South has only a dry and a wet season. Even though Hoi An is located in Central Vietnam, the city truly has just two seasons. The dry season is between February and August. And the wet season is between September and January. However, it's pretty warm throughout the year with an average temperature of 29°C (84°F).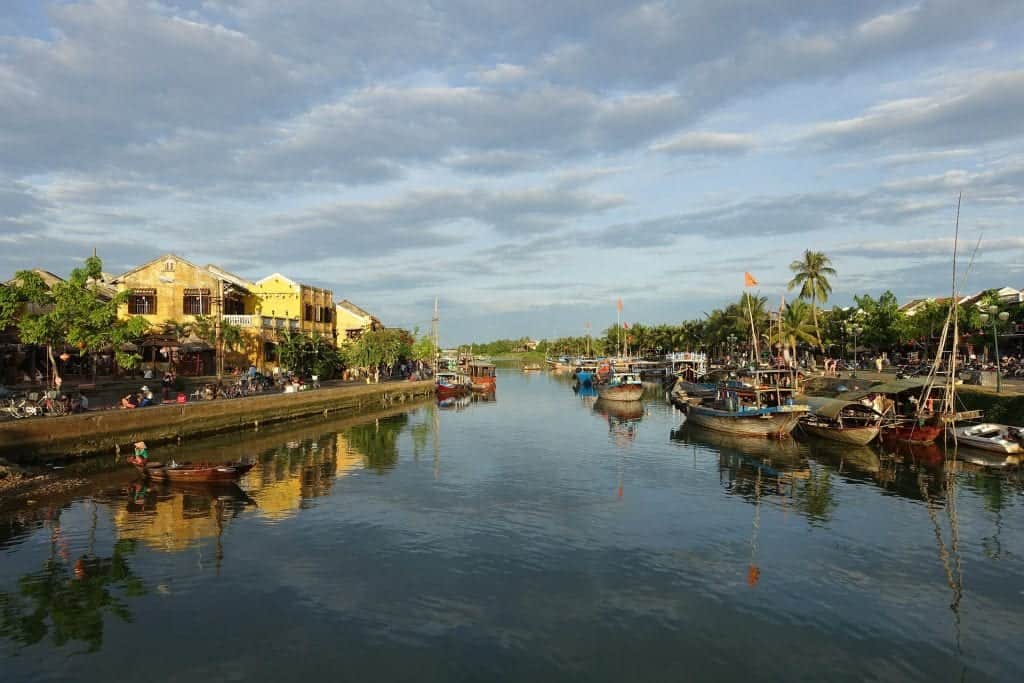 The hottest period of the year is between June and August when the temperature rises up to 35°C (95°F) and Hoi An turns into an unbearable humid place. The best time to visit Hoi An would be between February and May. It's the driest time of the year, with a low humidity and bearable temperatures. I suggest you not to visit in the wet season because there are a lot of heavy showers and they often lead to floods. If you're looking for a cheap flight to Hoi An throughout the year, use my Qatar Airways coupon to get up to 25% off on all flights to Vietnam.
How to get to Hoi An
If you're coming via flight, the nearest airport is Da Nang. From there you can easily get a bus or private transport to take you to Hoi An. It's only one hour away. The taxi costs between 300,000 and 400,000 VD (around 18 USD). There's also a shuttle bus leaving from the airport from 5 AM to 11 PM every day. The price for it is only $5 USD. The cheapest way is the local bus that costs 25,000 VD, or around $1.5 USD. You just need to get from the Airport to the Central bus station in Da Nang.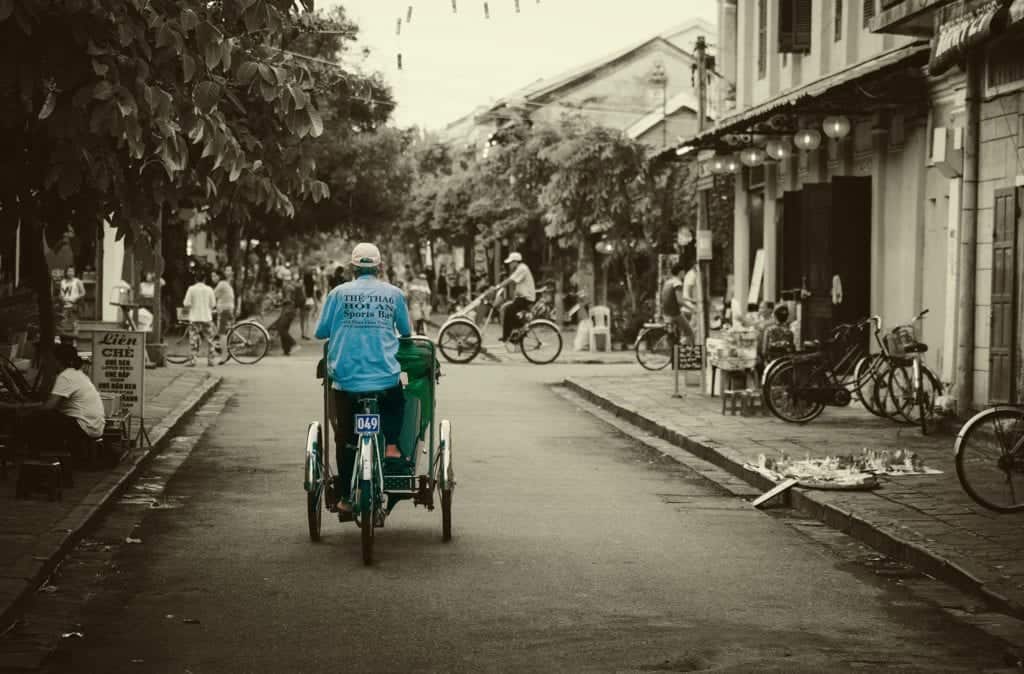 The city also has a lot of buses coming from Hanoi and Ho Chi Minh. Both are long journeys that take more than 12 hours but the tickets are pretty cheap. If you're coming from one of these two cities, take a bus instead of a train because, for some reason, the train tickets were ridiculously expensive the last time I visited.
The Old Town
The Old Town is definitely the best part of the city and is also protected by UNESCO. The absence of cars from the historic streets make the Old Town a wonderful place to spend some time, kick back, relax and enjoy some amazing food.
The Old Town looks like a normal Southeast Asian city with some influence of Colonial architecture during the day but when the night comes down, the real magic begins to happen. As the light goes down and all that is left is the candle lights in the streets and on the boats, you begin to really discover the beauty of this town. "It's sights like this that traveling is all about", I thought when I witnessed the magical nights of Hoi An.
In the late 19th century Thu Bon River was silted up which seriously affected commercial shipping. The port was moved to Da Nang and this was a big hit for the small town of Hoi An. Fortunately, its old buildings somehow survived WWII and the beautifully preserved Old Town has been the heart and soul of the Vietnamese tourism revival. Hoi An today is a commercial center again, visited by thousands of tourists from all around the globe. If you're looking for a cheap accommodation in Hoi An, use this Booking coupon will get you 10% off on all hotels in Hoi An.
Few money saving tips
Explore Hoi An with a bike; you can rent a bicycle for 20,000-30,000 VND per day. Trust me, you don't need a car. You can cover the whole city cycling.
If you want to go diving on Cham Island you can save money by camping on the beach. It's a lovely experience.
You don't need a SIM card. Hoi A's high WiFi connectivity came as a surprise for me. You can connect to WiFi in every small shop, restaurant or a cafe and as you walk around the city get the signal again.
The city has a free tour run by volunteer students who want to practice their English skills. They don't charge anything for showing you around. You might just need some pocket money for food, local transport or optional community donations. The tours cover a walking tour around the city, Kim Bong Village and cycling to Cam Kim Island.
Related: Tips for traveling Vietnam with a motorbike.
Other things to see and do
One of the most iconic things in Hoi An is the Japanese bridge. It was built in the 18th century by the Japanese, thus connecting the Japanese neighborhoods with the Chinese Quarter. Today, the bridge stands as a peace symbol of Hoi An.
Even if you're not into shopping, visiting the night market is a must. You might think night markets are all the same everywhere in Southeast Asia. Trust me, Hoi An is an exception. The city gets a completely new look when it puts its night gown on. And one of the main reasons for it is the night market and the atmosphere and positive vibrations coming from it. In fact, I can go a step further and claim that Hoi An at night is the most romantic place I've ever seen in my life.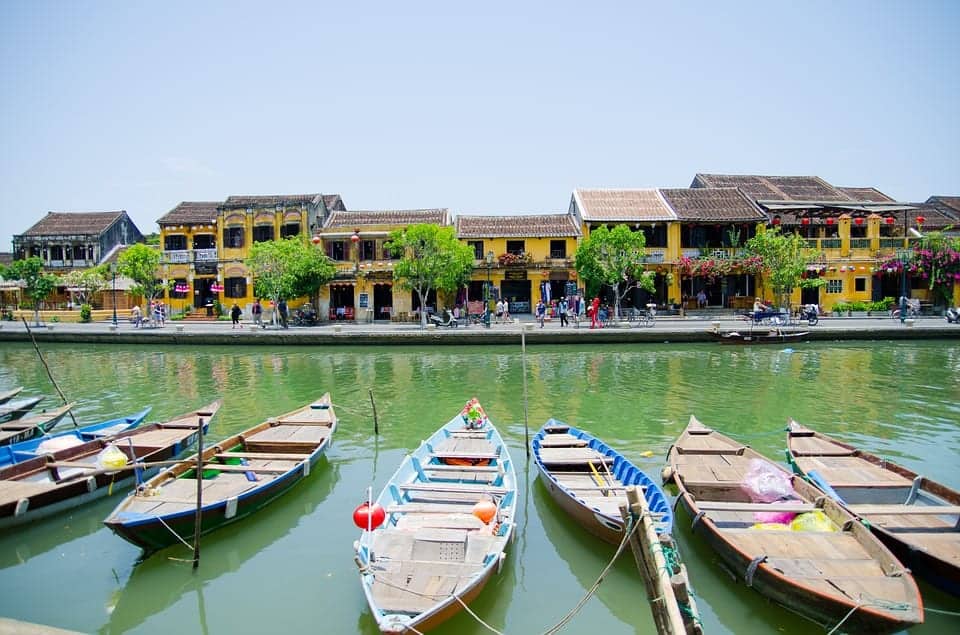 There are a lot of cute cafes along the riverside and having some coffee at the sunset along the river is always a great idea.
Hoi An is surrounded by lush countryside and it would be a shame not to see that if you're already here. If you're feeling adventurous you can cycle your way out of the city. I did that and I saw some amazing landscapes on the way. Finally, check out this article for more suggestions on places to see in Hoi An. Alternatively, if you want to get off the beaten track, check out my article about hidden gems in Vietnam.
Visiting sights close to Hoi An
An hour away from Hoi An lies My Son: is a Hindu temple and another UNESCO heritage site that's actually older than Angkor Wat. If you combine the visit to My Son with stopping by a village or two on the way, you're going to have a memorable trip.
You can also visit the Imperial city of Hue, which is 3 hours away from Hoi An. This used to be the capital during the Nguyen Dynasty. That was the last ruling dynasty in Vietnam before the communism. Klook and Kkday offer private tours to Huế for USD 72 and USD 46 respectively. It might be a bit tough, but one day is completely enough to cover the imperial city.
Useful resources for visiting Hoi An
For cheap flights to Vietnam, use my Qatar Airways coupon to get up to 25% off on all flights to Vietnam.
For budget accommodation options in Hoi An, this Booking coupon will get you 10% off on all hotels in Hoi An.
If you need a great budget-friendly tour in Vietnam, get 10% off on all Vietnam tours by Contiki on this page.
For the best deals on buses from and to Hoi An, use Bookaway.
Finally, if you don't have travel insurance, check out some of World Nomads' offers.