Italy is a land of ancient history and marvelous beauty famous for wine, food, art, and fashion. It's the country that introduced Europe to the Renaissance and even today continues to be at the forefront of design innovation. Today, Italy is home to some of the world's most famous tourist sites but there are also a lot of hidden gems in Italy that don't make it to most tourist guides.
Sure, there are a lot of marvelous historic sites, sun-kissed sandy beaches, and Instagrammable towns that attract millions of tourists every year and make millions more daydream about this country's iconic places; about the Grand Canal in Venice, the Colosseum in Rome, the Ponte Vecchio in Florence, or perhaps the divine Amalfi Coast. All of these iconic places are certainly worth visiting but almost always overcrowded. However, there are certainly many other hidden gems in Italy which are just as beautiful and that's what we'll focus on in this article!
1. Monte Isola, Lombardy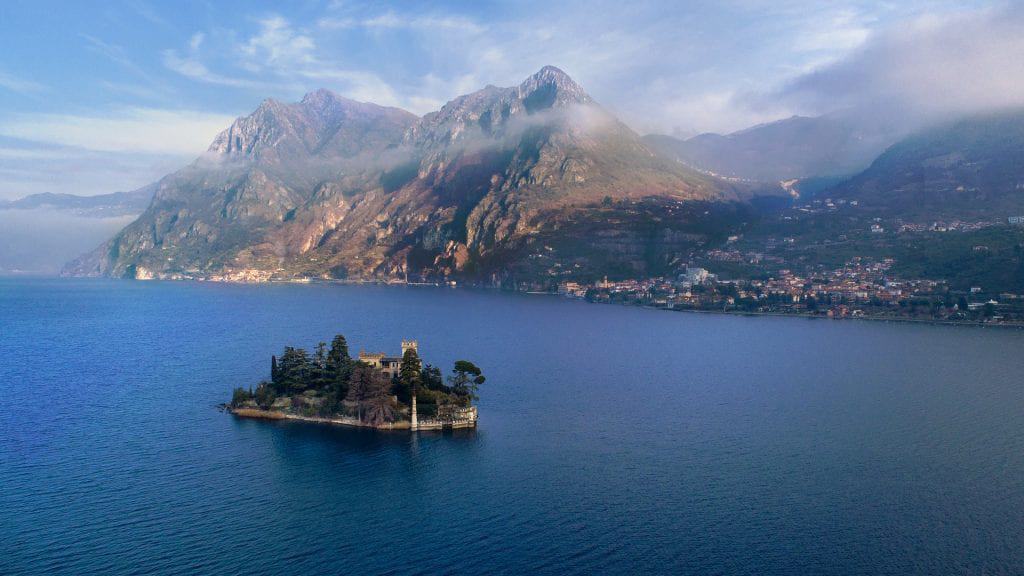 If you never heard of Lake Iseo, you're not the only one. Situated north of Brescia, Lake Iseo is one of the ultimate unsung hidden gems in Italy. Lake Iseo is probably the least known Italian lake, even though it's home to Europe's largest lake island. Monte Isola has 2,000 residents and no cars or traffic. Its quiet and calm atmosphere makes it a great choice if you want to experience Italy while getting away from the tourist hordes.
2. Castelluccio, Umbria
Sitting at 5,000 feet above sea level, Castelluccio is the highest village in the Apennines. Castelluccio is one of the oldest villages on the peninsula and it has remained relatively unchanged for over 1,000 years. At least until the severe earthquake of 2016. The village still has a red zone that's not safe to visit but the mountainesque landscapes surrounding the village are definitely worth visiting. The best time to visit is spring when the colored fields blossom with violet poppies on the hill.
3. Procida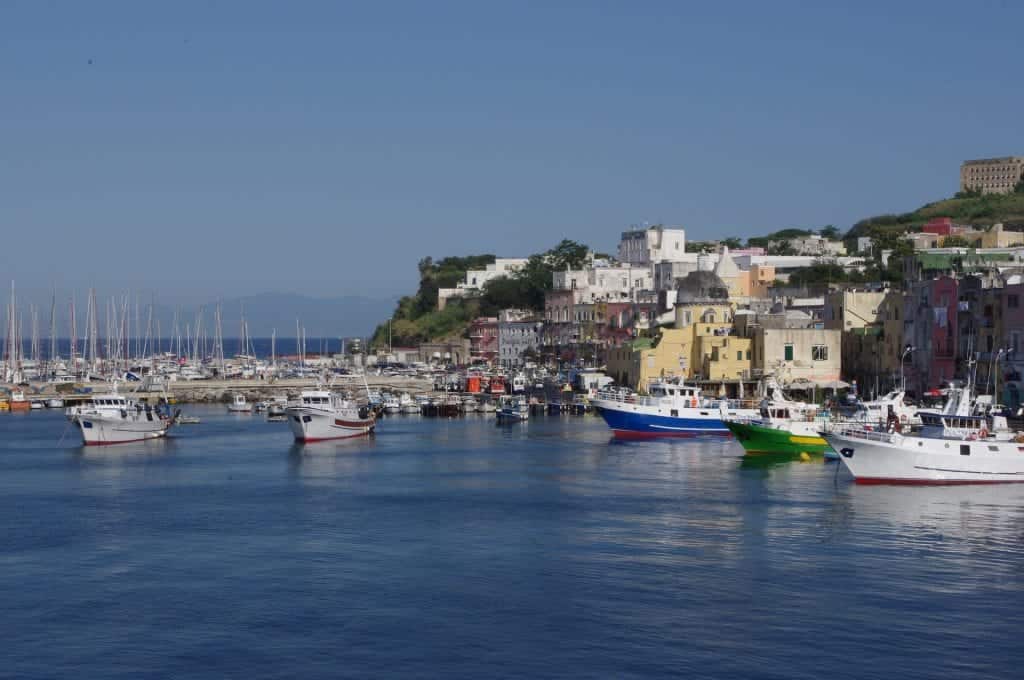 Speaking of hidden gems in Italy, we just have to mention Procida. Procida is a small hidden island in the Gulf of Naples that's often overshadowed by its more popular neighbor, Capri. However, once you visit this charming fisherman village, you'll feel like in a fairytale. Unlike its more touristy counterparts, Procida is one of the rare islands that has an authentic vibe. Today, there aren't many islands where smiley faces say 'Buongiorno' as you walk down the colorful narrow streets. The most surprising thing about Procida is that it's only 30 minutes away from Naples. This means the island will not be tourist-free much longer, so if you want to visit, hurry up.
4. Civita di Bagnoregio
Civita di Bagnoregio is one of the most remote towns in Italy. The small village managed to keep its identity and remain relatively intact throughout the years and visiting will make you feel like traveling back in time. Today, Civita di Bagnoregio has only 14 year-round residents and they live in isolation from the rest of the country. The only way to reach the village is by taking a 30-minutes hike up to the hill.
Looking for the cheapest flights to Italy? Use this special offer by Qatar Airways and get up to 20% off on your flights to Italy.
Commonly known as the Little Tibet of Europe, Campo Imperatore is a surprisingly unfrequented place. This alpine meadow is one of the most beautiful ones in Italy that apparently is yet-to-be-discovered by tourists. The trek is 25 km long which also offers a lot of hiking possibilities for mountain lovers. Another interesting thing about Campo Imperatore is that if you visit this place during different seasons, you probably won't be able to recognize it. In the winter, the meadow puts on its white winter dress. During spring, the hills become a kaleidoscope of shimmering green hues. During the summertime, everything turns yellow, while the autumn will make you feel like starring in an old, black-and-white movie.
6. San Fruttuoso
Sun Fruttuosa is one name that isn't brought up really often when it comes to visiting the Italian Riviera. It's one of the tiniest beaches I've ever seen and you can literally walk from one end to the other in less than 3 minutes! Why aren't there more visitors? San Fruttuosa is divided from the main road by a small tunnel walkway and a set of narrow stairs. This means that you will need at least 2-3 hours of hiking in order to reach this beach on foot. You cannot reach San Fruttuosa by car and the only other alternative is taking a ferry from Portofino.
As you can see from this previous example, the best way to get off the beaten track in Italy is by renting a car. Are you wondering where to book a car for your Italy trip? Use this link and save up to 30% on your car rental for your upcoming trip. If you're planning to rent a car, you'll also need good travel insurance. In my personal experience, the best travel insurance for this occasion is provided by World Nomads.
7. Cascata Delle Marmore
If you like getting off the beaten track in Italy and discovering new hidden gems, you simply cannot miss the Marmore Waterfalls. El Cascatte Delle Marmore gives the phrase off-the-beaten-track a new meaning. Located between thick forests and lush grasslands of Umbria, the Marmore Waterfalls have served as a muse for some of the greatest Italian poets throughout the years.
The waterfall is actually a human creation but dates back to the Roman ages. The waterfall flows into the valley formed below the river Nera. The flow is turned on and off based on a schedule and most visitors try to be there when the gates are opened to see the powerful rush of water.
8. Matera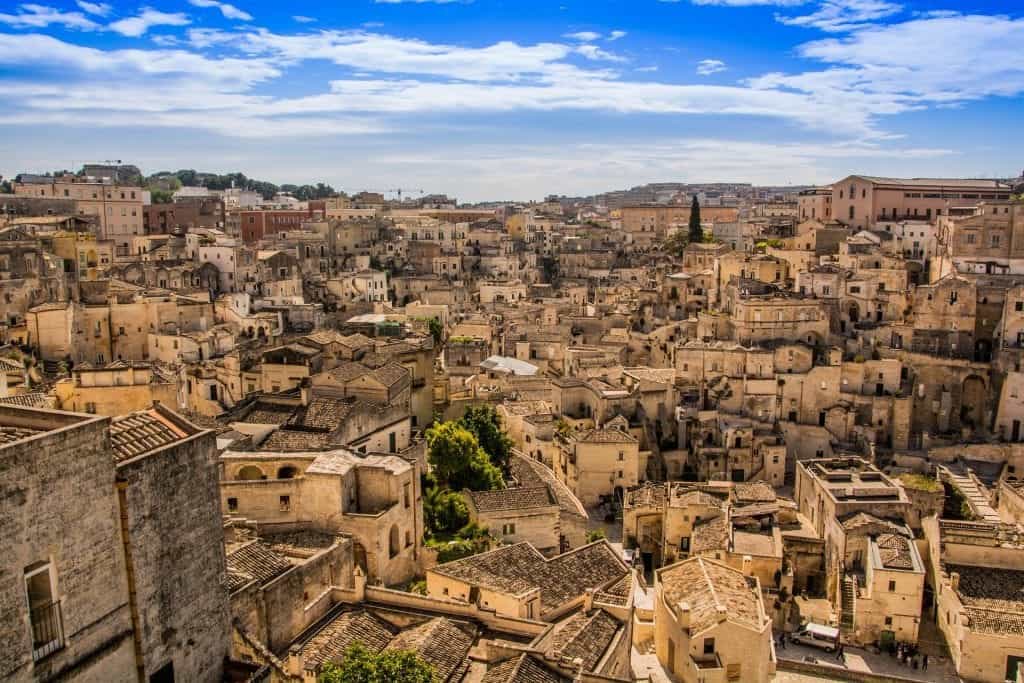 Matera is a small village, tucked away along the cliffs of the Basilicata region, recognized as a UNESCO Heritage Site. The first traces of inhabitants in Matera date back to 30,000 years ago. This makes Matera one of the oldest continuously inhabited settlements in human history. The most spectacular thing about Matera are certainly the ancient settlements in the caves but even without them, Matera is still an unusual and striking place, one which is certainly worth visiting.
The whole town is a glorious, medieval vision of tiny alleys, sweeping views, and sleepy squares with enchanting restaurants that serve traditional food that you won't find in any other place in Italy. Finally, the 150 churches of Matera, hidden between the caves and the surrounding countryside contain some of Italy's oldest frescoes outside of the Roman catacombs.
9. Marina de Pisciotta, Campania
Marina de Pisciotta is the kind of small, Italian coastal town that we all often imagine in our head but often struggle to match it in the real world. It's a place of ancient stepped alleys leading to hidden chapels, charming piazzas, and amazing views over a strangely empty but enchanting landscape. Below, between the lower parts of the city and the sea so clean that will make you wonder if this place is real, lie the centuries-old olive groves that give Pisciotta, an even stronger, archaic, Mediterranean feel.
10. Lecce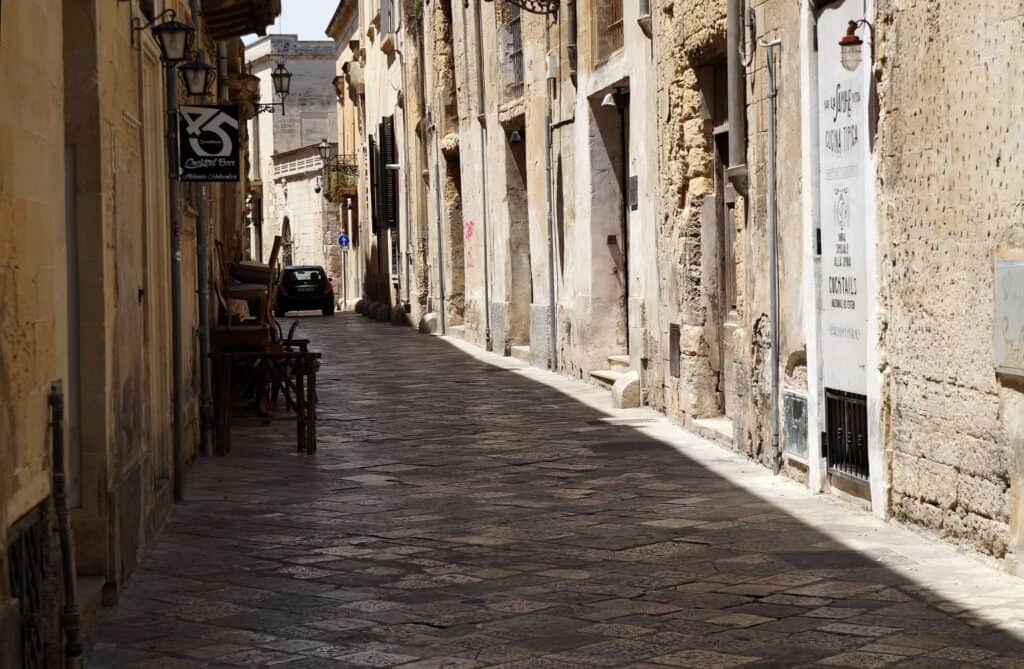 Lecce is often referred to as Italy's best-kept secret because it's a city only a few people decide to visit during their trip to Italy. It's located in the Puglia region, a region that has been getting an increased number of tourists in the recent years but still many of them skip this charming stash of baroque architecture. I always say that if Puglia was a movie, Lecce would be the charming actor that's playing the main role. However, apparently, not many people feel this way (yet). Except for the amazing architecture, Lecce also has homogeneity and completeness: two things that many other southern Italian metropolises lack. If you're an architecture lover, Lecce is an absolute must! Its distinctive architecture contributed to the city acquiring its own moniker, Barocco Leccese (Lecce Baroque).
11. Bergamo, Lombardy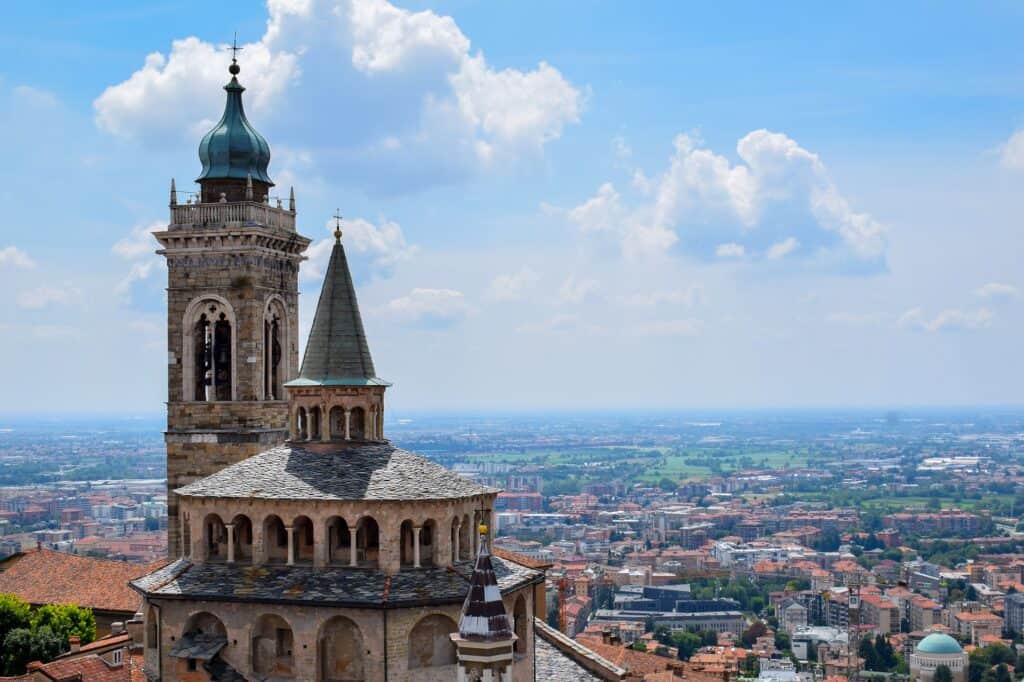 Even though it's a big city, after visiting Bergamo a few times, we had to include it in this list of hidden gems in Italy. Largely ignored by travelers, despite its proximity to Milan, Bergamo is the most beautiful hill town in Lombardy, while its Piazza Vecchia is one of the most charming squares in Italy. Bergamo is a charming walled city with captivating tiny streets where you can start experiencing Lombardy's divine countryside and the amazing Italian lakes. To put it simply, the city and the surrounding countryside are a perfect destination for a romantic getaway, especially in the spring.
12. Valle d'Itria
Similarly like Lecce, the Valley d'Itria is remaining a relatively offbeat destination despite being located in the Puglia region. The valley encompasses towns like Martina-Franca, Cisternino, and Ostuni, places that are called by many, some of the best hidden gems in Italy. Valle d'Itria is a great starting point for exploring the land of the iconic Trulli houses and lies close to many charming, whitewashed towns.
If you're enjoying this article, make sure to check out my article about hidden gems in Austria as well.
13. Trieste, Friuli-Venezia Giulia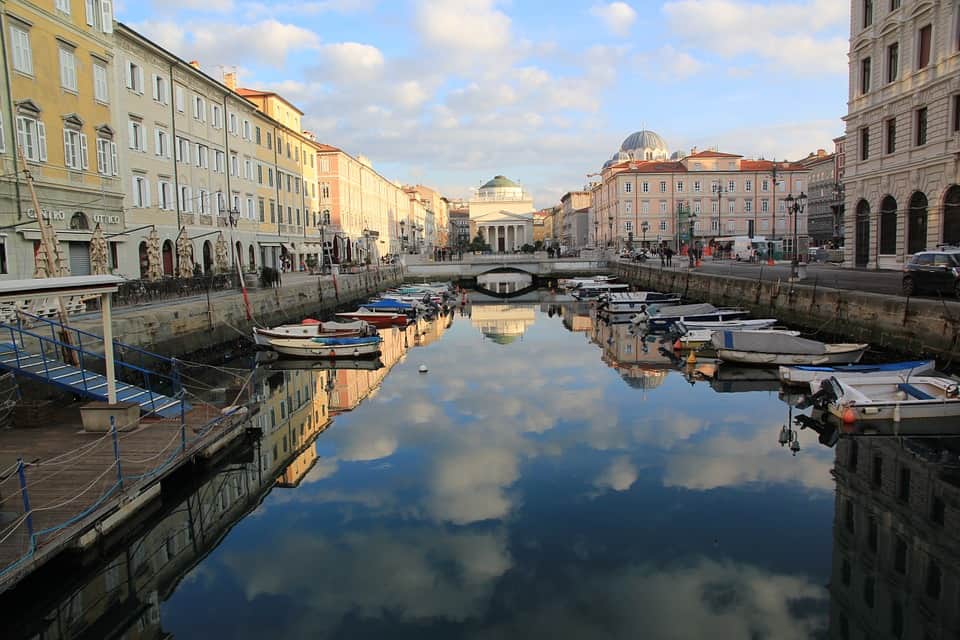 Tucked–inside the Slovenian border, this captivating Italian port has a fascinating history and probably the finest coffee in the country. Trieste has always been a frontier city, occupied in multiple occasions by the Romans, Habsburgs, Hitler's forces, the Allied Forces, to finally be returned to Italy in 1954. The consequence of this is the glorious mash of architectural and even ethnic influences. In a short 10-minute walk, you will find remnants of Roman architecture, Habsburg architecture, Orthodox and Evangelistic churches, as well as cathedrals, and one of the largest synagogues in Europe.
14. Ravello, Amalfi Coast, Campania
When visiting the Amalfi Coast, most people head to the towns of Positano and Amalfi often missing Ravello, a small charming town, comfortably sitting at the hilltop and offering some of the best views on the Amalfi Coast. Exploring Ravello's largely traffic-free lanes and elegant gardens that offer some of the best views of the Mediterranean is certainly a blissful experience. I always say that Ravello is probably the most peaceful resort on the Neapolitan Riviera, set like an eagle's nest above the dizzying landscape of the coast.
15. Pantelleria
This small island is Italy's southernmost point. It's also the island that is furthest away from the mainland. Pantelleria is actually closer to Tunisia (25 miles away) than Italy. The rocky caves and unspoiled landscapes of Pantelleria will make you feel like you're not even in Europe, which wouldn't be too far from the truth. All this makes the island of Pantelleria a great destination for a restful vacation and multiple opportunities to immerse in Italy's wild nature.
If you're enjoying this article, make sure to check out my article about hidden gems in Germany too.
16. Sulmona & Monti Della Laga, Abruzzo
The whole region of Abruzzo is waiting to be discovered, especially places like Sulmona and Monti Della Laga. The region combines lush forests, immense peaks, and areas of wilderness, with old-world unspoiled towns. One such town is Sulmona, a mountain-ringed town with a magnificent piazza that comes into its own on market days. Monti Della Laga the other hand, is a remote group of peaks close to the Umbria border. This divine place is visited by only a few people and it's largely unknown, even to most Italians.
Useful resources for visiting Italy
Get the cheapest flights to Italy with this special offer by Qatar Airways. Yes, this is an affiliate link, but even I use it for booking my flights. The savings are amazing!
If you still don't have travel insurance for your trip to Italy, I recommend World Nomads.
For car rentals in Italy, get 15% off with this AutoEurope special offer.
And last but not least, for some cheap accommodation rentals in Italy, get a discount on Booking every time you use this offer. Alternatively, if you want to stay in luxury hotels, use this offer and save when staying at all Radisson hotels in Italy.
Have you ever visited some of these places? Perhaps you think there are some other hidden gems in Italy that deserve to a spot in this list? Let me know in the comments! Also, if you liked this post, you should also check out my post about hidden gems in Florence.
Like it? Pin it.