A lot of people visit Thailand expecting for empty, heavenly, sandy beaches and exotic oriental cuisine. But, the real picture in the touristy cities in Thailand is actually quite different. There are 7-elevens on every corner, greasy versions of continental food and of course a lot of tourists. It is true that Thailand lost a lot of its authenticity due to the big waves of tourists. 32 million people visited Thailand in 2016, out of which 9 million visited Bangkok. But, hold on; I didn't mean to discourage you not to visit this amazing country of raw natural beauty. Thailand still has some amazing authentic places, which still aren't discovered by tourists. And that's exactly what this article is about: places in Thailand off the beaten track you (probably) didn't know existed.
Unlike the touristy cities, the destinations mentioned in this article are rougher around the edges. Most of these remote islands don't have ATMs. Wi-Fi and 3G/4G are either nonfunctional or nonexistent. But in my opinion, this is a small price to pay for seeing these amazing forgotten places, that for one reason or the other are still off the tourist maps. Beware, however, that you will not find a lot of English speakers in these areas, so you should learn at least some basic Thai phrases. Finally, prepare yourself for experiencing true Thai life, which is quite different from the one in the big cities. Leave the souvenir stalls in Bangkok and Phuket behind and take a peek at the real Land of Smiles:
Isan Thailand off the beaten track
Located in the Northeast, Isaan is the largest region of Thailand. Isaan has around 23 million residents, but only sees less than half percent of the total tourists per year. Unlike Bangkok and the other touristy places, the local girls of Isaan rarely have boyfriends and usually, end up marrying their first partner. This is just one proof of the mindset and lifestyle difference between Isaan and the big tourist hubs of Thailand.
Nakhon Phanom province
This Northeastern province hides the oldest temple in Thailand: the magnificent That Phanom. This is my personal favorite, because of all the amazing nature, mountain landscapes and river towns and the endless sight of rice fields surrounding this beautiful temple.
Lake Nong Harn
Lake Nong Harn is one of the most interesting and unusual sights I experienced in all of Thailand. In October, right after the rainy season is over, thousands of red lotus flowers sprout inside the lake, turning Nong Harn into an 8,000 acre of buoyant blossoms. If you want to see this spectacular site, keep in mind that the blossom starts in the month of October and lasts until March. The lake is located in the Udon Thani Province, around 600 km away from Bangkok.
Discover Sala Kaew Ku
I was wondering how is it possible that this historic part doesn't attract more visitors. There were some amazing statues here, much different than the average giant Buddha statues visible across the country. One of the statues is 25 meters tall and is featuring Buddha meditating under the protection of a seven-headed Naga snake.
Sangkhlaburi 
This remote village is a place where jungles and sparkling temples meet the exotic charm of rural life in Thailand. Nestled on the low hills where the road ends, completely surrounded by an endless stretch of forest-covered limestone ranges, Sangkhlaburi offers one of the most picturesque landscapes in all of Thailand. Back in the days, the Sangkhlaburi was traditionally a Karen town but has recently seen an influx of Burmese and Thai people which created a culturally diverse environment that just adds to the town's remote charm.
Wat Chaloem Phra Kiat
The entire province of Lampang is generally unknown by travelers but Wat Chaloem Phra Kiat is one place that even some locals aren't aware of. Hidden behind the steep limestone cliffs tucked away in the mountains of Northern Thailand, Wat Chaloem Phra Kiat is one of Thailand's best-kept secrets. The main reason for that is that there's no public transportation that connects this temple to other cities and the only way to reach is by bike and either hike or take a songthaew to the top of the mountain. High in the mountains, you will find spectacle unlike anywhere else in the country, with white and golden pagodas scattered around the peaks, looking down at some of the most pristine forests in the land of smiles.
Phanom Rung
I bet you didn't know that there's a Khmer temple in Thailand that resembles the legendary Angkor Wat. The temple's foundation lies on an extinct volcano. But it seems like that, and the fact that this temple made it to the UNESCO heritage list isn't enough to attract more visitors here.
Phetchabun 
Phetchabun is another relatively unknown city that features amazingly tranquil terrain, mountains, lakes and some of the most stunning national parks in the country. On top of this, Phetchabun is also home to one of the most fascinating temples in Thailand Wat Pha Sorn Kaew or the 'Temple built on a high glass cliff'. Phetchabun is a great choice for people who want to explore off the beaten track that will allow you to discover the amazing charm of rural life in Thailand.
North Thailand has a lot in store for you if you're into biking or hiking. The lush rainforests and mountain villages are the ideal places to get lost in. The north will show you that Thailand is so much more than pretty beaches and party streets in Bangkok and Pattaya. The beautiful landscapes, warm people and the rural life in general, in the largely unspoiled and not so well known places among tourists, are just as fascinating as the beautiful beaches and the big cities.
Nan Province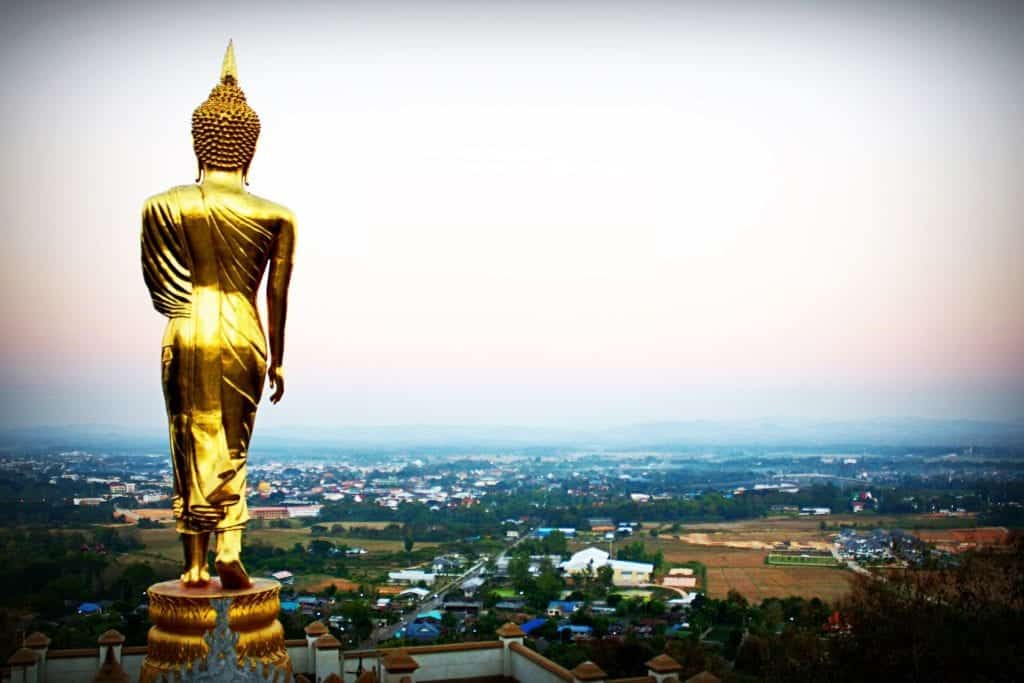 The Nan province, next to the Laos border, is a great place to explore the untouched nature of Thailand. The whole province has only 24,000 residents at 11,472 square kilometers. There are no guided tours, nor any traces of western food or culture. The only things you can see in abundance are the off-beaten roads that look like no one ever passed there before. The small province has six breathtaking national parks.
Pang Oung
Pang Ung is a place that seems too close to Chiang Mai to be off-the-beaten-track but it somehow is. Located just four hours away from Chiang Mai, tucked in the mountains of the Mae Hon Song province you will find Thailand's very own alpine lake. The road to the lake is pretty steep and the whole area is unusually windy which keeps most of the tourists away. Pang Ung is, in my opinion probably the best place to go camping and get away from the tourist trail.
Pai
Thousands of people flock to Chiang Mai, to enjoy the perfect mix of the picturesque urban environment and stunning nature this city has to offer. However, Chiang Mai's popularity overshadowed some surrounding beautiful cities that have a lot to offer. One of those beautiful mountainesque towns is Pai. Located four hours away from Chiang Mai, Pai looks like a smaller, much quieter version of its more famous counterpart. It's a small town that's brimming with things to see and do. Some of the most amazing sights Pai has to offer include the Land Split, the Pai Canyon, The Pai Hot Springs, and Pai Canyon.
Sukhothai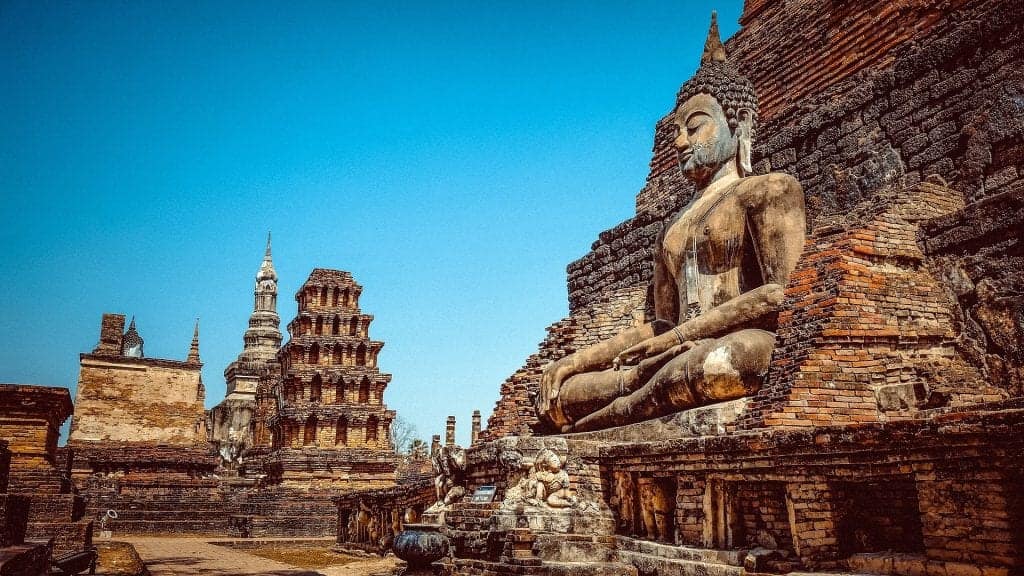 Sukhothai used to be the capital of Siam at one point in time. The only remnants from that time today are located in the Sukhothai Historical Park. These ancient ruins have the unique power to not only take your breath away but make you go back in time and see the remnants of what was once the greatest city of Siam.
Chanthaburi 
For a city that's only three hours away from Bangkok, I never really quite understood why this quaint city is so unfrequented. Chanthaburi, also known as the city of the moon is a melting pot of Asian cultures as people moved here throughout history seeking fortune in Chanthaburi's lucrative precious stones.  The city offers a plethora of activities and interesting places and it has Namtok Philo National Park, a park just as beautiful as Khao Sok National Park but for some reason, sees far fewer tourists. Namtok Philo hosts arguably the most stunning waterfalls, in Thailand, lagoon pools, and rich and diverse wildlife.
Trang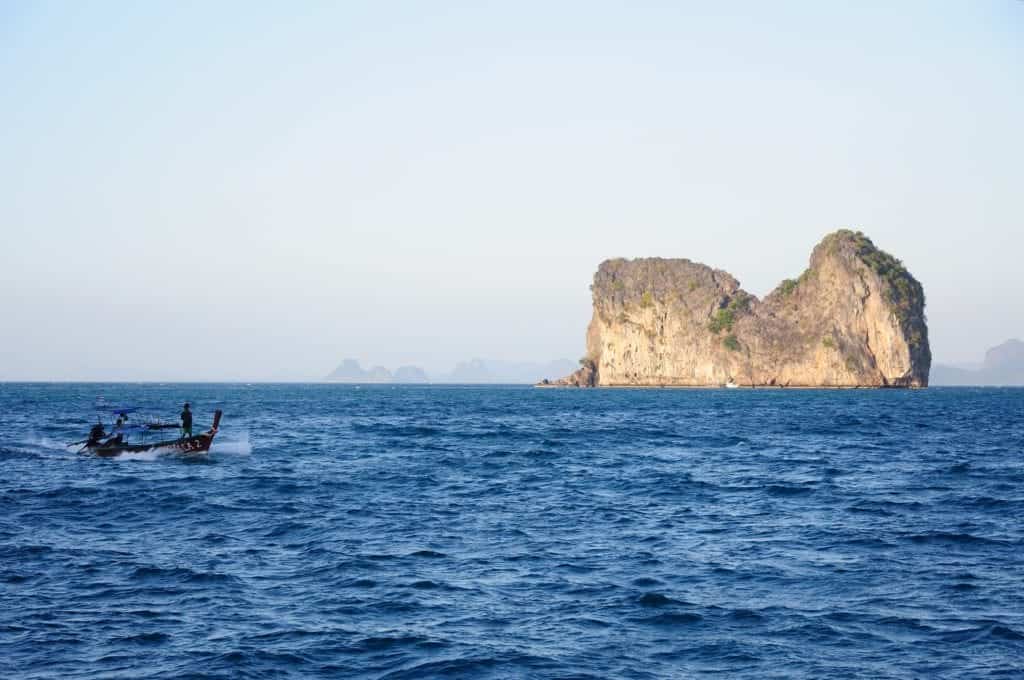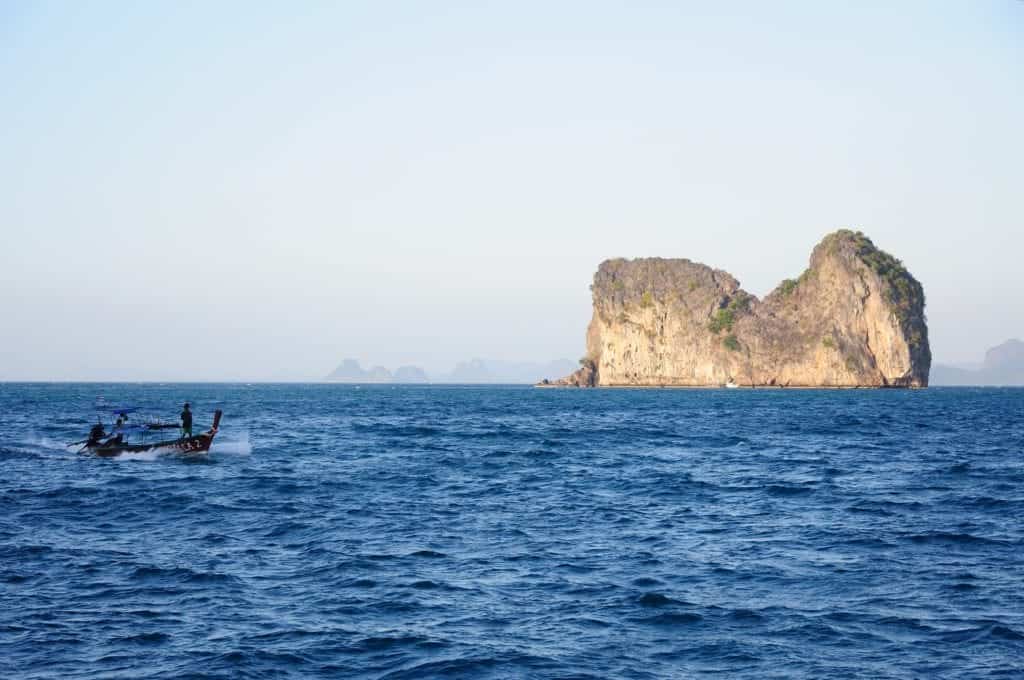 The recent turmoil in Thailand's southern province has made a lot of people to pass on visiting this part of the country. However, despite the recent situation, there are a few pristine, spectacular places in southern Thailand that are quite safe to visit. Trang is one of them. It's not nearly as popular as neighboring Krabi, which means you won't meet many other foreigners in the city. Trang is a great place for people that want to feel the thriving atmosphere of an urban Thai city without the tourist rush. There are also several pristine beaches around and it's a great starting point for exploring Trang's 70-mile coastline.
Doi Pha Hom Pok National Park
Off-the-beat islands
Most of the tourists that visit Thailand know about Phi Phi, Phuket, Koh Lipe, Koh Samui etc. But, there are islands just as magical as these that see much fewer tourists, which makes them even better vacation spots. Here's a photo gallery of my perfect off-the-beat islands in Thailand.
Koh Kradan
Known among locals as the "surfboard" because of its elongated shape, this two and a half mile strip lies within the Hat Chao Mai national park. This means there are practically no people living on Koh Kradan or even proper roads to intrude your perfect summer vacation.
Koh Kood
This tropical paradise has no public transport, nor cars and just a few bars. The most popular beach on the island is Ao Klong Chao, but Ao Phrao in the south part of the island is just as pretty but not really famous among tourists and therefore always empty.
Koh Tarutao
Throughout history, this was a pirate hideout and one of the most notorious prisons in the country. The island is a part of the Tarutao National Park and therefore virtually free of commercial development and 70% of its surface is covered in jungle.
Koh Libong
Koh Libong offers an abundance of amazing scenery and unique wildlife. This island is actually just one of the few places on Earth where you can see the rare species dugong, commonly known as a sea cow.
Helpful resources for traveling to Thailand
Use this Qatar Airways coupon to save 10% on all flights to Thailand.
For budget accommodation options in Thailand, use this Booking offer to save up to 15% on your stay.
If you need a great budget-friendly tour in Thailand, I recommend Intrepid (save 15% on all Asia tours). 
Get up to 25% off on all car rentals in Thailand with this Sixt coupon.
See whether you need a visa on IVisa. If you do, you can also apply on the same website and get your visa in less than a week without having to go to the embassy.
Finally, don't forget about travel insurance; see why World Nomads offers the best travel insurance on the market and so many travelers choose it.
Hopefully, this article will make you explore some other places in Thailand other than the touristy hubs, like Bangkok, Phuket or Phi-Phi. Have you ever visited any of these places or think that I missed some amazing places off-the-beaten-track? Let me know in the comments!