A lot of backpackers begin their Southeast Asia trips in Bangkok as a starting point. Unfortunately, most of them use the city as a transit point and don't spend more than a couple of days here. Even though its reputation is different, I would classify Bangkok as a shy city. A city that takes some time to completely reveal itself to the traveler. That's why I suggest spending at least 4-5 days here. If you want to see more than just temples, malls and traffic and fully experience the city, these Bangkok travel tips will surely come in handy.
After you start experiencing the city you will see that there's no medium ground in Bangkok. There will either be tall skyscrapers, grandiose palaces, and modern shopping malls, or smelly and filthy looking huts. That's the story of the only Southeast Asian capital that never suffered a white conqueror.
Few things about Bangkok History
Bangkok has been the capital since 1782, after the fall of Ayutthaya and ever since it has been the main business and commercial hub of Thailand. Since Thailand was never anyone's colony, the development of the city was following an independent path. However, western values have been adopted naturally, unlike its colonized neighbors. That's why the city center looks metropolitan. But you can still find a lot of authentic street throughout the city that shows pieces of authentic Thai culture.

That's why Bangkok isn't for everyone, and therefore many people decide to skip it and head straight to the paradise beaches or rainforests. But I believe that this article will show you that Bangkok is worth visiting. Nevertheless, there are a lot of places worth visiting as shown in this Thailand itinerary.
The perfect starting point
If you're starting a backpacking adventure throughout Southeast Asia, Bangkok is the right place to start. I say this, first of all, because of its location. Vientiane, the Laos capital and Angkor Wat in Cambodia are only a short bus ride away. Also, its central location makes it easy to get to some of the beautiful beaches in the South and the lush jungles in the north.
Next, people are used to tourists and are very tourist friendly. Therefore, the level of English speakers is higher compared to other tourist destinations in Southeast Asia. Besides, even if you're traveling solo, if you decide to stay at Khaosan Road, it's almost impossible not to make new friends from throughout the world. Khaosan Road is also known as the backpacker capital of the world. I stayed here for five days and I met more than 50 people from different corners of the world.

Finally, the food is amazing and very few people have problems adjusting to it. In fact, I never heard anyone complaining about the food in Bangkok. The food is amazing and extremely affordable. If you're a fan of street food, then definitely visit Khao San Road, Yaowarat district and Chatuchak market. These were the places where I tasted the best street food Bangkok has to offer. There's a lot of choices as well.

Getting in the city
If you're entering Bangkok by flight, you will land at one of the two airports: Suvarnabhumi Airport or Don Muang. If you have a local sim card the best option is to book a Grab taxi (a local Uber-like app). The taxi rides by local taxi drivers can be quite expensive, much more than the real price. So if you want to leave the airport by cab, Suvarnabhumi airport is the better option, because you can't get a local sim card or wi-fi at Don Muang.
Otherwise, both airports are connected to the city center by train. At Suvarnabhumi Airport, there's a metro station in the airport basement. At Don Muang, there's a train station is right across the street. Both ways can take you to Hua Lamphong station, from where you can get a cab or a tuk-tuk. The price for it shouldn't exceed 40 baht ($1.2 USD) if you're staying at Khao San Road.
As for traveling within the city, Bangkok has a developed and well-connected metro. This is the fastest way to commute within the city. The buses are cheaper compared to the metro, but they often get stuck in traffic and take ages to reach their destination.
When to visit
Even though the weather in Bangkok is bearable and pleasant throughout the year, you should be careful when choosing the exact timing. The rain season is on from May to October, but the heaviest rains occur in September and October. In these two months, even floods aren't unusual.
Beware of scammers
Unfortunately, Bangkok is known for scammers targeting tourists, so you can never be too careful. One of the most widespread schemes involves random local people approaching tourists in front of temples or other sights. Always being unusually friendly, they claim that the site you're about to visit is closed for some reason. But, of course, they know an alternative that is supposedly known only to local people.
After that, they find what appears to be a random tuk-tuk driver who's involved in the scheme. Then this driver takes you to one or more extremely expensive shops (jewelry shops, tailors etc.). The tuk-tuk may also overcharge you for the ride.
Places to visit in Bangkok
I would have to start with the grandeur of the Grand Palace. Only the walls surrounding the palace are more than a mile long! And the whole complex covers an area of incredible 218,400 square meters. And yet again, this huge area is almost always filled with tourists. A major attraction in the Grand Palace is the Emerald Buddha, 45 cm tall and carved from a single block of emerald. It is the most revered of all Buddha in Thailand.

Temples of Bangkok
The most important one is Wat Arun, one of the most important temples in Bangkok. Before visiting Bangkok I was told that the sunset view over the Wat Arun temple is one of the most amazing things in the world. Never in my life did I think that one of the most beautiful things I'll see in the sex capital of the world will be that exact sunset over the beautiful temple.


At the end of Chinatown, in what was once an otherwise unremarkable temple of Wat Traimit, sits the world's largest solid gold Buddha image. Made of about 83% pure gold, weighing five and a half tons, the 15-foot tall seated image is worth millions of dollars at today's gold prices.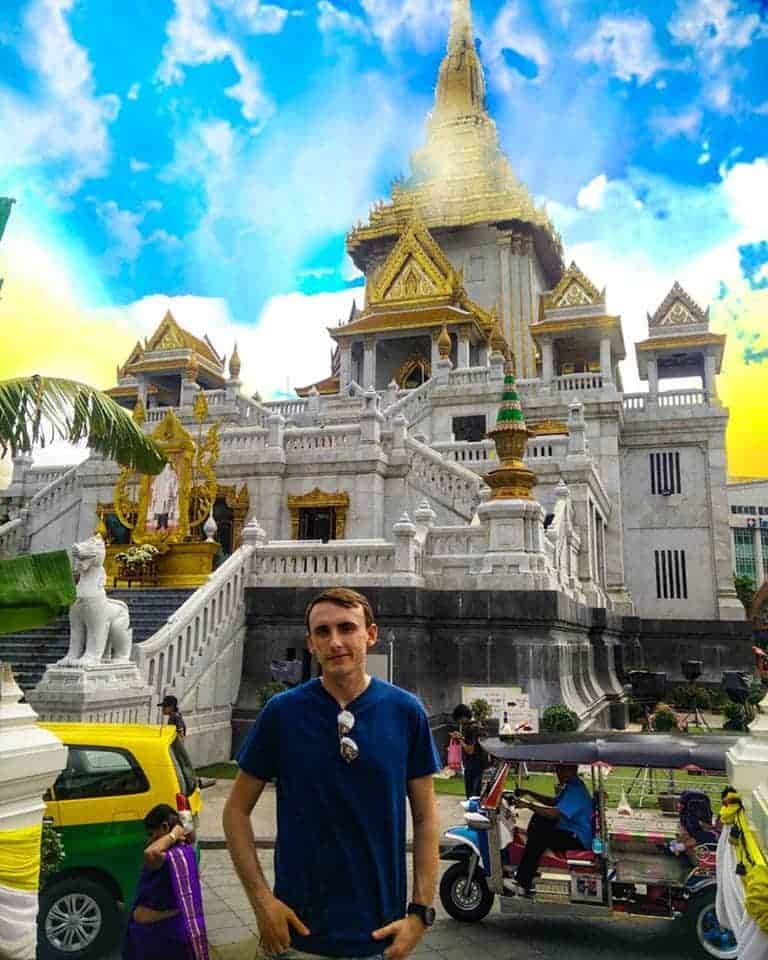 Another famous temple is Wat Pho, known for the enormous reclining Buddha statue located inside the temple. This is definitely one of the biggest Buddha statues I've seen with 15m height and 43m length.
The most famous floating market is actually located outside of the city on a 2-3 hour bus ride. But, I discovered the Khlong Lat Mayom Floating Market in Bangkok. There aren't a lot of tourists that go there, therefore the prices are much cheaper. However, the experience is just as good, if not better.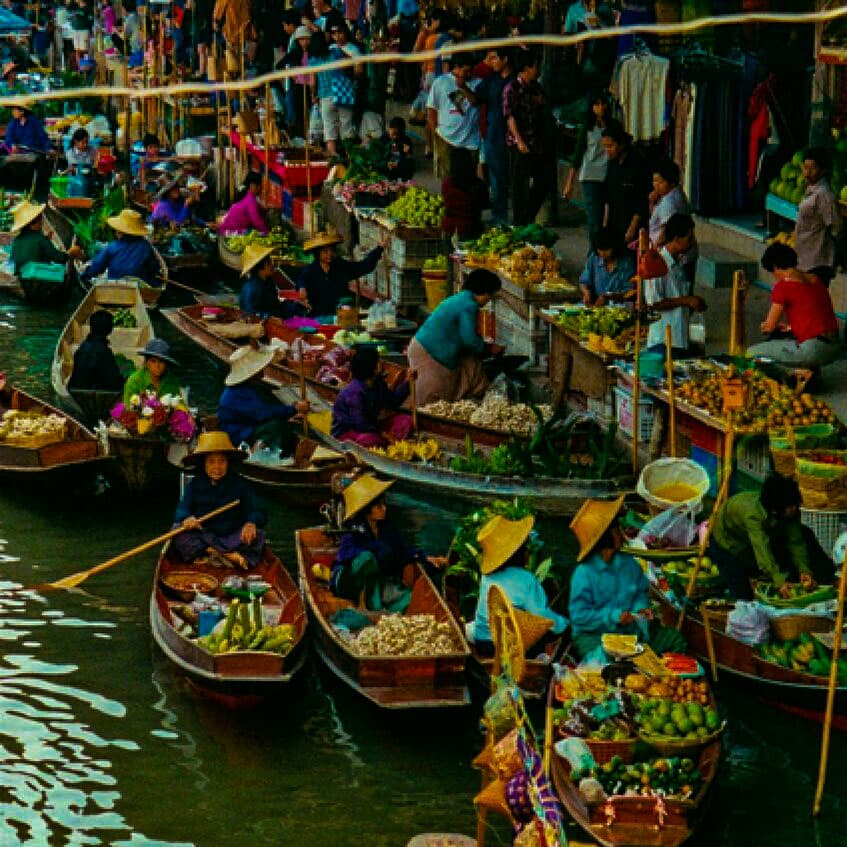 You should also go to Lumpini Park in the city center. This park is known as the oasis of Bangkok. A lot of people go there for jogging, practicing yoga, or just relaxing.

Where to stay in Bangkok
The two places that offer the cheapest accommodation are Khao San Road and Silom Road. Personally, I prefer Khao San Road, because it's close to most of the tourist sights, it has a nightlife of its own, and a lot of choices when it comes down to food. Street food in this part is also amazing. The only flaw of the place is that it's not close to a metro station.
Silom, on the other hand, is located in the city center and it's close to a metro station. Therefore, it's well connected to the rest of the city. And the best part is that Pat Pong is right around the corner.
Before you go, also check out this list of some amazingly cheap things to do in Bangkok.
The nightlife in Bangkok
Many people go to Bangkok because of its famous nightlife. And that part of Bangkok is just as incredible as the stories related to it. There are a lot of party places in Bangkok, but I will just mention a few that gave me the best impression.
Patpong is one of the oldest and most famous red light districts. Supposedly this is the street where ping pong shows first began.

Nana Plaza is famous for racy themed go-go bars. If you're a fan of go-go bars, this is definitely the place for you.

Soi Cowboy is one of the most famous red-light districts in Bangkok. This place got its name by the first American that opened a bar in the area. He used to wear a cowboy hat.

Finally, I can't leave out Khao San Road. Even though it's not as fancy as the other mentioned places, it's the place with the cheapest drinks and the best place to make friends and meet new people.

And don't forget to go for a drink at one of Bangkok's rooftop bars. These places are pricy of course, but trust me when you experience the sunset view, you'll realize that it's worth it.

Only after experiencing the nightlife, you will understand why Bangkok is the perfect place to make all the wrong decisions.
Final thoughts
So there you have it, that's the capital of Thailand, the amazing Bangkok. One can't go to Thailand and not visit Bangkok. Your impression about the country won't be complete if you don't spend at least few days here. Bangkok is provocative and it has that forbidden scent. When I say forbidden, I don't refer just to the sex trade, drugs, and gambling. I also refer to the way people drive, the way buildings are built, the con artists, the small dirty, but yet authentic streets…

Bangkok should be at the top of your list, not only when it comes to Thailand, but Southeast Asia as well.