Many places on our planet claim to be the most beautiful of all and the Greek island of Santorini is always in the conversation. Looking at the postcards with picturesque, whitewashed Cycladic houses with azure-blue roofs and walls uniformly-painted with the purest of white that gives the whole city a pink shade during sunsets, no wonder people are hyped up about this charming Mediterranean island! Are you planning to visit this captivating Mediterranean island soon and wondering where to go in Santorini? Here are some unique things to do in Santorini that will surely make your holiday an unforgettable one!
Explore the Capital, Fira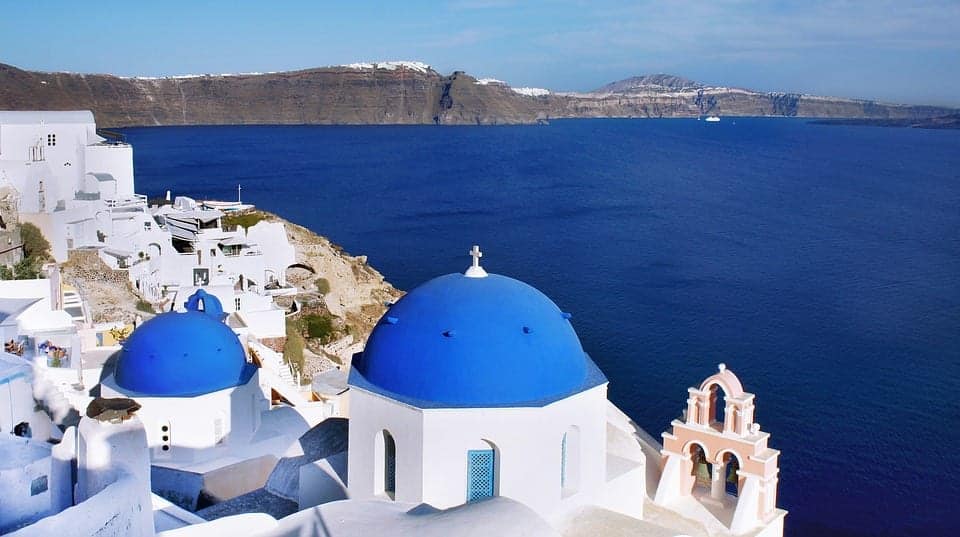 Fira, the capital city of Santorini, packs a hefty punch when it comes to picturesque churches, cobbled streets, and gorgeous views. If you wish to gorge on Greek classics like Spanakopita, Moussaka, and Kleftiko, Fira has many renowned restaurants which you can try. To get the stunning view of this town and the surrounding areas, you can even walk along Agiou Mina street. It goes down the cliff, all the way to the cable car.
One of my favorite things to do while in Fira is…
Exploring the Prehistoric Thira Museum
The Museum of Prehistoric Thira is the most interesting museum in Santorini that tells the story of Akrotiri through a collection of Neolithic and Bronze age artifacts. If you're a fan of history it's one of the places on Santorini you really shouldn't miss. The museum isn't very big but inside, you can find a lot of important historical artifacts of Santorini (dating back to as early as the Minoan era) and learn about the island's history.
Hike from Fira to Oia
If you ask me, this is one of the most unique things to do in Santorini- and it's free! Trekking from Fira to Oia is one of the most scenic walks I ever took. The trek starts in Fira, goes through the towns of Firostefani and Imerovigli, where you can experience the rural charm of the island, and ends in a largely rural area surrounded by hills that leads to Oia, one of the most beautiful (and touristy) parts of Santorini. The trek takes roughly 2-3 hours to complete, depending on your pace. The route isn't well-marked but it's pretty hard to get lost, especially because you probably won't be the only person walking this route.
Wander The Streets Of Oia
Oia is one of the picture-perfect towns in Santorini attracting a large number of tourists to the island. Composed by the quintessentially Greek white-washed buildings, gorgeous sun terraces and blue doors, Oia is one of the most photogenic places on the island. However, to be completely honest, Oia is too touristy for my taste. Fortunately, there are still a couple of places in this small town that most tourists don't know about, which brings me to my favorite thing to do in Oia.
Visiting the Monastery of Profitis Ilias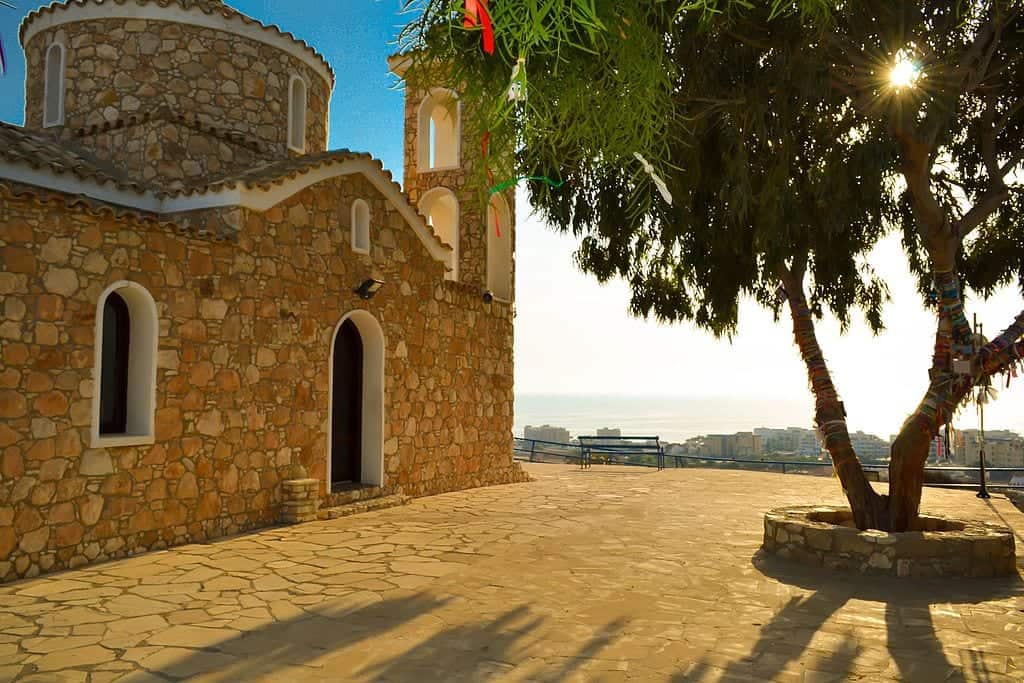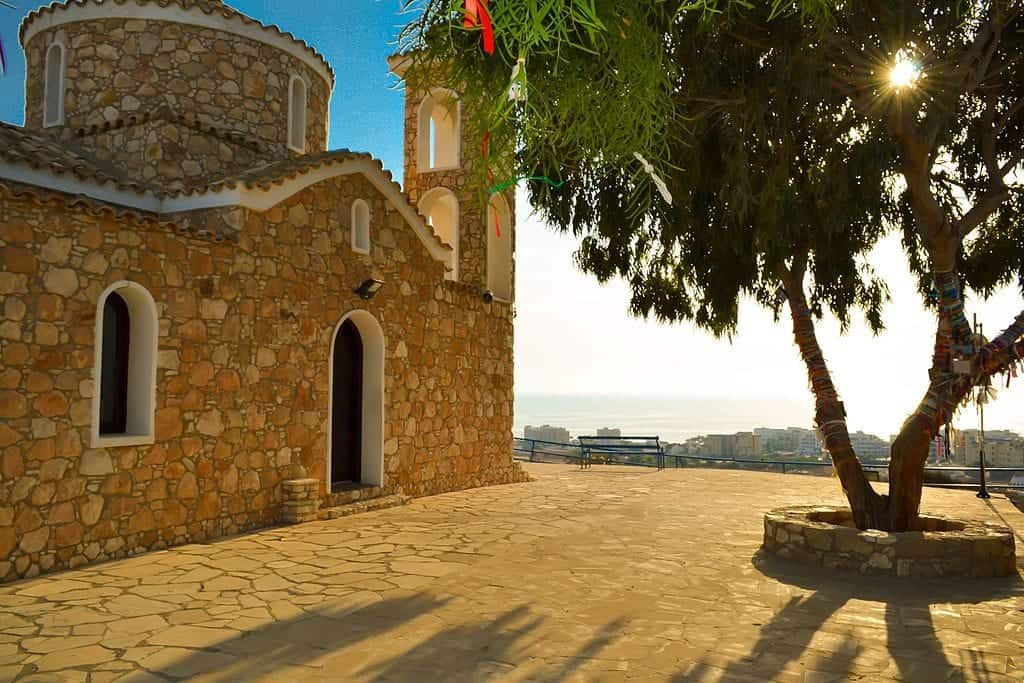 As mentioned above, Oia is one of the places on our planet that comes closest to the definition of paradise. A lot of people visit it but only a few know about the Profitis Elias monastery located on the hilltop overlooking the small, charming town. Seeing the sun setting over Oia and dropping into the Aegean Sea, giving the whole surrounding area a dramatic pink and golden shade is one of the most captivating experiences one can have in Santorini. It's the highest point on the island and you need to take a short hike in order to reach it.
Next, a trip to Santorini can't be complete without…
Visiting the volcano
Santorini's still-active volcanic island – 'Nea Kameni' – is the youngest volcanic landform in the Eastern Mediterranean. It has erupted 8 times in the past 1,900 years and is 'asleep' since 1950. You can reach Nea Kameni island by simply hopping on a local boat. After you reach, you can spend the day hiking this 130-meter high volcanic crater and even make a shortstop on the edge of the island's geothermal points and dive into the deep blue sea.
Talking about unique things to do in Santorini, how about…
Getting hit in the head at 2 Brothers Bar?
I know the title sounds crazy but just hear me out. It's simple, you let the bartender hit you in the head with a baseball bat while wearing a helmet and you get a super-cheap shot. After a few of those, you probably won't even feel the next hit. The atmosphere in the bar is also amazing and everyone you meet there are super-friendly. Unsurprisingly, the bar has become a favorite among tourists and is always crowded.
Staying in a windmill
One of the most unusual and unique things to do in Santorini is staying in the Windmill suite at the Golden Sunset Villas. Even though it might sound peculiar, the windmill is actually quite comfortable and has an aesthetically-pleasing interior. Unfortunately, this is the only windmill suite on the island, so if you want to stay here, be sure to book way in advance. And this is no surprise considering the number of visitors Santorini gets, especially in the summer. So, if you're looking for a more laid-back island similar to Santorini, check out this post about things to do in Paros.
Explore the Local Cuisine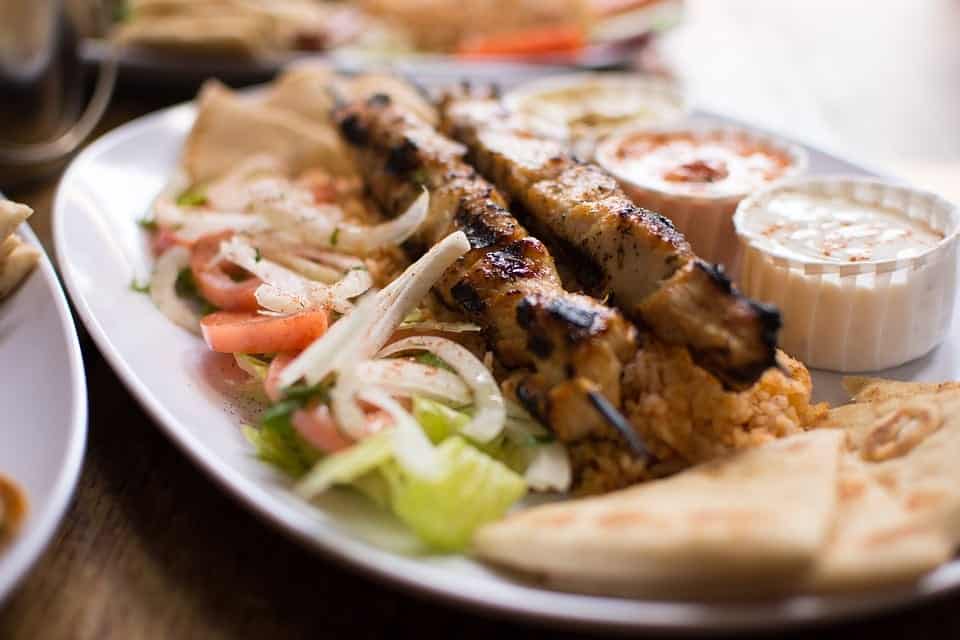 If you want to truly understand Santorini's culture, trying the local cuisine is a great starting point. The Greek cuisine is tremendously tasty, and the traditional delicacies that have been handed down by generations take it a step further. Few things you must try are Fava, Greek salad, tomato fritters, and visit as many sea taverns as you can. And if you happen to pass by a local bakery, ask for fresh Melitinia and prepare to be amazed! However, if you ask me, the best way to explore the local cuisine is to…
Get away from the crowds and enjoy the countryside
One of my favorite unique things to do in Santorini is renting a car and getting off-the-beaten-track. If you want to rent a car and get away from the tourist crowds in Santorini, use this link and save up to 30% on your car rental for your upcoming trip. The island has become extremely popular among tourists, especially in the last couple of decades, and sadly that has taken away a part of the island's charm. Fortunately, most tourists are concentrated in a few areas and getting off-the-beaten-track is still an option. My favorite part of the island is the south, where, you can find a lot of farms where a more traditional way of life is still practiced and where you can't drive for very long without seeing a winery…
Talking about wineries and unforgettable moments, another thing you absolutely have to do while in Santorini is…
Going for a wine-tasting tour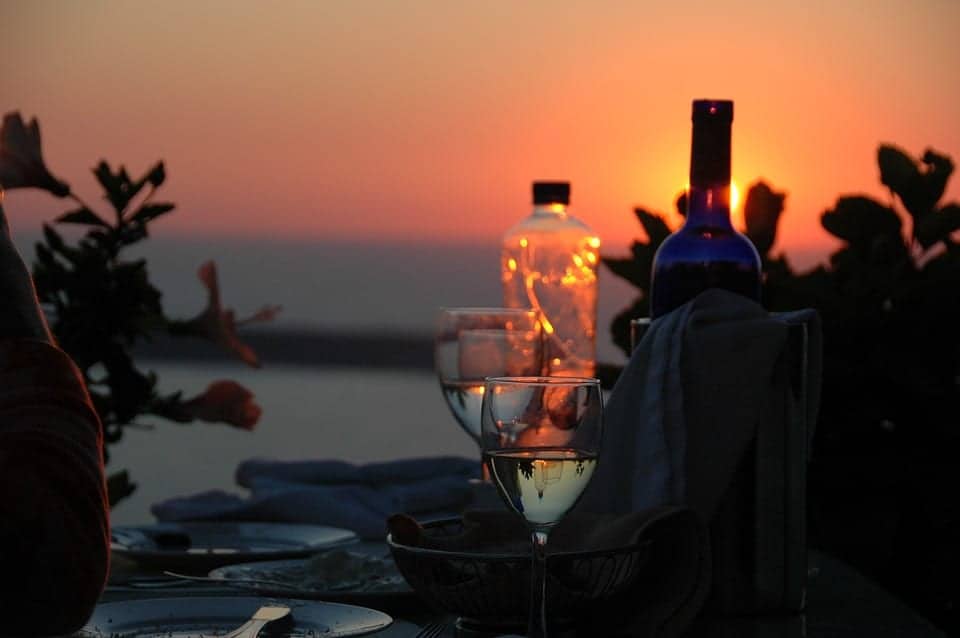 Thanks to the rich volcanic soil, Santorini is well known for its local wine varieties. So, if you wish to try the local varieties, visiting a local winery is a must. You can learn about the 3,500-year history of winemaking by visiting the acclaimed wine estates of Santorini. There are a lot of vineyards that provide tours for visitors that show a glimpse of the winemaking process, the different grape varieties, etc.
If this sounds interesting, then another experience you'll absolutely enjoy is…
Discovering the Art Space Winery
If you're looking for alternative, unique things to do in Santorini, you'll love this place! The Art Space Winery is an art gallery carved into the chambers of a very old winery. The winery is still functional and still keeps producing amazing wine but you can also see some very interesting artwork by Greek and foreign artists alike. Visiting this hidden gem is a great chance to enjoy some of the finest wine on the island while also learning more about Greek contemporary art.
After all that food and wine, you'll probably want to learn something about the place you're visiting. A great starting point is…
Visiting the ancient capital
Located on the top of Messa Vouno Mountain, the ancient Thera was the capital of Santorini for a long time. The ancient city that was named after the mythical ruler of the island, Theras has been uninhabited since the 7th century AD but it slowly becoming a tourist attraction in the last few years. To reach the ancient Thera, you have to either hike the steep trail from Perissa or take a 10€ shuttle from Kamari. At the top, you will find a lot of fascinating Hellenic, Roman, and Byzantine ruins and no other tourist facilities. Despite this, a trip to Santorini can't be complete without visiting one of the most important historic places on the island.
If you just can't get enough of the island's fascinating history, the next thing you'll want to do is…
See the ancient village of Akrotiri
When talking about unique things to do in Santorini, we have to include some history. Akrotiri is one of the largest archeological discoveries in Greece. Once upon a time, it was a city with more than 30,000 inhabitants and one of the most prosperous settlements on Santorini. However, a volcanic eruption in the 16th century BC completely annihilated the city. That's why Akrotiri carries the nickname "The Pompei of Greece". The site is located roughly 15 kilometers away from Fira. If you keep going southeast, you'll discover a Minoan Bronze Age archeological site that's arguably the most important one of its kind in Greece.
While you're around, you should also…
Have a picnic at Akrotiri Lighthouse
The Akrotiri lighthouse is the oldest one in Greece and one of the best viewpoints on Santorini. It's a great spot to bring a picnic basket and a bottle of wine, and enjoy the view of the sun setting over Santorini. No surprise that nowadays, the lighthouse, even though closed for visitors, is one of the main tourist attractions on the island. However, despite the increased number of visitors, it's definitely worth to stop by after a long day of exploring the Akrotiri Ruins.
For the cheapest flights to Santorini, use this special offer by Air France and save up to 50% on your flight!
Visit the iconic Red Beach
Located near the Akrotiri Ruins, you'll find one of the most photographed spots in Santorini. The famous Red Beach is completely surrounded by volcanic rocks and incredible red hills. The beach is easily accessible and hence, busy most of the time, but the spectacular sight of the red hills towering over this beautiful beach is a reason enough to visit.
On the other hand, if you're looking for a more peaceful beach, consider…
Exploring the volcanic formations of Vlychada Beach
If you're looking for the most spectacular, uqnie things to do in Santorini, you simply can't skip on Vylchada Beach. On first sight, it looks like the usual Mediterranean beach whose striking cliffs have been specifically decorated by an artist, in order to attract more tourists. However, these cliffs actually got their form naturally throughout the years under the influence of no one else but Mother Nature. These impressive geological formations alone are a reason enough to visit but it's also a place where you can get some peace and quiet. It's one of only a few beaches on Santorini that you won't find in most tourist guides and a place that lot of visitors don't know about (yet)…
The beach sure is fascinating but it looks even more fascinating from above. To get a great view of Vylchada beach and the surrounding area…
Take the scenic walk to Skaros Rock
Skaros Rock is a large promontory created by a volcanic eruption that occurred more than 60,000 years ago. Throughout the years, a few severe earthquakes shaped the rocks at Skaros even more, giving them the stunning appearance they have today. The promontory was fortified during the Byzantine era and for years, it was the largest settlement of the island and later, the capital of Venetian Santorini. Today, Skaros Rock is one of the most prominent landmarks on the island. If you want to reach it, you need to take a one-hour hike to the top from Fira. If you're brave enough, you can even explore the far side of the rock formations and discover a small, hidden medieval church. The hike can be tiring, especially in the hot summer months, but the view is absolutely worth it!
Finally, I'd like to share a few of my favorite places in Santorini to get away from the tourist hordes!
Get off the beaten path in the most peaceful part of Santorini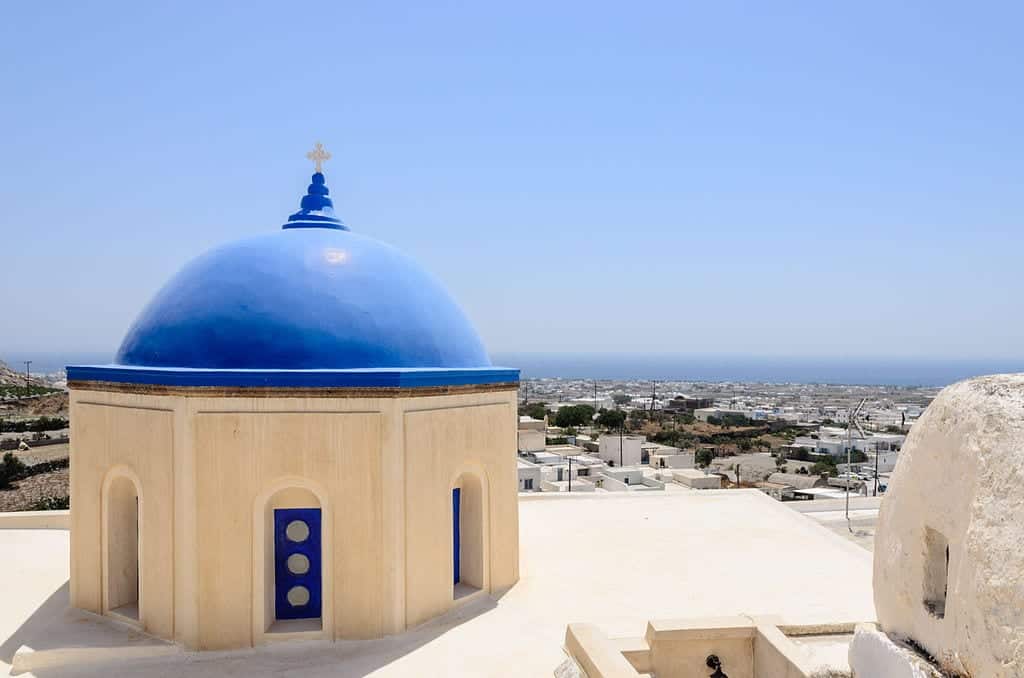 Situated in the South of Santorini, Emporio is one of the biggest villages on the island. The name Emporio (trade) comes from the times when this village was a major commercial hub on Santorini. Today, the village has only 3,000 residents and is one of the most peaceful settlements on the island. One of the most interesting sights around is the 16th-century fortified castle with a beautiful medieval church on site and the Tower of Nimborio, one of the oldest buildings in the area.
Take a day trip to Thirassia Island
What's today known as Thirassia island was once part of Santorini before a major volcanic eruption separated the two. Today, Thirassia is an island of its own with its own inhabitants and some amazing food. Are you looking for some peace and quiet away from the busy streets of Fira and Oia? I strongly suggest taking a day trip to Thirassia. There are boats leaving from the Old Fira port several times a day.
Have a slice of Mediterranean life in the picturesque village of Pyrgos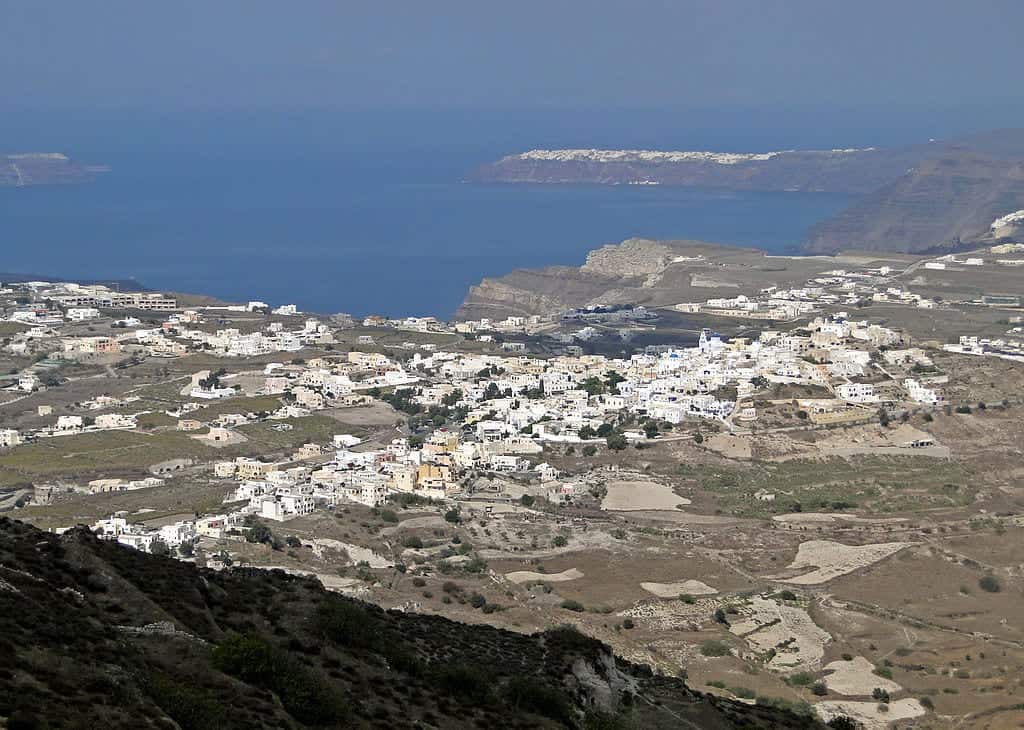 Located around eight kilometers away from Santorini, you can still discover a place where the laid-back, Mediterranean atmosphere is still present, without the thousands of tourists that visit Santorini every day. Pyrgos is one of the last remaining, peaceful, crowd-free villages on the island. Located at the foot of Mt Profitis Ilias, Pyrgos is one of the most important strategic points on the island. No wonder it was the former capital of Santorini for quite some time! However, despite this and the fact that it offers some of the best photography spots on Santorini, the small village of Pyrgos remains relatively unfrequented today. Do you need any more reasons to visit?
When in Santorini, Travel Safe!
Exploring a destination like Santorini can be very exciting. However, incidences of pickpocketing have increased in many Greece islands. Therefore, it's important to stay alert on crowded streets. Likewise, to protect yourself from travel-related contingencies, overseas travel insurance can be of incredible help.
Insurers offer reimbursement for all medical expenses, but can also help you recover financially in situations like flight delays, baggage/passport loss, cancellations, etc. Talking about flights, if you're planning to visit, you'll need to get a good flight deal; make sure you use this special offer by Air France and save up to 50% on your flight! If you're a student, you can use STA travel to get big discounts on flights to Europe.
If you're traveling to Santorini from the US, I suggest you compare travel insurance from USA's leading travel insurance carriers before you go and save a lot of time while planning your trip. Finally, if you want to extend your trip to Greece and also visit some other nearby islands, these options in by BlueVillas are worth looking at in Mykonos. Alternatively, you can use my Booking discount codes to get special accommodation deals in Santorini and save up to 15%.
If you want to visit other places in Greece or come to Santorini from another town, you can get the best deals on local transportation on Bookaway.
Finally, if you really want to save while traveling, check out points.com and earn more rewards with less miles.
Did this list answer the question "where to go in Santorini"? What's your favorite place on the island? If you were to visit, which place would you head to first? Do you think there are some places in Santorini that I didn't mention in this post? Let me know in the comments!
Like it? Pin it.