New York City has many well-known landmarks and destinations that gather the lion's share of attention from locals and tourists alike. It's also full of hidden gems that speak to the fabric that makes up NYC: quirky, vibrant, interesting, and most of all, unique. Following is a look at some hidden gems that are sometimes off the beaten path or hidden in plain sight. This list might not represent the best and the brightest of NYC but one thing is for sure; you can only find these things in New York and nowhere else! 
Whether you're going to store your luggage and you have one day in New York City, or you're spending a week there, it's guaranteed to be like nothing you've ever seen before. Most people can vividly remember their first trip to New York City, and if you're planning yours, the following are things to keep in mind to make it great and memorable in all the right ways.
Just make sure to focus, keep your eyes open, and watch where you step. Some of these locations involve water as a feature or are near a body of water. You don't want to ruin your vacation because you slipped and injured yourself.  
Restaurant in what was once the world's largest bank vault
The Trinity Place Restaurant and Bar is located in the old bank vault of 115 Broadway originally built around 1904 by Andrew Carnegie. The vault once proclaimed to be the largest and strongest vault in the world, fell out of use until it was restored in 2006. You can enjoy a reasonably priced meal or have a drink or two at the bar while looking at the solid construction and details of the original vault. Make sure to stop and look at the locking mechanisms in the vault door to see just how serious the original bank was about protecting its assets.
Looking for something less fancy? We recommend this brunch in Harlem at Barawine ! What a delicious food they have !
The First Pizzeria in America
We all know you know that New York is home to some of the finest restaurants in the world. But did you know that it's also home to the first pizzeria in America? Opened in 1905, there's a good reason why Lombardi's survived more than a century in one of the cities with the most competitive food scene. If you're looking for some unique food experiences, you'll definitely want to add this to your NYC bucket list!
Even though there are some disagreements about this, most 'hot dog historians' claim that this stall on Coney Island that dates back to 1871 was the world's first hot-dog stand. The owner of the stand was German immigrant Charles Feltman. One of the people who worked for Feltman was Nathan Handwerker; the founder of Handwerker's iconic hot dog stand that later evolved into Nathan's Famous restaurants.
The Pier that the Titanic was about to dock to
Pier 54, now part of the Hudson River Park, was the pier where the Titanic was meant to dock at. However, as you probably already know, this didn't happen. The ship never reached its destination, but the remnants of the pier's gateway and fencing still remain and are easily accessed from the park near 14th street. The gate still bears the label scar of "Cunard-White Star" from the days when the two ocean liner companies merged. What makes this a hidden gem is that it's a tangible remnant of the day tragedy struck the Titanic and lets you think "what if" as you look at the place where ocean liners once docked.
America's largest department store
Photo by Tdorante10 CC by 4.0
Macy's store at Herald Square is one of the largest stores you'll ever find. This store occupies more than 1.2 million square feet and stretches across 11 floors. Needless to say, you can expect a wide variety of choices and is probably, especially during the holiday season. Until 2009, this was the largest department store in the world before Seoul's Shinsegae Department Store in Centum City (Busan) surpassed it.
One of the smallest privately-owned pieces of real estate
Back in the early 1900s, New York City was expanding with the speed of light. As a part of the process, more than 300 old buildings on the 7th Avenue were torn down to make room for expanding a subway line. However, in the process, the local authorities made a mistake and by accident took a tiny, 500-square-inch triangle of a private property in the construction phase. The owner of the land, David Hess, wasn't too pleased and covered this tiny triangle with a mosaic that said 'Property of the Hess Estate which has never been dedicated for public purposes'. Years later, the property was purchased by a local business but you can still see this mosaic that symbolizes the stubbornness of New York's average landlord.
The Statue of Liberty
Can a list of only in New York things be complete without mentioning the Statue of Liberty? Of course not!  No trip to NYC is complete without seeing the Statue of Liberty Museum. The museum educates visitors about the statue's history and why she's become an enduring icon. When the statute was given an overhaul in 1984, her original flame was replaced with one that was more structurally sound. You can stand next to the original piece and get an idea of the scale of the statue cup close and personal. You can also get a bonus by walking to the southwestern shore of the island to see where New York and New Jersey meet up.
The Meadows that hosted two World's Fairs
Flushing Meadows-Corona Park is famous for being the site of not one, but two, World's Fairs. The first fair took place in 1939 and most structures were dismantled afterward with few traces left behind. It was the 1964 World's Fair that left behind iconic structures including the Unisphere, Tent of Tomorrow, and the New York State Pavilion and Observation Towers. Restoration efforts for the pavilion and towers are ongoing, but they would intend to extend the life of the structures and won't be open to the public. However, the restoration gives an idea of what the fair was like during its run.
The Oldest apothecary in America
You may have seen the name of C.O. Bigelow on tonics, lotions, and potions in old-timey bottles with antique-like labels. What you might not know is that there was a Clarence Otis Bigelow. In 1880, he bought the business from the founder and named it after himself. The store at 414 6th Avenue sells products that are as old as the company itself although you won't find the more dangerous ingredients that were originally used. The store also carries skin care brands that aren't available in most department stores. 
C.O. Bigelow Apothecary
Poorly behaved costume characters
You can see costumed characters trying to boost different stores' sales but only in New York, you can see some of the world's most poorly behaved costume characters. We all remember 'Bad Elmo' yelling anti-Semitic rants and Spiderman punching a police officer. There were even instances of costume characters extorting money for a picture from clueless tourists.
DNA testing trucks
New York City is probably the only place on Earth where you can find mobile DNA testing trucks. To make things even funnier, these trucks have "Who's Your Daddy?" written on them and you can see them driving around the city. Whatever the case, one thing is certain; there's no place on this planet where DNA testing is easier!
Late night shopping
They don't call NYC 'the city that never sleeps' for no reason. New York is probably the only place on the planet where you can take a haircut at 3 AM, buy groceries after midnight, go to a solarium before 6 AM or repair one of your kitchen cabinets in the middle of the night! As weird as it might sound to some, these are some of the things that make New York one of the world's greatest cities.
Broadway shows
When it comes to unique experiences in New York, seeing a Broadway show is one of the things that tops most people's bucket lists. Sure, you can see live shows pretty much anywhere but there's just something special about seeing a show at the world's most famous theater district.
America's largest art museum
New York's Metropolitan Museum of Art requires no special introduction. It's the largest art collection in America and the fourth largest art museum in the world. This museum is home to thousands of art pieces from different eras in history and it's something you mustn't miss if you're an art lover. The Met was founded in 1870 and in only 150 years, it managed to gather one of the largest art collections in the world, including art pieces that date back to 5,000 years ago!
One of the last remnants of Dutch Colonial Era
The internet doesn't have a lot of information about this site, but it's worth stopping at the building at 85 Broad Street to view this archeological remnant of old New York. Walkthrough the pedestrian plaza towards the walkway in front of the building to find the railings surrounding glass plates set into the sidewalk. Here you'll find one of the few remaining physical pieces of the original Dutch colony that stood on the site. Plaques and informational cards explain what you're looking at through the glass and what the original layout looked like.
What was once the tallest building in the world
Located in the north of the Financial District, the Woolworth Building began construction in 1910 and was finished in 1913. Built by Woolworth's founder, F.W. Woolworth, it held the title of the tallest building in the world from 1913 to 1930. Once used for private commerce, the building is now partly open to the public via tours. The tour guides take you on your choice of a 30 or 60-minute tour of the areas open to the public and explains the history and importance of the building. 
A Victorian architectural gem in the middle of the city
This beautiful terra cotta and brick building is located a single block away from City Hall and represents one of the finest examples of late Victorian architecture in New York City. The building sat largely unnoticed from the 1940s until the mid-2010's when it was restored to its original glory. Today, the building is home to The Beekman hotel and residences. However, the lobby and atrium open to the public for viewing. Step inside and marvel at the interior of this hidden architectural gem. 
The last remnant of the former Jewish Lower East Side
The Eldridge Street Synagogue is the only building that remains from the era of the old Jewish Lower East Side. Opened in 1887, the Synagogue served Jewish immigrants from Eastern Europe. Over time, the building fell into disrepair and was eventually granted National Historic Landmark status. The building was restored in 2007 and functions as a museum that highlights the congregations that once worshipped there. 
New York City is a wonderful layer cake of human effort since its inception in 1624. For almost 400 years, people have left their mark on the city in unique and interesting ways. Take the time to seek out these amazing monuments to their efforts and enjoy the modern creations that currently act as the icing on the NYC cake. 
The city with the biggest population of pigeons
New York is home to somewhere between 4 and 7 million pigeons! But that's not all! New York's pigeons are some of the boldest creatures you'll ever come across. They probably got some of the personal traits of local New Yorkers, so don't be surprised if they walk over you, stand in your way, or even try to steal your food! There are also a lot of places like Washington Square Park, where you can see very big groups of pigeons, including more than 50 pigeons sitting on top of Paul, 'the Pigeon Man'
Hundreds of iconic filming locations
So many of our favorite TV shows and movies have been filmed in New York that it would probably take an entire article just to cover all of them. Sure, NYC can't compare to Hollywood but you can still recognize places that hosted scenes from Friends, Seinfeld, Breakfast at Tiffany's, Spiderman, The Avengers, etc.
Helpful resources for visiting New York City
Flying to New York? Check out Air France's Discover the World at a low price program. You can save as much as 30% on all flights to NYC.
Do you want to cover NYC's biggest attractions but don't have a lot of time? Join a Big Bus tour and get a 10% discount.
If you want to save on accommodation, use my Booking code and get up to 10% off on all bookings in New York.
If you want to get your US visa online, you can do so here. IVisa can help you get a visa to pretty much anywhere. The process is super-smooth, the customer support is amazing, and their team does all the work for you!
Are you having a long layover or are in town for only a day or two? Check out UseBounce for some luggage storing options.
If you're more adventorous and want to explore New York with your own vehicle, you can always rent a car. Use this AutoEurope offer to compare the best deals from all rent-a-car dealers and always get the best price.
Don't forget to use points.com to get more rewards with less points and miles.
Did you ever visit NYC? Did you like this list of things you can only see in New York? Which one was your favorite? Feel free to share your thoughts in the comments!
Like it? Pin it.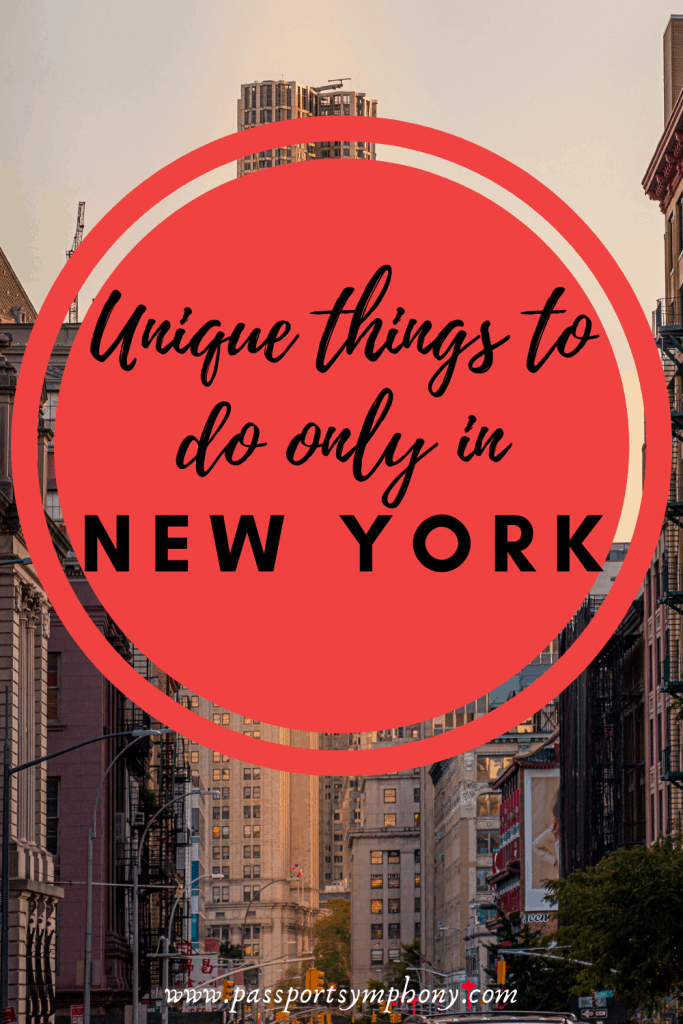 Share it with your friends!