After spending a few days in the majestic city of Leh, we started planning on how to continue to Nubra Valley and the Pangong Tso lake. Our budget was rather limited because we got robbed on the road to Leh. However, our passion for adventure was stronger than our financial situation. We had several, ideas from hitchhiking to asking an army track for a lift. This started turning into one of the most exciting Kashmir travel stories ever and I finally could cross off hiking in Kashmir from my bucket list.
But, we were lucky enough to stay at the Mount Castle Hotel, because the hotel owner saved our buts again. After giving us the room for a 75% discount because we got robbed he also helped us find a ride to take us to Nubra Valley for only 600 INR each. Needless to say, that was way lower than the market price.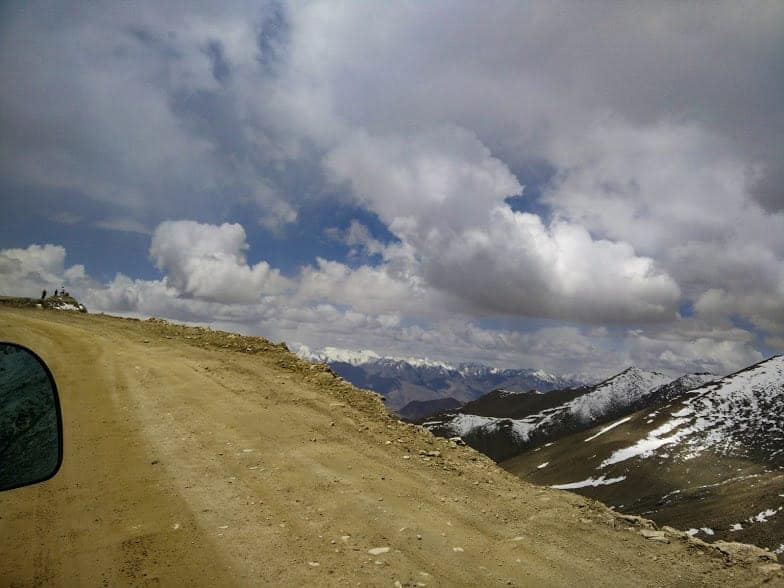 Kashmir travel stories: People of Kashmir
But it wasn't only the hotel owner; all the people we met in the city were very kind and helpful. I will always remember Leh as the city with cold, winter idyllic landscapes, and warm and loving people. Even despite the difficult political situation, which obviously had harsh consequences on their everyday life, these people didn't let that change their approach to tourists for the worse.
I know nowadays Kashmir is portrayed in the media as a dangerous place and as a place that is inhabited by terrorists. But, after spending 2 weeks climbing the mountains, visiting the villages and living and talking to the people of Kashmir I couldn't agree with that statement at all. These people have felt the taste of war on their skin. They know how it feels like to fear for your life and property every day. They know how it's like when your town is under constant crossfire from both sides. And they don't want that again. In Kashmir, I didn't see terrorists. I only saw people that want to have their normal lives back.
And I felt the need to say this, as a traveler that visited Kashmir. This is one of the reasons why the internet needs more travel writers. The media and the journalist can only take a look at a place from the outside. But it is the traveler that has the power to smell the air, to take a look inside the houses, and most importantly the power to bring out a story. A story filled with compassion and life.
Kashmir travel stories: Making history
The road from Leh to Nubra Valley was another majestic masterpiece of nature. This road is covered in snow throughout the entire year. My headache kept worse as the height kept increasing. Because of the robbery incident, we were left with not enough money to buy oxygen tanks. So we decided to pass the warnings and the recommendations and to go proceed without the tanks.
We hiked to the Stok Kangri top, an idyllic snowy top on the way to Nubra. My headache was becoming unbearable by the time we reached the top. After spending the entire day hiking we finally reached and my headache was so bad I wasn't sure if this is a reality or am I dreaming. The next sequence I remember was looking at the flags left from people that climbed the top. The flag of my country wasn't there. After speaking to one of the soldiers, my doubts were confirmed. I was the first Macedonian to ever climb this 6,153 meters high beauty. It was then when I realized that the mountains are the most amazing story keepers. They keep the stories we read, they keep the stories we dream about and they keep the stories we create.
Planning you next great mountain adventure? Make sure you get all the right equipment before you go. For the best selection of hiking sticks, click here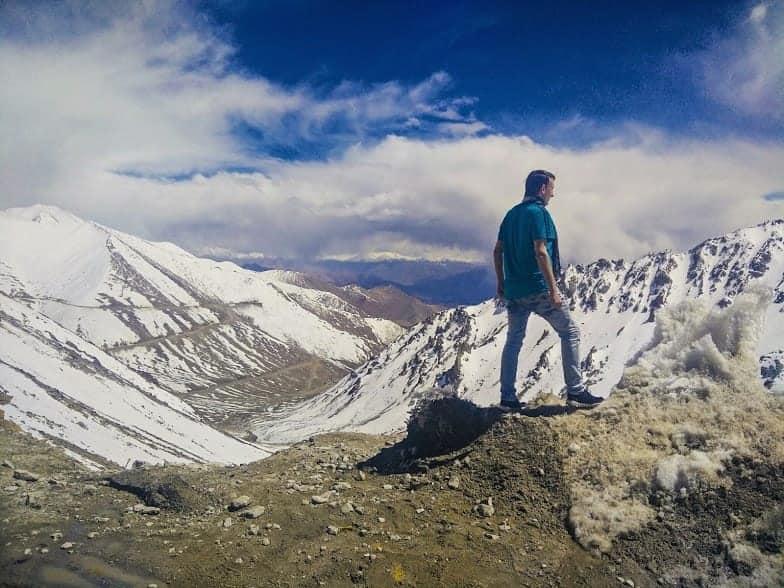 I felt like coming down was even harder than climbing up. The lack of oxygen started affecting me and I almost fainted a few times. When we reached our vehicle I was happy to be alive. We got into the car and proceeded to Nubra Valley. After two days in the mountains, we finally met. She finally started unveiling in front of my eyes and she indeed was worthy of her nickname "The Grand Canyon of India".
Her Highness: the Nubra Valley
It was a similar case with Leh: the journey was just as nice as the destination and we saw a lot of amazing things on the road. This was another thing that Kashmir thought me. The journey is indeed as much important as the destination. All the people you meet on the way and their stories, all the new things that you are going to see and learn, all the emotions you are going to feel. Getting there is a process and the final destination wasn't a goal, but rather a new way of seeing things…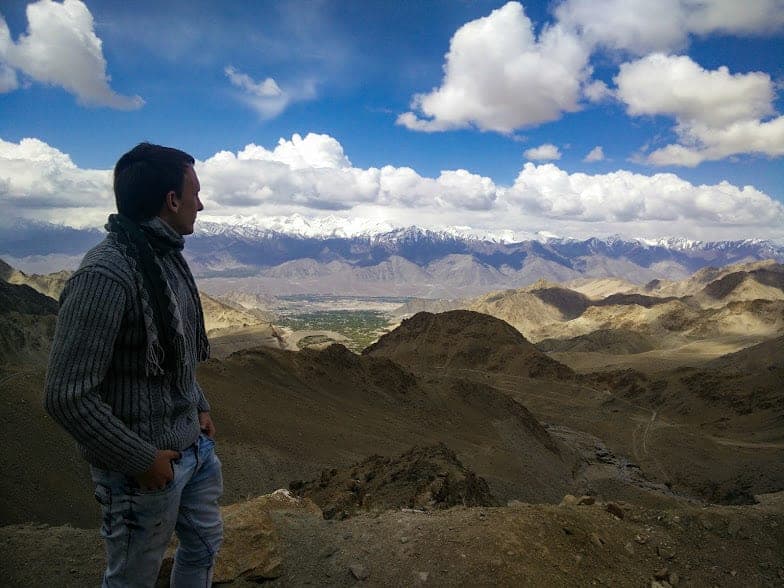 It was the late evening when we entered Nubra Valley, a place that is actually a cold dessert more than it is a valley. However, that doesn't make it any less magnificent. This is only one of three places in the world where you can see the triple hump Bactrian camel.
We stayed in the desert for a while, enjoying the view. Then the night slowly poured over the dessert. It happened so suddenly, changing the sky's outfit to purple. This was one of those places where people see nothing but bottomless infinity over their heads. You see nothing, hear nothing, but yet through the silence something always throbs…

My thoughts were interrupted by Tashi, who said it's time for us to go home. He didn't speak English, so my friend was translating the whole time, but I felt a very good vibe from him. We also told him about what happened to us in Drass and he responded by opening the door from his home for us. He wasn't going to take a no for an answer.
Staying in a local Kashmiri house
To this day, I think this was the best part of our trip. We stayed in Tashi's place and he and his wife made dinner for us. Now, Delhi has some amazing momo places, but the momos I had there were the best ones I ever tasted. We also drank their traditional butter tea. I was finishing the first cup when poured me another one. And then another. Then Rishabh told me (laughing) that if I don't say that don't want any more tea, they will keep refilling my cup. This was a typical example of the amazing Kashmiri hospitality and certainly a great story to tell.
Life in the mountain villages is different, so after finishing the dinner spending some time playing with Tashi's kids we went to bed around 10 PM. There was another long day ahead of us.
This is the end of the third part of the tale about our Kashmir adventure. Stay tuned for the fourth and final part. I'll tell you how I found something that I thought I can only find at home in the mountains of Kashmir, how our bus was attacked and how we finally reached Delhi. Read this in the next and final part of my Kashmir travel stories.
To be continued…
RELATED: Annapurna Conservation Area Trekking